Monster Days Are Back! - All Locations
Monster Days are back at Long & McQuade Musical Instruments! Enjoy great deals throughout the store and online, and 6 months 0% financing on all products all month long.
Click here to check out our exciting Monster Days contests.
- ​INSIDER CONTEST: The Monster Days Scavenger Hunt!
- Share for you Share! Social Media Contest
PLUS SPECIAL EVENTS EVERY SATURDAY
Saturday, June 5 - Extend Your Warranty Day
Get a 'bonus year' on your Performance Warranty for purchases made this day.
Saturday, June 12 - Half Price Rental Day
New rentals only. Maximum term 1 month.
Saturday, June 19 – Print Music Madness AND Band Department Bonanza
Enjoy 25% off in-stock, regularly priced band, choral and retail music, and novelties (excluding text books and special import items.) Up to 75% off in the Clearance Zone! Phone and email orders accepted. Plus, enjoy 12 months 0% financing on all Band Department purchases!
Saturday, June 26 - "Canada Day"
Enjoy 12 months 0% financing on all Canadian-made products! Canadian-made brands include: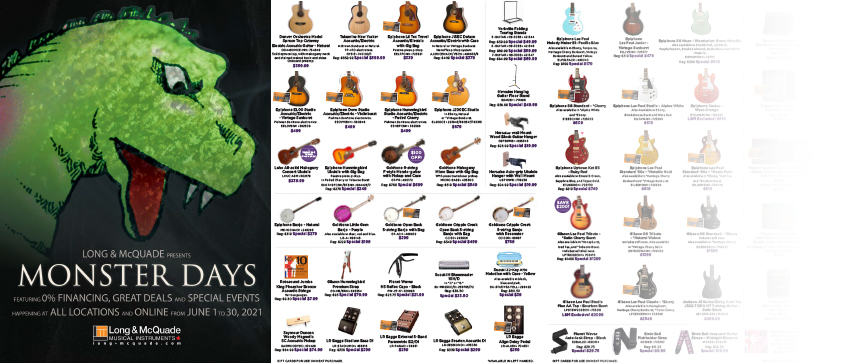 ---