Kendor Music Inc.
Blue Note Special - Grade 2.5
---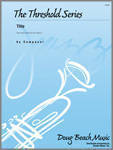 Blue Note Special - Mike Tomaro
Kendor 115052

A strong melody and solid rhythmic groove are the cornerstones of this brilliant original from Mike Tomaro.

The alternating swing and shuffle styles in this blues-oriented chart command the attention of every member of the band. Trombone and tenor take separate solos midway through, then, near the end, trade four's, then two's, then solo together.

Written lines are provided for soloists lacking adequate improvisation experience.
Press play to listen:
There are currently no reviews for this product. Be the first to write one!