---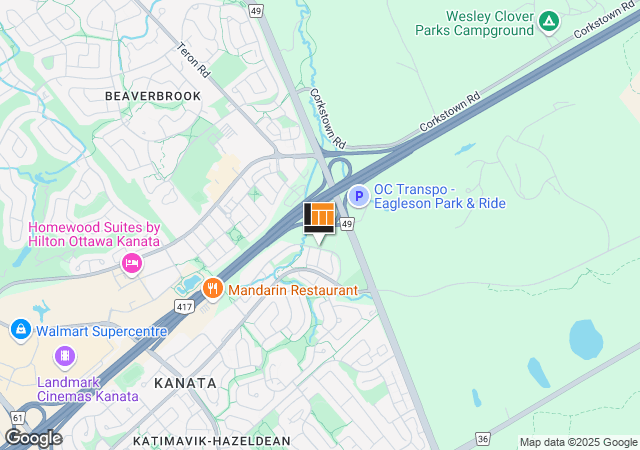 ---
Directions to Long & McQuade Kanata
Long & McQuade Kanata is located just off the 417 Eagleson South Exit and is neighbouring the Eagleson Park 'n' Ride transit station. Coming from the highway, just head south on Eagleson, take a right onto Katimavik Road, followed by another right onto Hearst Way.
Services offered at this location
At L&M Kanata, we offer:
Huge selection of guitar and bass brands including Gibson, Fender, ESP, PRS, EBMM and many more!
High-end recording gear such as Dynaudio monitors, Raven MTI control surfaces, the list goes on!
Full-service band and orchestral department with an in-house service department
Phenomenal drum catalog with a wide variety of cymbals, kits and accessories
All-encompassing rental stock to help with any musical or performance situation
13 lesson studios with professional and friendly instructors for almost any instrument, call 613-595-1235 to register today
Full-time certified guitar/string technician with years of quality service
We are a full-service store with courteous and experienced staff who are ready to help with whatever you may be looking for. Customers regularly comment on how friendly and welcoming the atmosphere is at our store. Please join us at your earliest convenience to experience it for yourself!
About our Kanata Location
Long & McQuade Kanata has something to fit everybody's musical needs. From your first guitar to your first custom shop guitar, from your first music lesson to a new library of licks & techniques, from your garage band recordings to the professional studio, whatever you need, we can help! Our rental department has helped outfit many festivals and the staff are highly skilled to assist with any upcoming gigs or performances. For anyone who comes to visit us at 66 Hearst Way, or for anyone with any questions that we may answer, Long & McQuade Kanata is where the music begins.
Music Lesson Centre
Long & McQuade's Music Lesson Centre in Kanata features professional studios, highly qualified teachers and private instruction for all ages, levels and styles.
We teach lessons in:
guitar
bass
drums
piano
voice
woodwinds
brass
strings
and more!
Register for music lessons today! Contact the lesson coordinator at [email protected] or give us a call at (613) 595-1235 for details.