---
255 King Street
Sudbury, Ontario, P3C 2W2
Phone Number: 705-673-7135
Lesson Centre: Phone or Text 705-673-7136
Fax: 705-673-7359
Email: sudbury@long-mcquade.com
Lesson Centre Email: sudburylessons@long-mcquade.com
Holiday Schedule Changes
Open Every Sunday before Dec 24 (12:00-5:00)
Sunday Dec 24 (11:00-4:00)
Dec 11-23 Extended Hours (Mon-Fri 10:00-9:00, Sat 10:00-6:00)
Dec 25 - Closed
Dec 26 - (10:00-6:00)
Jan 1 – Closed
Store Hours
Monday: 10:00am - 6:00pm
Tuesday: 10:00am - 6:00pm
Wednesday: 10:00am - 6:00pm
Thursday: 10:00am - 9:00pm
Friday: 10:00am - 9:00pm
Saturday: 10:00am - 6:00pm
Sunday: Closed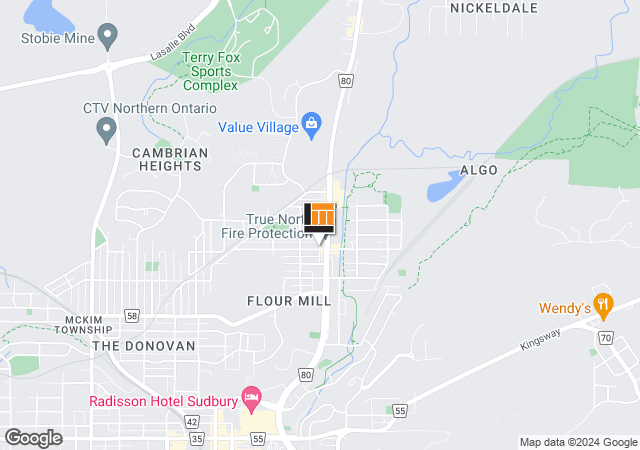 ---
Directions to Long & McQuade Sudbury
Long & McQuade Sudbury is located at 255 King Street just off Notre Dame Avenue in the Flour Mill area of Sudbury.
From the new Sudbury area, take Lasalle Blvd west to Notre Dame Ave south. Turn right on King Street and we're on the south side of the street.
From the Trans-Canada coming north take Regent St north then right on Partis St. north. Paris St. turns into Notre Dame Ave north of Elm St. Take a left on King Street and we're on the south side of the street.
Services offered at this location
Long & McQuade Sudbury is one of northern Ontario's largest music stores. We offer:
Most of the major brands of musical instruments, music software and professional audio equipment
Daily, weekly and monthly rentals of instruments and audio equipment
Easy musician friendly financing options
Guitar repair shop with a qualified technician
Consultation for those setting up studios, sound stages and installed sound systems
Lesson centre
About our Sudbury Location
The Sudbury Long & McQuade location was purchased from the Pugliese family who operated Prom Music Centre in Sudbury since 1949. Long & McQuade is proud to carry on a legacy of outstanding customer service in northern Ontario. Located in a 1950's single screen movie theatre, the store has a great historic feel with high ceilings and wonderful acoustics.
Music Lesson Centre
Long & McQuade's Music Lesson Centre in Sudbury features professional studios, highly qualified teachers and private instruction for all ages, levels and styles.
We teach lessons in:
guitar
bass
drums
piano
voice
and more!
Register for music lessons today! Call 705-673-7135 or email the lesson coordinator for details.