Please note we are currently limited to operation with curbside pickup, shipping and local delivery. As per government orders shopping in-store is not permitted at this time.
Locations
925 Bloor Street W
Toronto (Bloor St.), Ontario, M6H 1L5

---

Phone: (416) 588-7886
Fax: (416) 532-9708
Email: info@long-mcquade.com

Store Hours


Monday: 10:00am - 6:00pm
Tuesday: 10:00am - 6:00pm
Wednesday: 10:00am - 6:00pm
Thursday: 10:00am - 8:00pm
Friday: 10:00am - 8:00pm
Saturday: 10:00am - 6:00pm
Sunday: 12:00pm - 5:00pm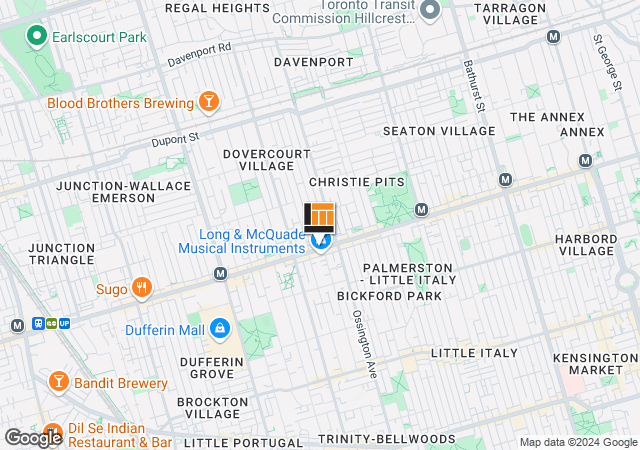 Directions to Long & McQuade Toronto
Long & McQuade Toronto, 925 Bloor St. is located at the Ossington Subway stop on the Bloor Line. We are on the south side of Bloor Street one block west of Ossington St. From west of the city: take Lakeshore Blvd, turn up at Parkside to Bloor and turn right. From east of the city: Don Valley Parkway to Lakeshore Blvd. Lakeshore to Bathurst. Left onto Bloor.
Services offered at this location
Long and McQuade Toronto is one of Canada's largest music stores. We offer:
Most of the major brands of musical instruments, music software and professional audio equipment.
Daily, weekly and monthly rentals of instruments and audio equipment.
Easy musician-friendly financing options.
Fully equipped electronic service department.
Band repair department on site.
Guitar repair shop with qualified luthiers
Consultation for those setting up studios, sound stages and installed sound systems.
About our Toronto (Bloor St.) Location
Long & McQuade was founded in 1956 with one store not far from our present location. As the store moved from Yonge St to an earlier Bloor location, it continued to grow. In 1988 we opened at 925 Bloor St. We continued to grow and acquired neighboring buildings 929, 933 and 935 Bloor St.
The 925 building, conveniently located next door to our parking lot, houses the sales and rentals of Pro Audio, Drums, a large Print Music and the largest Brass and Woodwind showroom in Canada as well as our electronic service department.
929 Bloor houses our large selection of electric and acoustic guitars and folk instruments on different floors. This allows electric players to rock and acoustic instruments from Gibson, Martin, Taylor and many more to be auditioned in a quieter atmosphere. This building also has our guitar repair and accounts services departments.
Next door at 933 are keyboards, pianos, recording software and controllers. We have experts on most software recording platforms to help you match the right gear to your needs. The wide selection of student and family pianos will suit every budget.