---
1845 Pembina Highway
Winnipeg (Pembina), Manitoba, R3T 2G6
Phone Number: (204) 284-8992
Lesson Centre: Phone or Text (204) 284-5180
Fax: (888) 573-0175
Email: winnipeg@long-mcquade.com
Lesson Centre Email: winnipeglessons@long-mcquade.com
Holiday Schedule Changes
Open Every Sunday before Dec 24 (12:00-5:00)
Sunday Dec 24 (11:00-4:00)
Dec 11-23 Extended Hours (Mon-Fri 10:00-8:00, Sat 10:00-6:00)
Dec 25 - Closed
Dec 26 - (10:00-6:00)
Jan 1 – Closed
Store Hours
Monday: 10:00am - 8:00pm
Tuesday: 10:00am - 8:00pm
Wednesday: 10:00am - 8:00pm
Thursday: 10:00am - 8:00pm
Friday: 10:00am - 8:00pm
Saturday: 10:00am - 6:00pm
Sunday: 12:00pm - 5:00pm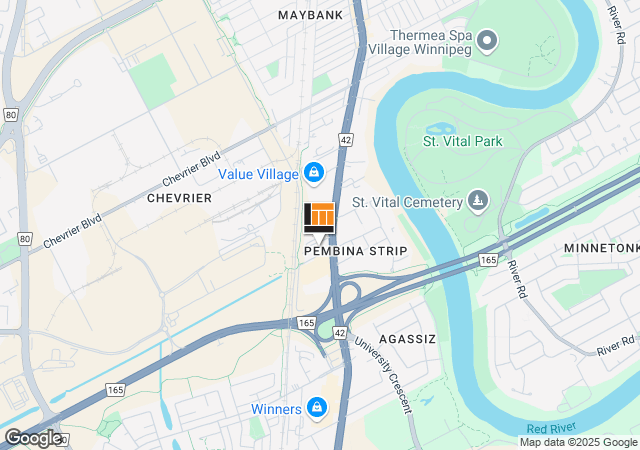 ---
Directions to Long & McQuade Winnipeg (Pembina)
Long & McQuade Winnipeg is located on the west side of Pembina Hwy north of Bishop Grandin Boulevard.
Services offered at this location
Long & McQuade Winnipeg (Pembina) is one of Canada's largest music stores. We offer:
Most of the major brands of musical instruments, music software and professional audio equipment
Daily, weekly and monthly rentals of instruments and audio equipment
Easy, musician friendly financing options
Fully equipped electronic service department
Guitar repair shop with qualified luthier
Band instrument repair technician
Consultation for those setting up studios, sound stages and installed sound systems
Music Lessons
About our Winnipeg (Pembina) Location
In 1971, Long & McQuade expanded to Winnipeg, adding their third location after acquiring Winnipeg Piano on Portage Avenue. A move to Osborne Street in 1972 came as a result of a growth in business. In 1978, the location moved to Corydon Avenue, and another move in 1997 brought the store to 651 Stafford Street. In November 2016 we moved to our 25,000 sq foot state of the art facility located at 1845 Pembina Hwy, a few blocks north of Bishop Grandin Boulevard.
We are Winnipeg's largest music store. We have a dedicated climate-controlled acoustic guitar room, possibly North Americans largest curved electric guitar wall that holds close to 400 guitars. L&M Winnipeg (Pembina) is not just a guitar shop. We have a top-notch PA rental department with a huge selection of pro audio, lighting, projectors and DJ equipment available. We also have a large selection of drums, PA, recording equipment and home digital pianos.
Our full-service Band & Orchestral department features an in-house repair tech, a large selection of print music and is the place in town to rent your school band instrument! We also have one of Canada's largest selections of Jazz and Concert Band Print Music.
Music Lesson Centre
Long & McQuade's Music Lesson Centre in Winnipeg (Pembina) features professional studios, highly qualified teachers and private instruction for all ages, levels and styles.
We teach lessons in:
Guitar
Drums
Bass
Double bass
Piano
Vocal
Violin
Cello
Brass
Woodwinds
Mandolin
Banjo
And More!
In person and online video lessons available.
Register for music lessons today! Call 204-284-5180 or email the lesson coordinator for details.