145 Erie Street
Stratford, Ontario, N5A 2M6

---

Phone: (519) 271-9102
Lesson Centre: Phone or Text (519) 271-5750
Fax: (519) 271-3665
Email: stratford@long-mcquade.com
Lesson Centre Email: stratfordlessons@long-mcquade.com

Store Hours


Monday: 10:00am - 6:00pm
Tuesday: 10:00am - 6:00pm
Wednesday: 10:00am - 6:00pm
Thursday: 10:00am - 9:00pm
Friday: 10:00am - 9:00pm
Saturday: 10:00am - 6:00pm
Sunday: Closed

Open Sundays in December until December 22nd!

SPECIAL HOURS BEGINNING DECEMBER 9TH:

Monday: 10:00am - 8:00pm
Tuesday: 10:00am - 8:00pm
Wednesday: 10:00am - 8:00pm
Thursday: 10:00am - 9:00pm
Friday: 10:00am - 9:00pm
Saturday: 10:00am - 6:00pm
*Sunday: 12:00pm – 5:00pm

Tuesday Dec 24th: 10:00am – 6:00pm
Wednesday December 25th : CLOSED
Thursday Dec 26th: 10:00am – 6:00pm
*Sunday Dec 29th: CLOSED
Tuesday Dec 31st: 10:00am - 6:00pm
Wednesday Jan 1st: CLOSED - HAPPY NEW YEAR!

Regular hours resume Thursday January 2nd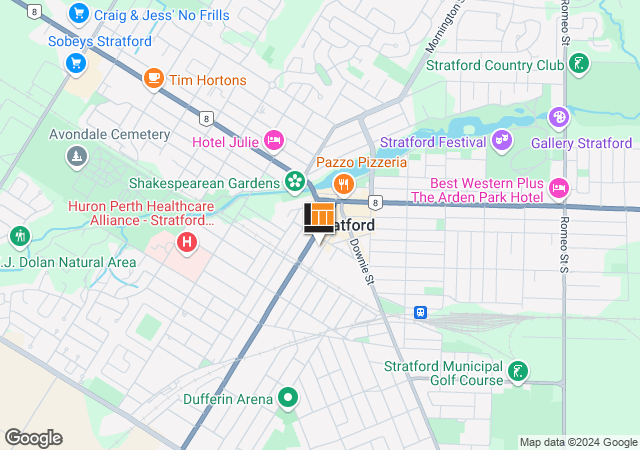 Directions to Long & McQuade Stratford
Long & McQuade Stratford is located right in the heart of downtown. The building can be accessed from Ontario Street at the front, or from our back York Street entrance.
Coming in on the 7/8 from Stratford, come right into the centre of town, we are the last block of shops on Ontario Street, just before the courthouse on the right hand side.
From Hwy 7, turn left on Ontario Street and we are just a couple of shops down on the right.
Coming in on Hwy 8, we are just past the bridge on the left hand side, close to Family & Co. our famous Children's Toy Shop.
Services offered at this location
At Long & McQuade Stratford, we offer:
Most of the major brands of musical instruments, music software and professional audio equipment
Daily, weekly and monthly rentals of instruments and audio equipment
Easy musician friendly financing options
Our Music Lesson Centre offers a variety of instrument lessons with qualified instructors
Guitar repair shop specializing in setups and most repairs
About our Stratford Location
Long & McQuade came to Stratford in 2003 after purchasing "The Carpenter Shop". The Carpenter Shop was a locally owned business that had been at the Ontario Street location since 1972.
In February of 2018 the store relocated to a big, beautiful new location at 145 Erie St. We now have our own parking lot and are still just minutes' walking distance to Stratford's famous Shakespearean Theatre, Tom Patterson Theatre and Avon Theatre. Home to many artists over the years, Stratford is a unique music community.
Music Lesson Centre
Long & McQuade's Music Lesson Centre in Stratford features professional studios, highly qualified teachers and private instruction for all ages, levels and styles.
We teach lessons in:
guitar
bass
drums
piano
woodwinds
brass
strings
and more!
Register for music lessons today! Call 519-271-5750 or email the lesson coordinator for details.