Étant donné la crise de la COVID-19, les succursales Long & McQuade ne seront pas ouvertes au public, mais offriront tout de même la livraison. Il est de notre devoir d'assurer la sécurité de notre personnel et de la clientèle en suivant les recommandations de Santé Canada et de l'Organisation mondiale de la santé.
Évidemment, quelques politiques et services ont dû être modifiés. Veuillez nous contacter pour toute question au sujet des ventes, de la location, des achats financés, des réparations ou des retours d'articles. (418-522-3877)
Nos écoles sont aussi fermées aux élèves, mais plusieurs de nos enseignants et enseignantes sont en mesure de donner des leçons en ligne. Contactez votre centre de cours pour tous les détails. (418-204-4400)
2700, chemin Sainte-Foy
Québec, Québec, G1V 1V4

---

Phone: 418 522-3877
Lesson Centre: Phone or Text 418 204-4400
Email: quebec@long-mcquade.com
Lesson Centre Email: ecolequebec@long-mcquade.com

Store Hours


*Heures d'ouverture temporaires*

Lundi : 9 h 30 - 17 h 30
Mardi : 9 h 30 - 17 h 30
Mercredi : 9 h 30 - 17 h 30
Jeudi : 9 h 30 - 17 h 30
Vendredi : 9 h 30 - 17 h 30
Samedi : 9 h 30 - 17 h
Dimanche : 12 h - 17 h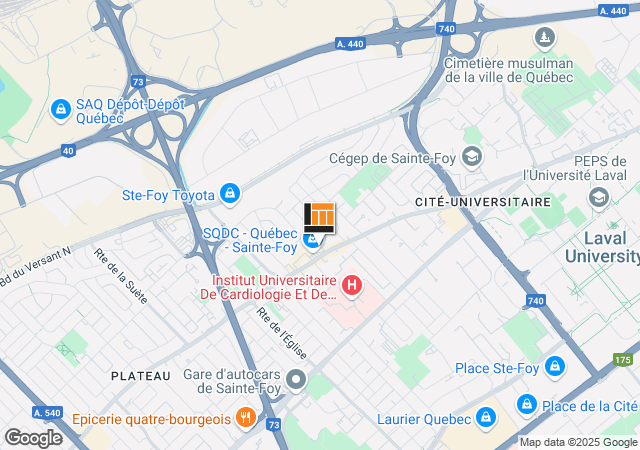 Directions to Long & McQuade Québec
Long & McQuade Québec is located at 2700 Ste-Foy Road, near Laval University and CEGEP Ste-Foy. This location includes a large parking to better accommodate you. For public transit users, the H-Cardiologie stop on the 807 route will bring you to our store.
Services offered at this location
Sales and rentals of musical instruments and audio equipment
Easy musicians friendly financing options
Repair services
We offer music lessons for all ages, skill levels and instruments!
About our Québec Location
Founded by Richard Gendreau in 1981, Musique Richard joined the Long & McQuade family on May 1, 2016, becoming the 70th branch of the Canadian musical instrument chain.
Long & McQuade Québec boasts nearly 9000 ft² of musical instruments of all kinds; guitars, drums, pianos and keyboards, wind instruments, percussions and string instruments, both for the amateur and the professional. You will also find a large inventory of sound and recording equipment.
Come in and meet our passionate and attentive team who will be at your disposal to meet your specific needs. In addition, as in all Long & McQuade stores, you will benefit from the various policies of the chain; price protection and guarantee, on-site financing, rentals at very competitive rates, and a no-hassle 30-day return policy.