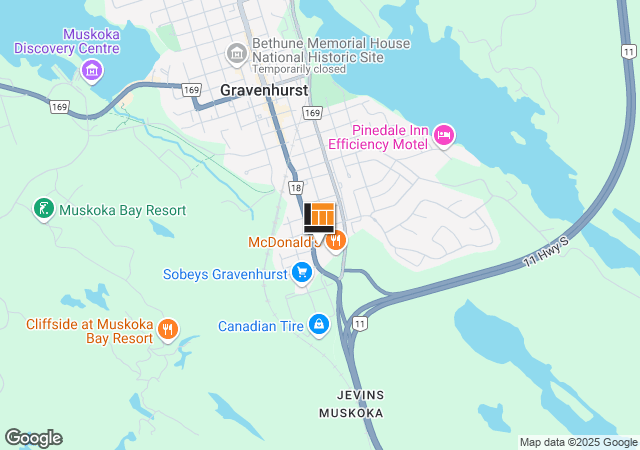 Long & McQuade Gravenhurst is a brand new location serving the Muskoka and surrounding area's music community. We have a sales floor dedicated to products like Gibson, Ernie Ball, Epiphone, Traynor, Yorkville Sound, Fender Roland, Yamaha, Pearl, Mapex, Universal Audio, Krk, Selmer, and many other major brands to fit all budgets!
Our Music Lesson Centre includes 5 studios and offers lessons in a variety of instruments.
Sign up for lessons here!
Directions to Long & McQuade Gravenhurst
Coming from Bracebridge:
Follow ON-11 S to Bethune Dr S/Muskoka District Road 169 in Gravenhurst. Take exit 169 from ON-11 S
Turn right onto Bethune Dr S/Muskoka District Road 169
Turn left at the McDonalds entrance.
Long & McQuade will be on the right in between Pizzaville and Starbucks.
Coming from Orillia:
Follow ON-11 N
Use the left lane to take the Muskoka District Road 169 exit toward Bethune Dr/Gravenhurst
Continue onto Muskoka Rd S/Muskoka District Road 18
Turn left at the Petro-Canada gas station
Long & McQuade will be on the right in between Pizzaville and Starbucks.
Services offered at this location
Gravenhurst's largest selection of beginner and professional musical instruments, and equipment. We offer:
Most of the major brands of musical instruments, music software and professional audio equipment
Daily, weekly and monthly rentals of instruments and audio equipment
Yearly student rentals
Easy, musician-friendly in-house financing options
A wide variety of band and orchestral instruments including brass, woodwind and string sections
Print music and learning materials
Music Lesson Centre featuring professional studios, highly qualified teachers and private instruction for all ages, levels and styles
Some in store musical repair for band, guitar, and strings
About our Gravenhurst Location
Long & McQuade Gravenhurst began as Precision Music, located in Bracebridge, Ontario. Opening in 1982, Keith and Kathy Lumley supplied the Muskoka region with instruments, lessons, and piano tuning/repair services for 40 years. Now we continue their legacy of supplying Muskoka all of their musical needs. Whether that be the best priced rentals in Canada, In-house financing, music lessons, repairs, and more!