---
1133 Markham Road
Scarborough, Ontario, M1H 2Y5
Phone Number: (416) 439-8001
Fax: (416) 439-4789
Email: scarborough@long-mcquade.com
Store Hours
Monday: 10:00am - 9:00pm
Tuesday: 10:00am - 9:00pm
Wednesday: 10:00am - 9:00pm
Thursday: 10:00am - 9:00pm
Friday: 10:00am - 9:00pm
Saturday: 10:00am - 6:00pm
Sunday: 12:00pm - 5:00pm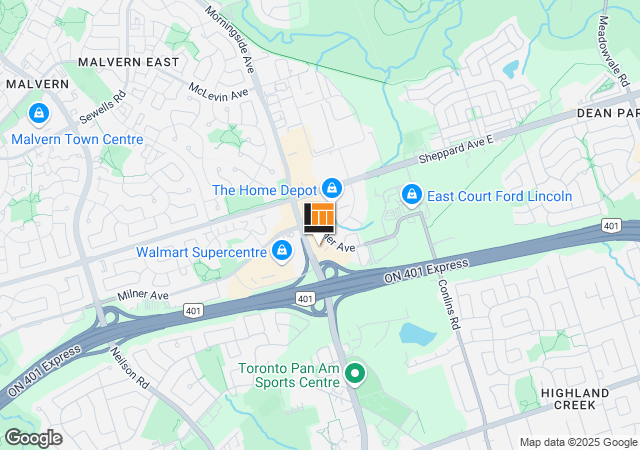 ---
Directions to Long & McQuade Scarborough
Long & McQuade Scarborough is located at the south east corner of Markham & Ellesmere, just minutes south of Hwy 401. The TTC has routes that run east and west on Ellesmere and north and south on Markham, with stops right outside our doors. If you are driving, we have two convenient entrances to the plaza in which our beautiful store is located. There is plenty of free customer parking in the front, and for our rental customers, there are some spots to the rear of the building that make it very easy for returning and picking up rental gear.
Services offered at this location
In order to provide our customers the highest level of service, we offer in-store band instrument repair and a professional guitar repair department. We provide our customers with options such as in-house financing and equipment rentals in all our departments.
Our sales floor has professional sales people that are very knowledgeable, friendly and passionate about the instruments we offer and have extensive background in their respective departments.
Have a gig? Want to try out something before you buy it? Our RENTAL department will have what you're looking for. We rent everything you need from speakers to lights to guitars and more. You'll be taken care of by specialists who will test everything and show you how to set anything up so you can be confident the gear will work when you take it home.
We offer:
Most of the major brands of musical instruments, music software and professional audio equipment.
Daily, weekly and monthly rentals of instruments and audio equipment.
Easy musician friendly financing options.
Fully equipped guitar & band instrument service department.
Consultation for those setting up recording studios and live music sound engineering.
About our Scarborough Location
Long & McQuade was founded in 1956 with one store and has now grown to over 60 locations. The Scarborough Long & McQuade has been the place to go for musicians in Scarborough since 1991 and continues to be the benchmark for customer service in the music retail scene. Our 5,000+ square foot showroom has departments dedicated to all of your needs, with knowledgeable, experienced staff members able to answer any questions you may have and to demo any instrument you may be interested in. Come on by Long & McQuade Scarborough for a musical experience you won't forget.