Please take note that our guitar service department will be temporarily closed for any NON-WARRANTY repairs until 1st of April, 2023.
---
1881, boulevard Curé-Labelle
Laval, Québec, H7T 1L1
Lesson Centre: Phone or Text 450 973-2100
Phone Number: 450 973-1313
Fax: 450 973-2313
Email: laval@long-mcquade.com
Lesson Centre Email: ecolelaval@long-mcquade.com
Store Hours
Lundi/Monday: 10am - 6pm
Mardi/Tuesday : 10am - 6pm
Mercredi/Wednesday : 10am - 6pm
Jeudi/Thursday : 10am - 8pm
Vendredi/Friday : 10am -8pm
Samedi/Saturday : 10am - 5pm
Dimanche/Sunday : 12pm - 5pm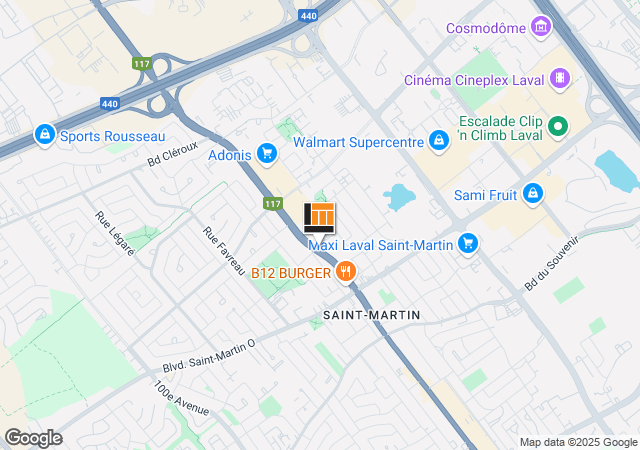 ---
Directions to Long & McQuade Laval
Long & McQuade Laval is located at 1881 Curé-Labelle Boulevard, just north of St-Martin Boulevard.
Our 9000 sq ft store is conveniently located just west of Highway 15 and south of Highway 440 in the centre of what is becoming Downtown Laval. We have a vast parking lot.
From West Island: take 13 north, 440 east and south on Curé-Labelle.
From Montreal: take 15 north, 440 west and south on Curé-Labelle.
From Laurentians: take 15 south, 440 west and south on Curé-Labelle.
Services offered at this location
Most of the major brands of musical instruments, music software and professional audio equipment
Daily, weekly and monthly rentals of instruments and audio equipment
Easy musician friendly financing options
We offer music lessons for all ages, skill levels and instruments! Contact us at [email protected] or 450-973-2100
About our Laval Location
We have the best brands and the most courteous service at Long & McQuade, where you can buy, rent, trade, repair, and sell your music gear.
Music Lesson Centre
Long & McQuade's Music Lesson Centre in Laval features professional studios, highly qualified teachers and private instruction for all ages, levels and styles.
Email us at [email protected] or give us a call at 450-973-2100 for more information.