During the Covid19 pandemic, Long and McQuade will not be open to the public. Our stores are open for curbside only. Our mandate is to ensure the safety of our employees and customers and we are following the guidelines of Health Canada and the World Health Organization.
We have had to modify some of our policies and services so please contact the branch to discuss your needs including sales, rentals, financing, service or returns. 450-973-1313 or laval@long-mcquade.com
Our lesson centres are also closed; however, we do have many of our teachers available for online music lessons. Please contact the lesson centre for details. 450-973-2100 or ecolelaval@long-mcquade.com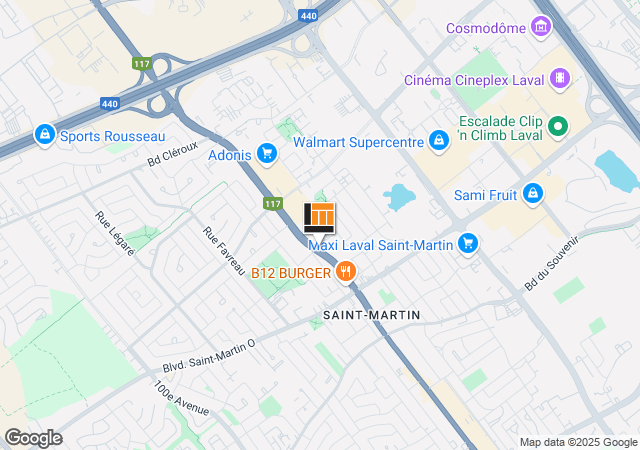 Directions to Long & McQuade Laval
Long & McQuade Laval is located at 1881 Curé-Labelle Boulevard, just north of St-Martin Boulevard.
Our 9000 sq ft store is conveniently located just west of Highway 15 and south of Highway 440 in the centre of what is becoming Downtown Laval. We have a vast parking lot.
From West Island: take 13 north, 440 east and south on Curé-Labelle.
From Montreal: take 15 north, 440 west and south on Curé-Labelle.
From Laurentians: take 15 south, 440 west and south on Curé-Labelle.
Services offered at this location
Most of the major brands of musical instruments, music software and professional audio equipment
Daily, weekly and monthly rentals of instruments and audio equipment
Easy musician friendly financing options
We offer music lessons for all ages, skill levels and instruments! Contact us at ecolelaval@long-mcquade.com or 450-973-2100
About our Laval Location
We have the best brands and the most courteous service at Long & McQuade, where you can buy, rent, trade, repair, and sell your music gear.
Music Lesson Centre
Long & McQuade's Music Lesson Centre in Laval features professional studios, highly qualified teachers and private instruction for all ages, levels and styles.
Email us at ecolelaval@long-mcquade.com or give us a call at 450-973-2100 for more information.