---
721 43 Street E
Saskatoon, Saskatchewan, S7K 0V7
Phone Number: (306) 664-1966
Lesson Centre: Phone or Text (306) 500-7541
Fax: (306) 652-3032
Email: saskatoon@long-mcquade.com
Lesson Centre Email: saskatoonlessons@long-mcquade.com
Holiday Schedule Changes
Open Every Sunday before Dec 24 (12:00-5:00)
Sunday Dec 24 (11:00-4:00)
Dec 11-23 Extended Hours (Mon-Fri 10:00-8:00, Sat 10:00-6:00)
Dec 25 - Closed
Dec 26 - (10:00-6:00)
Jan 1 – Closed
Store Hours
Monday: 10:00am - 6:00pm
Tuesday: 10:00am - 6:00pm
Wednesday:10:00am - 6:00pm
Thursday: 10:00am - 8:00pm
Friday: 10:00am - 6:00pm
Saturday:10:00am - 6:00pm
Sunday: Closed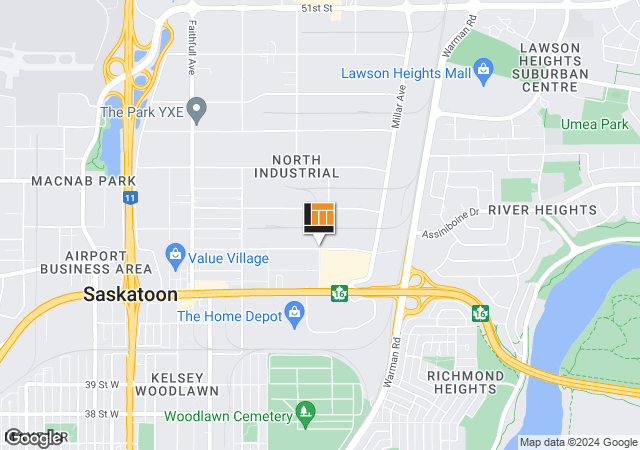 ---
Directions to Long & McQuade Saskatoon
Long & McQuade Saskatoon 721 43rd Street East is located on the south side of 43rd Street E, half-way between Millar Avenue and 1st Aveune N.
From west of the city: take Circle Drive eastbound, turn left at 1st Avenue N, and turn right at 43rd Street.
From east of the city: take Circle Dive westbound, take Millar Ave. exit, turn right at Millar Ave, and turn left at 43rd Street.
From the North, take Millar Ave southbound and turn right at 43rd Street.
We offer over 60 dedicated parking spaces and a dedicated door to the Rental department for easy pick-up and return of gear.
Services offered at this location
Long & McQuade Saskatoon is one of Canada's largest music stores. We offer:
Most of the major brands of musical instruments and audio equipment
Daily, weekly and monthly rentals of instruments and audio equipment
Lesson Centre with qualified teachers offering lessons in piano, voice, guitar, bass, drums, mandolin, banjo, pedal steel, violin, cello, brass, and woodwinds
Easy musician-friendly financing options
Fully equipped electronic service department
Guitar repair ship with qualified luthier
Band repair shop with qualified service technician
About our Saskatoon Location
Our store features a climate-controlled acoustic guitar room. In addition to a full selection of beginner to high-end guitars, we also ensure we are fully stocked with banjos, mandolins, ukuleles, and folk instruments. We offer the largest selection of pedal steel guitars in Saskatchewan!
Our drum department is one of the largest in Canada and offers a huge selection of both acoustic and electronic drum sets, snare drums, ethnic hand percussion, hardware, pedals, parts and accessories, as well as a selection of over 200 cymbals.
We stock a large selection of home keyboards as well as a variety of high quality digital pianos.
For all your DJ needs from beginner to professional, our DJ department displays a wide variety of DJ controllers, mixers, media players, turntables, lights, and PA equipment. Our DJ specialist will help you get set up with everything you need whether you are just starting out or a seasoned veteran.
Our band department, supported by our very knowledgeable band staff, maintains a large selection of stringed instruments and accessories in addition to providing everything you need for woodwinds and brass. Our extensive School Band Rental program will assist you with everything you need to prepare for school band. If you're looking for print music, our print music specialist will happily guide you through our sheet music library.
Other unique events:
"Vintage, Cool, & Collectable Drum Show N' Shine" Vintage drum show held annually in May. Contact [email protected] for details.
Music Lesson Centre
Long & McQuade's Music Lesson Centre in Saskatoon features professional studios, highly qualified teachers and private instruction for all ages, levels and styles.
We teach lessons in:
guitar
bass
double
bass
banjo
pedal steel
drums
piano
vocal
woodwinds
brass
violin/fiddle
cello
Register for music lessons today! Call 306-664-1966 or email the lesson coordinator for details.