---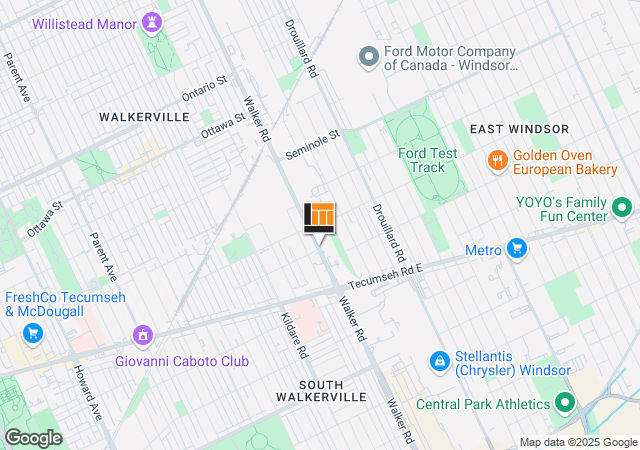 ---
Directions to Long & McQuade Windsor
Long & McQuade Windsor is located on the west side of Walker Road at 1801. We are one block north of Tecumseh Ave (toward the river as they say), a short drive from 2 international crossings.
Our staff boasts a wide skill set from print/band specialists, audio engineers, accredited music teachers and innovative technicians.
Services offered at this location
Long & McQuade Windsor is Essex County's largest music store. We offer:
Major brand musical instruments, professional audio equipment and accessories
Daily, weekly and monthly rentals of instruments and audio equipment
A full feature guitar repair shop
Expert tech support, consultation for studio set up, FREE clinics, promotions and community events
Convenient musician friendly financing options put pro gear within reach for anyone
60+ parking spaces in an easily accessible lot
About our Windsor Location
Long & McQuade Windsor has been a staple for local and touring musicians since the 1980's - fast forward 30 years beyond the mustaches and tassled jackets...
We continued to grow, acquiring additional staff through the purchase of Belle Air Music. The entire staff here have been involved in music for decades but prove perpetually young at heart.
Our location at 1801 Walker features:
Easy access from the downtown core and the major highways, including E.C. Row, Hwy 3 and the 401
A roll-up rental door affords unimpeded access for quick load out and easy rental returns
A climate controlled acoustic room houses Gibson, Martin, Taylor and many more brands in a space with soft lighting and comfortable seating
Our success with our customers is our best advertisement. Come in and see us for your next musical endeavour!
Music Lesson Centre
Long & McQuade's Music Lesson Centre in Windsor features professional studios, highly qualified teachers and private instruction for all ages, levels and styles.
We teach lessons in:
guitar
bass
drums
piano
woodwinds
brass
strings
and more!
Call 519-252-9644 or email the lesson coordinator for details.