Ludwig Drums
P88AC Throw-off & Butt-Plate Pack
---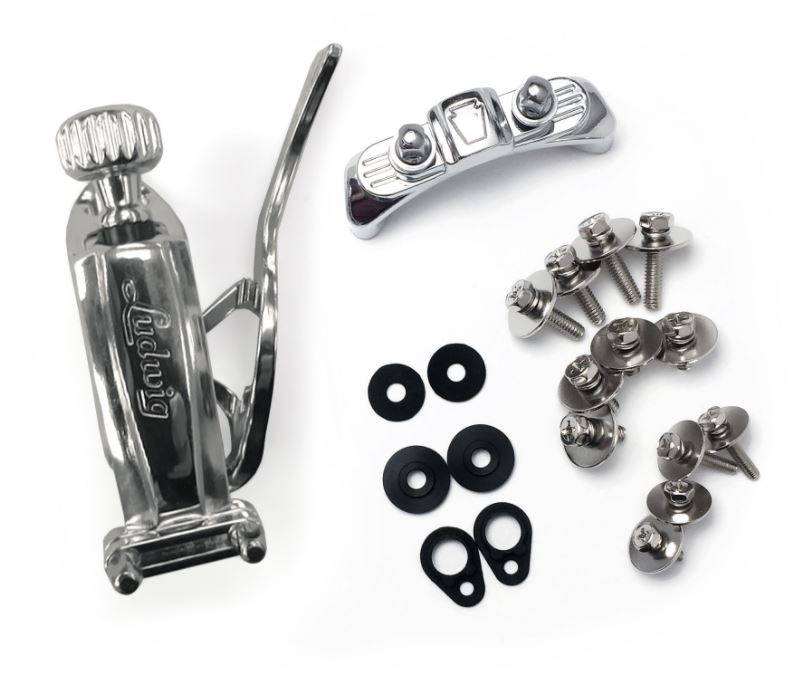 Simple. Elegant. Reliable.

A re-imagining of the renown P85 throw-off, the P88 is a cast design that will fit all P83, P85, and P86 units. This throw-off features Wave-Lock technology in the tension knob for consist tension under rigorous playing. Capturing much of the Ludwig identity in its design and functionality, the P88 is the only throw-off option for Ludwig snare drums. A great combination for upgrading your vintage or modern Ludwig snare.

• Extended throwoff arm
• Improved tension knob
• Now comes standard on all new Ludwig snares
• Retrofits most Ludwig snare drums thanks to extra hole spacings and screws
44.192.115.114
CCBot/2.0 (https://commoncrawl.org/faq/)
***DOES NOT RETROFIT VINTAGE SUPRA SNARES***
1 of 3 customers found this review helpful
Product Experience
I own it
Closest Store
Toronto (Bloor St.), Ontario
These claim to be a replacement for faulty vintage P83 and P85 throw offs. I purchased one for my 60s Ludwig COB Special and when it arrived I was excited to have a fully functioning snare again.
Imagine my disappointment when I learned that the P35 snare butt has no holes that line up with the original P32 holes in the shell. Ok half of this product is immediately unusable. I resigned myself to just installing the snare throw side and moving on. Again, no such luck. The screw diameter of the new throw is too wide to fit the vintage holes. I tried it on my 70s Supraphonic hoping I could still find some use for it. Again too large.
Not only that, but because the holes in the throw itself are threaded, you can only use that specific diameter of screw. So let me see if I'm getting this straight, not only is half of this combo immediately useless but the only way to get it to retrofit is to drill out the mounting holes in your vintage snare?!?? I don't know how Ludwig managed to botch this so badly but they should know better. And as far I can tell they haven't done anything to inform anyone or correct this mess.
Posted by

Aidan L.

on

May 13, 2021
***DOES NOT RETROFIT VINTAGE SUPRAS***
1 of 3 customers found this review helpful
Product Experience
I own it
Closest Store
Edmonton Mayfield, Alberta
I can't speak for any drums aside from my 60s 14x5 COB Special and 70s 14x6.5 Supra but the former has a P83 and the latter has a P85 and the P88 works with NEITHER. The physical spacing of the screws on the throw is correct but the width of the screws they've gone with are too wide for the factory holes.
To make matters worse, the holes in the throw are threaded meaning, unlike the vintage throws, it will only work with the one size of screw. And if that weren't bad enough, the holes in the included P35 butt plate aren't even close to lining up with the vintage P32.
So to summarize, if you were hoping to buy this to replace a faulty vintage throw: don't. You'd be buying something where half the mechanism won't function at all outright and in order to make the other half work you'd need to drill out the holes in your vintage drum. Ludwig *really* missed the mark on this one and from what I know have done nothing to educate people or rectify their sloppiness.
Posted by

AL

on

May 8, 2021