Steinberg
Cubase Essential 5
SKU: #

311489
|
Model: #

502012420
|





Product Reviews

0 Reviews
Write a Review
---
Additional Photos: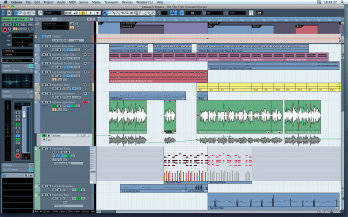 This product is no longer available.
NEW FEATURES IN CUBASE 5

Cubase 5 adds even more creative possibilities and new technologies to the worlds premier music production software developed by Steinberg providing the finest tools to producers, composers and musicians in any musical genre.

BEAT CREATION AND LOOP MANGLING
Cubase 5 features outstanding new tools for creating beats, generating exciting new rhythms and working with loops.

Mash it up
LoopMash is a revolutionary virtual instrument that offers a unique and innovative way of creatively working with loops and beats to create stunning new rhythms and grooves. Seamlessly blendable variations of both the included loops and any loop from your library open up myriad new creative possibilities. LoopMash is based on a new audio analysis/synthesis engine, developed in collaboration with Yamaha, that matches similar elements across loops and beats, generating fresh and inspiring mash-ups from any rhythmic audio material. Click here to check out the video tutorial.

Brand-new, first-of-its-kind interactive loop synthesizer
Creates entirely new and unique variations on the fly by simply dragging existing loops from MediaBay or the Project Window onto LoopMash
Entirely synced to the Cubase Tempo
Integrated editing tools and powerful live performance mode with user-definable scenes

NEW IN CUBASE 5.5: With Cubase 5.5 LoopMash has been updated to version 1.2. Customer feature requests have also flown into this release: each track now features an automatic volume control as well as an individual level meter to adjust and control level inconsistencies between source loops. A ruler and beat numbers have been added as well to improve control.
To provide a macro-control of loop mangling results, a new global threshold control has been implemented. This ensures that across all tracks only slices with a similarity factor above the threshold will be considered for playback, while slices below the threshold wont be taken into account. Now its even easier to control the overall density of a loop construct - from silky smooth to ultra-intense with just one slider!


Drum sampling deluxe
Groove Agent ONE pairs powerful drum sampling with detailed sound shaping seamlessly integrated into Cubase. Not only does it boast sliced loop and MPC-import but rocks right out of the box with its own custom library of only the finest acoustic, urban, hip hop and dance drum kits! Each of its virtual pads features a complete sound processing section that gives full control of textures, timbres and expressive qualities of each drum sound. Creation of custom kits with drag and drop from the MediaBay allows an extremely fluid and easy workflow.

Support for WAV, AIFF and the legendary MPC format
Easy-to-use interface the perfect fusion of functionality and simplicity
Powerful editing section for each drum sound
Automatically maps sliced Cubase audio parts or multiple audio events across the pads by simply dragging them directly to Groove Agent ONE
Convert sliced audio loops to MIDI by dragging them back to a MIDI track

NEW IN CUBASE 5.5: Groove Agent ONE, has been updated to version 1.1 and comes packed with new features requested by our customers along with brand-new content! Transferring user drum kits between different systems has been heavily improved: using the import and new export button is now quicker and more transparent than ever before. A handy search function has also been added to expedite the search process, just in case one of the custom samples used by an imported drum kit goes missing on the target system. Another often requested feature has found its way into Groove Agent ONE: adjusting sample start / end points directly in the Voice Edit window. The clever auto-zooming mechanism ensures that the right portion of the sample is displayed so the user doesnt need to manually zoom or scroll around. Its also possible to use the mouse wheel to control any parameters of Groove Agent ONE with a simple mouse click.

But thats not all. We brought together 19 brand-new and exclusive drum kits made out of over 800 finest vintage drum machine samples in order to give the user an even bigger arsenal that is bound to fuel the users creativity!

Beat it!
Beat Designer is a hot new beat construction plug-in that allows you to get hands-on with beats for step programming and designing drum patterns in an easy yet powerful way, working hand in hand with Groove Agent ONE. Getting really interactive with different grooves and variations has never been easier: Beat Designer organizes several patterns at once in customizable banks and can trigger each of them in real time and synced to Cubase with a MIDI keyboard.

Supports up to 64 steps per pattern
Customizable resolution and time signature
Support for flam hits and rolls
Individual volume settings for each element in a beat allowing full control of the dynamics of any groove
Comes with dozens of beats in various styles perfectly matching the Groove Agent ONE kits

Your gateway to the world of Cubase

With an easy, intuitive approach to composing, recording, editing and mixing, Cubase Essential 5 is your gateway to the world of Cubase. Cubase Essential 5 shines with the same user interface and award-winning audio engine as the Steinberg Cubase 5 advanced music production system used by countless professionals around the globe. So whether youre composing songs at home, recording your band in the rehearsal room or remixing the latest hip-hop and dance tracks on a laptop while on the move: Cubase Essential 5 combines premium virtual instruments, outstanding audio and MIDI VST effects with a vast range of proven editing and sequencing tools while being extremely easy to use.
There are currently no reviews for this product. Be the first to write one!