Zoom
R24 - SD Recorder/Interface/Controller
---
Additional Photos: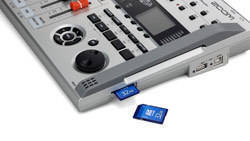 Product Videos :
YouTube Video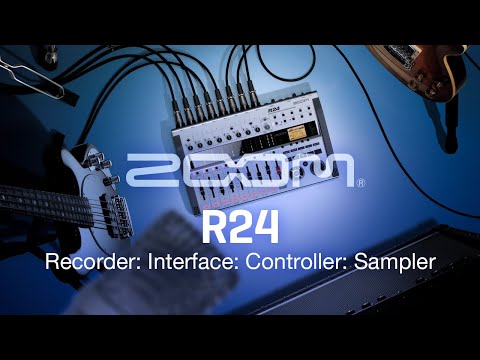 or from
$71
CDN/mo
The Total Music Production Solution.
Zoom takes its revolutionary R16 and turbocharges it with a sampler and drum machine, 8 additional recording tracks and 6 channels of phantom-power on the all-new R24. The R24 combines four production tools into one incredibly versatile device. In addition to 24-track playback and 8-track simultaneous recording using SD memory cards, the R24 is a digital multi-track recorder, an audio interface, a control surface and a pad sampler.

The R24s new sampler function consists of 24 built-in voices that can be triggered using 8 pads and 3 bank keys to assign sounds to each track and create loops. Also, you can use the units drum machine and its 400 rhythm patterns to create original backing beats, or simply output a metronome for tempo control. More than ever before, you have all the tools necessary to create studio-quality recordings anywhere.

For recording, the R24 comes with a 1GB SD card. It supports up to 32GB SDHC cards for a maximum of 100 track hours. The flexibility of SD recording not only makes the R24 lighter and more portable, it also ensures increased reliability with no concern for a crashing hard drive. Back up your project on a USB memory stick. Or dedicate an SD card to each recording session.

Take your R24 into your studio and record additional tracks using its USB audio interface. Then when youre ready to mix, use the R24s control surface capabilities to manage each function of your favorite DAW software.

Incorporate any of the 100+ built-in studio effects to enhance your recording and use the pro-quality mastering effects to complete that studio sound. You can even connect two R24s via USB for synchronized operation and 16 tracks of simultaneous recording.

With the new Zoom R24, versatility, control and comprehensive features come together in a single device that puts everything you need for professional music production right at your fingertips.

Now, Zoom provides you with everything you need to create professional music recordings from any location by merging a multi-track recorder, audio interface, controller surface and a sampler into the incredible R24.

Multi-track Recorder
Over 100 studio-quality effects including guitar amp models and mastering effects
Records on up to 32GB SDHC cards for maximum recording time
8 balanced XLR-1/4-inch combination inputs
Records in WAV 48kHz/44.1kHz at 16-bit or 24-bit
Easily viewable 4-segment LED meter bridge
6-channel simultaneous 48V phantom power supply capability
Over 4 hours of operation using 6 AA alkaline batteries (AC adaptor included)
Sync two R24s via USB for 16 tracks of simultaneous recording

Audio Interface
High-definition 24-bit/96kHz recording capability using digital audio software
8 in / 2 out (8 x 2) via USB

Control Surface
Full mixing and transport controls for Cubase, Logic, Sonar and more!
USB Control Surface uses Mackie Control emulation

Sampler
Pad sampler with 24 voices (8 pads x 3 banks)
Loop-based audio sequencer for music creation
Youtube video product demo
44.192.115.114
CCBot/2.0 (https://commoncrawl.org/faq/)
I like it
1 of 2 customers found this review helpful
Product Experience
I own it
Closest Store
Halifax, Nova Scotia
I have had the 24 and the 16 for a few yrs now ( i created a master and slave setup for more tracks, ease, etc). I am not a big fan of computer recording so this setup works for me. Of course you can always get bogged down in details etc but over all for price and what it can do i would recommend. If you are deciding on the 16 or the 24. Go with the 24! Hope my review helps!
Posted by

John Whynot

on

Nov 12, 2020
Zoom r 24
6 of 6 customers found this review helpful
Product Experience
I own it
Closest Store
London South, Ontario
Went to school for recording. Very comfortable with pro tools and the ins and outs of working in studios. I got the zoom 24 a couple months ago for demos and writing. It takes A couple hours of watching YouTube videos n reading the manual to learn. It's so nice to get away from computers and to just press record. Learn the ins and outs like how to punch in ,adding a little FX. And especially moving recorded tracks / swap tracks to different tracks so you don't have to unplug your mic and plug it into another input every time. (Very important and very easy) It's workflow is a lot more like tape machines then DAWs.
PROs. I haven't had this much fun in a while. Pro tools puts this pressure on recording like it better sound perfect. This thing just plug in and get the tracks down to test how different parts sound. Move forward and backwards from the mic or stereo mic's for depth as an effect nstd of adding this or that. It's fast once you get going and you'll be surprised at the speed you can track at.
Value for money is incredible . No need for new computers And the constant money grab for updates just to have the original tools you had before.
CONs. Pre amps are noisy ( what do u expect) but if you use a half decent condenser it knocks a lot of the fuzz down . You can use external mic preamps but these will work just fine. But if your looking for very clean recordings I suggest a external gate with external mic pre to make recordings a lot cleaner so you don't hear any mic pre hiss.
Cool tip- Don't want external pre n noise gate. You can use the internal mic pres (they r fine) but to knock down the mic pre noise use what's called ZNR. Press effect. Turn on. Down to algorithm. Change it to Mastering. Down to input SRC. Choose which input your mic is plugged into. Then down to Edit click enter. Click right or left till you see TOTAL. Click down to ZNR. Now talk or play into your mic and adjust the ZNR up until after you speak into the mic it closes to stop any mic pre noise. When you read it it sounds complicated but once your up and going it's really not.
Great for vocals. Just remember it's only on that channel. But if you "swap" / move what you just recorded onto another channel another it remains on the recording. So I use the same channel or 2 to record and just keep on swapping the recordings to different channels. So much faster then changing this setting or that.
Also important under effects button is where you pick your reverb N chorus type of FX.
Under pan/eq button is where how much you send into the reverb or chorus is located.
Kinda confusing but once you've done these things a couple times your flying.
Have fun.
Posted by

Brian

on

Jul 29, 2020
Best Multitrack Standalone for Sound Quality
1 of 1 customers found this review helpful
Product Experience
I own it
Closest Store
Lethbridge, Alberta
The sound alone is the reason to buy. Would be better if it recorded at 24/96, if it had pan knobs, fx knobs, eq knobs, and MIDI. Other than that, a great unit.
Posted by

Brayden Smith

on

Oct 4, 2017
The software is a nightmare
0 of 6 customers found this review helpful
Product Experience
I own it
Closest Store
Hamilton, Ontario
As a stand alone unit its oky but the software is terrible theres no native zoom software and the downloadable free Cubase does not install and recognize the unit in Win 7 64 bit and tech support what a joke if youre looking for a daw controller look elsewhere
Posted by

dharma

on

Mar 13, 2017
Gain Knobs Fritz Out Early
5 of 5 customers found this review helpful
Product Experience
I own it
Closest Store
Winnipeg (Wall St), Manitoba
All is great until the gain knobs start getting scratchy and ruin recordings after a couple of months. No RMA when it happens after warranty. Third Zoom product to let me down!
Posted by

anonymous

on

Feb 9, 2015
Zoom R24
2 of 2 customers found this review helpful
Product Experience
I own it
Closest Store
Calgary Royal Vista, Alberta
I did a LOT of research on different machines before getting this. There is a learning curve, but play with it and have fun, easy to setup and record. Learn the sequencer and you'll be able to get drums, bass, guitar tracks etc done for a whole song. I especially like the fact that I can play guitar riffs over and over or try different things/sounds/attack etc, select the best part, trim the rest, this becomes the loop.
Saving to SD cards is quick, easy, reliable and transferrable. The software driver for windows 8 hasn't been released yet (Jan 2013), but ok up to windows 7 as an interface and controller. However the SD cardreader function works with windows 8.
I can record in the R24 then transfer the files into the PC, I also have the main outs plugged into the LINE-IN on the computer and works like a charm.
Posted by

Andrew

on

Jan 25, 2013
Recording made easy
5 of 5 customers found this review helpful
Product Experience
I own it
Closest Store
Edmonton South, Alberta
I have a M Box and software that i have been using for some time for home recording. works fine but was looking for a portable solution and the guys at LM suggested the r24, Well lets just say I don;t use the M box much any more. I the R24 is so easy to use and the feature set so rich that I have switched almost exclusively to using it even with when recording at home with software. Firstly is functions as an audio interface as well as a portable recorder. I found that when I was not working with the software I focused more on the music and got way more done. the software approach has so many distractions and I was always fighting with the machine so to speak. not the case with the R24. This recorder is so reasy to use and sound just as good. I love it. It has a cool onboard sampler and drum machine that is worth the price alone. made some killer s transfering files to the computer for editing is fast and easy. I still record some stuff directly into the software and there are two thing that make this unit better than my mbox. It has this control surface feature where the R24 controls the software. The transport and faders work the software like a real mixer. how cool is that. The other thing is you can use the onboard effect even when its an interface. This has solved a whole bunch of latency issues with the computer. I play guitar and have tried virtual amp etc. and was always bothered by the slight delay when recording and using the software plug ins. Not any more. The R24 offloads the processing to itself and there is no latency when on the amp modeling inside the R24. I can still record the guitar dry and bring it back into the software virtual amp plug of choice on playback but no delay when I record. this is absolutely necessary in my opinion when recording guitar. also do the same thing when recording vocals. splash a little reverb on when recording make me sing better yet I get a dry track in software I can do what ever with after. this is totally pro. Anyhow all I can say is the R24 is the best recording unit I have bought and as a result I have more than doubles the amount of songs recorded and written over the last 2 months. All i can say is just buy it. If you want to make music and not battle the machine the r24 is the way to go.
Posted by

Neil B

on

Dec 4, 2012
Exceptional sound quality
3 of 3 customers found this review helpful
Product Experience
I own it
Closest Store
Abbotsford, British Columbia
I'm using this to record my new album release. The sound quality blows away all the competition from Tascam etc.
Posted by

anonymous

on

Oct 21, 2012