EarSonics
EarPad Universal Earplugs w/Case
---
Additional Photos: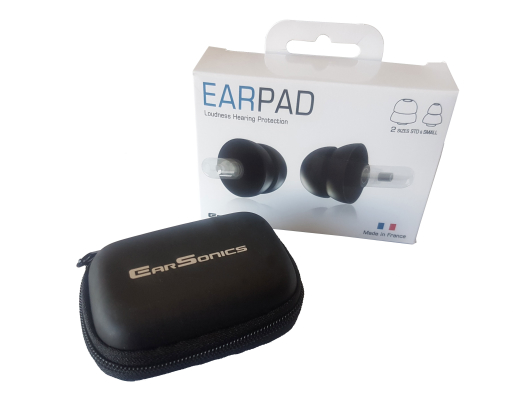 The EarPad Universal earplugs give your ears the protection required to help safguard your hearing from excessive levels of sound. The unique EarPad acoustic filter will reduce the sound reaching your eardrum yet still allow you to hear the music with it's full acoustic content, enhancing the lows and highs with it's built in passive loudness filter. Think of it as a volume control for your ears!
With average attenuation of 16 dB, the EarPad universal hearing protector offers hi-end hearing protection for musicians, concert-goers, drummers, percussionists, DJs and clubbing.


Particularly suitable for listening to music because of its quality of reproduction.


Hypoallergenic and equipped with flexible silicone tips, the EarPad fits perfectly in all ear canal sizes for exceptional comfort. Includes one set each of standard and small silicone tips.


Particularly small, it can be worn in a variety of circumstances including where a discrete look is desired, or for comfort without pressure under a helmet.


Washable and reusable.


Comes with a convenient storage case and cord.
There are currently no reviews for this product. Be the first to write one!