Hal Leonard
The Ultimate Ukulele Fake Book: Over 400 Songs to Strum & Sing - Book
SKU: #

696647
|
Model: #

175500
|





Product Reviews

1 Reviews
Write a Review
---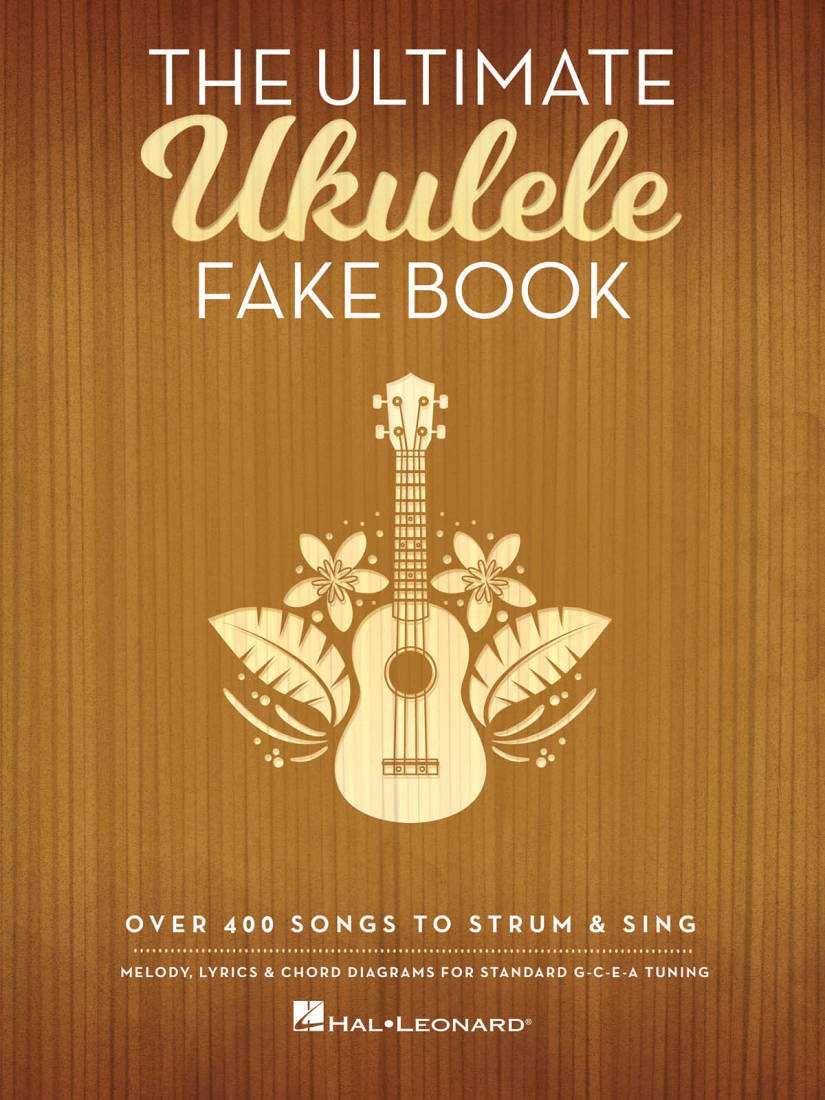 Additional Photos: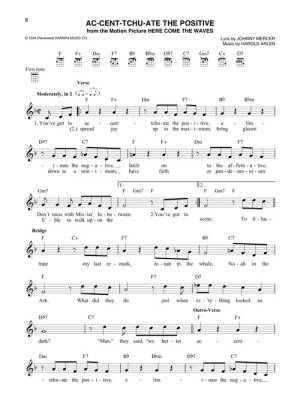 Composers: Various
Format: Softcover
Instrumentation: Ukulele
Uke enthusiasts will love this giant, spiral-bound collection of over 400 songs for uke, presented with melody, lyrics & chord diagrams for each song in standard G-C-E-A tuning.
Song List:
Abraham, Martin And John
Ac-cent-tchu-ate The Positive
Act Naturally
After You've Gone
Ain't Got No Home
Ain't Misbehavin'
Ain't We Got Fun?
The Air That I Breathe
Alabamy Bound
All About That Bass
All I Have To Do Is Dream
All My Loving
All Of Me
All The Way
Allegheny Moon
Alley-oop
Aloha Oe
American Tune
And I Love Her
And I Love You So
And So It Goes
Annie's Song
Anniversary Song
Anticipation
April Showers
Are You Havin' Any Fun?
Are You Lonesome Tonight?
As Tears Go By
At Seventeen
At The Hop
Atlantis
Autumn Leaves
Baby Face
Baby Love
The Banana Boat Song
Bang The Drum All Day
Behind Blue Eyes
Bei Mir Bist Du Schon (Means That You're Grand)
Best Of My Love
The Best Things In Life Are Free
Better Together
Bewitched
Beyond The Sea
Big Girls Don't Cry
Black Magic Woman
Blackbird
Blue Hawaii
Blue Moon Of Kentucky
Blue Velvet
Blueberry Hill
Boogie Woogie Bugle Boy
Book Of Love
Brand New Key
Break My Stride
Breaking Up Is Hard To Do
Bring Me Sunshine
Brown Eyed Girl
Bubbly
Bus Stop
Bye Bye Blackbird
Bye Bye Blues
Call Me
Can't Buy Me Love
Can't Get Used To Losing You
Can't Smile Without You
Candy
Carrie-Anne
Carry That Weight
Catch The Wind
Cecilia
Chapel Of Love
Chicago (That Toddlin' Town)
Children Go Where I Send Thee
The Circle Game
Coconut
Come Go With Me
Come Saturday Morning (Saturday Morning)
Consider Yourself
Could I Have This Dance
Count On Me
Counting Stars
Crazy
Creep
Dancing In The Street
Dancing Queen
'Deed I Do
Defying Gravity
Delilah
Dinah
Don't Fence Me In
Don't Get Around Much Anymore
Don't Let The Sun Catch You Crying
Don't Sit Under The Apple Tree (With Anyone Else But Me)
Don't Think Twice, It's All Right
Don't Worry Baby
Down At The Twist And Shout
Down In The Boondocks
Down On The Corner
Down Under
Downtown
Dream
Dream Baby (How Long Must I Dream)
Drifting And Dreaming (Sweet Paradise)
Eight Days A Week
Elenore
Enjoy Yourself (It's Later Than You Think)
Everybody Loves Somebody
Everyday
Exactly Like You
Falling Slowly
Ferry 'Cross The Mersey
Fields Of Gold
Fifty Ways To Leave Your Lover
Five Hundred Miles
Forever Young
The Frim Fram Sauce
From Me To You
Garden Song
Getting To Know You
Girl
The Glory Of Love
God Only Knows
Golden Slumbers
Good Day Sunshine
Good Night
Goodnight, My Someone
Graceland
The Great Pretender
Groovin'
A Groovy Kind Of Love
The Hanging Tree
Happy
A Hard Day's Night
The Hawaiian Wedding Song (Ke Kali Nei Au)
Heal The World
Heatwave (Love Is Like A Heatwave)
Hello
Hello, It's Me
Hello Mary Lou
Here, There And Everywhere
Hey, Good Lookin'
Hey Jude
Hey, Look Me Over
Honeycomb
Honeysuckle Rose
Hooked On A Feeling
Hound Dog
House Of Gold
How Can You Mend A Broken Heart
How Sweet It Is (To Be Loved By You)
The Hukilau Song
Hurdy Gurdy Man
I Ain't Got Nobody (And Nobody Cares For Me)
I Do
I Don't Care If The Sun Don't Shine
I Feel Fine
I Have A Dream
I Love How You Love Me
I Only Want To Be With You
I Saw The Light
I Saw The Light
I Shot The Sheriff
I Think We're Alone Now
I Want To Hold Your Hand
I Will
I Will Follow You Into The Dark
I Wish You Love
I Won't Give Up
I'll Be Seeing You
I'll Fly Away
I'll Follow The Sun
I'll Never Find Another You
I'll See You In My Dreams
I'm Beginning To See The Light
I'm Confessin' (That I Love You)
I'm Gonna Sit Right Down And Write Myself A Letter
I'm Into Something Good
I'm Looking Over A Four Leaf Clover
I'm Sitting On Top Of The World
I'm Yours
If I Fell
If We Only Have Love (Quand On N'a Que L'amour)
In My Life
In The Middle Of An Island
In The Still Of The Nite (I'll Remember)
Indiana (Back Home Again In Indiana)
It Had To Be You
It Was A Very Good Year
It's A Good Day
It's A Sin To Tell A Lie
It's Not Unusual
It's Now Or Never
It's Only A Paper Moon
Jackson
Jam Up And Jelly Tight
Jar Of Hearts
Just A Settin' And A Rockin'
Just The Way You Are
Just The Way You Are
Keep On The Sunny Side
Kisses Sweeter Than Wine
Kodachrome TM
La Vie En Rose (Take Me To Your Heart Again)
The Last Farewell
The Last Thing On My Mind
Last Train To Clarksville
Lava
Lay Down Sally
Lazy Day
Let Her Go
Let It Be Me (Je T'appartiens)
Let It Go
Let Your Love Flow
Let's Get Together (Get Together)
The Letter
The Lion Sleeps Tonight
Little Green Apples
Long Cool Woman (In A Black Dress)
Look For The Silver Lining
The Look Of Love
Lookin' For Love
Lookin' Out My Back Door
L-O-V-E
Love Is The Answer
Love Me Do
Loves Me Like A Rock
Loving You
Lulu's Back In Town
Make Your Own Kind Of Music
Mama Tried
Mamma Mia
Massachusetts (The Lights Went Out)
Me and Julio Down By The Schoolyard
Memories Are Made Of This
Mister Sandman
Misty
Mockin' Bird Hill
Moonglow
Moonshadow
More (Ti Guarder Nel Cuore)
More Today Than Yesterday
Mother And Child Reunion
Mrs. Brown You've Got A Lovely Daughter
The M.T.A.
Music To Watch Girls By
My Girl
My Guy
My Love
Never On Sunday
New World Coming
A Nightingale Sang In Berkeley Square
No Particular Place To Go
Nowhere Man
Octopus's Garden
Old Cape Cod
On A Carousel
On A Slow Boat To China
On The Sunny Side Of The Street
Once Upon A Time
One Fine Day
One Love
Only You (And You Alone)
Our Day Will Come
Paddlin' Madelin' Home
Peace Train
Peek-A-Boo
Peggy Sue
Penny Lane
People Got To Be Free
Please Mr. Postman
Please Please Me
P.S. I Love You
Raining In My Heart
Ramblin' Man
Realize
Red Sails In The Sunset
Reminiscing
Ripple
Riptide
Rockin' Robin
Route 66
Ruby Baby
Rude
Runaway
Satin Doll
Save The Last Dance For Me
The Scientist
Season Of The Witch
Secret Agent Man
Send In The Clowns
7 Years
She Loves You
She's Always A Woman
Sherry
Show Me The Way To Go Home
Side By Side
Since I Don't Have You
Since I Fell For You
Skyfall
Slip Slidin' Away
Slow Poke
Smiles
Snowbird
Someone Like You
Something Good
Something Wonderful
Somewhere, My Love
A Song Of Old Hawaii
Spanish Harlem
Spinning Wheel
Stay With Me
Stayin' Alive
Still Crazy After All These Years
Stoney End
Stormy
Strangers In The Night
Sugar, Sugar
Sukiyaki
Summer Wind
Summertime
A Sunday Kind Of Love
Sunday Will Never Be The Same
Sunny
Sunrise, Sunset
Sunshine Superman
Susie-Q
Swanee
Sweet City Woman
Sweet Leilani
Sweet Pea
Sweet Someone
Take A Chance On Me
Tammy
Tea For Two
Tears On My Pillow
Tell It Like It Is
That Lucky Old Sun
That'll Be The Day
That's The Way (I Like It)
Their Hearts Were Full Of Spring
There's A Kind Of Hush (All Over The World)
These Boots Are Made For Walkin'
Things
Thinking Out Loud
This Magic Moment
Three Little Birds
Thriller
A-Tisket A-Tasket
Traces
Travelin' Man
Twilight Time
Unchained Melody
Uncle John's Band
Undecided
Under The Boardwalk
Up Around The Bend
Up On The Roof
Volare
Wagon Wheel
Wake Up Little Susie
Walk Away Renee
Walk Right In
Walkin' After Midnight
Walkin' My Baby Back Home
The Wanderer
The Way I Am
The Way You Do The Things You Do
Wedding Bell Blues
What A Little Moonlight Can Do
What'll I Do?
When I Fall In Love
When She Loved Me
(There'll Be Bluebirds Over) The White Cliffs Of Dover
White Rabbit
White Sandy Beach
White Silver Sands
A White Sport Coat (And A Pink Carnation)
Why Can't We Be Friends
Why Do Fools Fall In Love
Why Don't We Get Drunk
Will You Love Me Tomorrow (Will You Still Love Me Tomorrow)
With A Little Help From My Friends
With A Little Luck
Without Her
Without You
A Wonderful Day Like Today
Wonderful! Wonderful!
World Without Love
Wouldn't It Be Loverly
Wouldn't It Be Nice
Ya Ya
Yes Sir, That's My Baby
You And I
You Are So Beautiful
You Belong To Me
You Belong With Me
You Can Call Me Al
You Can't Hurry Love
You Didn't Have To Be So Nice
You Don't Know Me
You Got It
You Make My Dreams
You Won't See Me
You're Nobody 'til Somebody Loves You
You're Sixteen (You're Beautiful And You're Mine)
You've Got To Hide Your Love Away
Your Mother Should Know
44.200.112.172
CCBot/2.0 (https://commoncrawl.org/faq/)
A Whole Lotta Songs
0 of 0 customers found this review helpful
Features





Quality





Value





Overall





Product Experience
I own it
Closest Store
Mississauga, Ontario
This is a great book with sooo many songs. It's mostly easy to read and if you just want to strum, the chord progressions are easy to follow with the chord tabs shown at the beginning of each song. If a song is more than one page, the two pages face each other so you don't have to flip pages mid-song, and the spiral binding holds the pages open so you don't have to break the spine. Most of the songs are older but there are some newer ones like Skyfall. Highly recommended to get many standards at a good price.
Posted by

Grant

on

Jun 20, 2021