Gibson
Les Paul Classic - Ebony - Left-Handed
---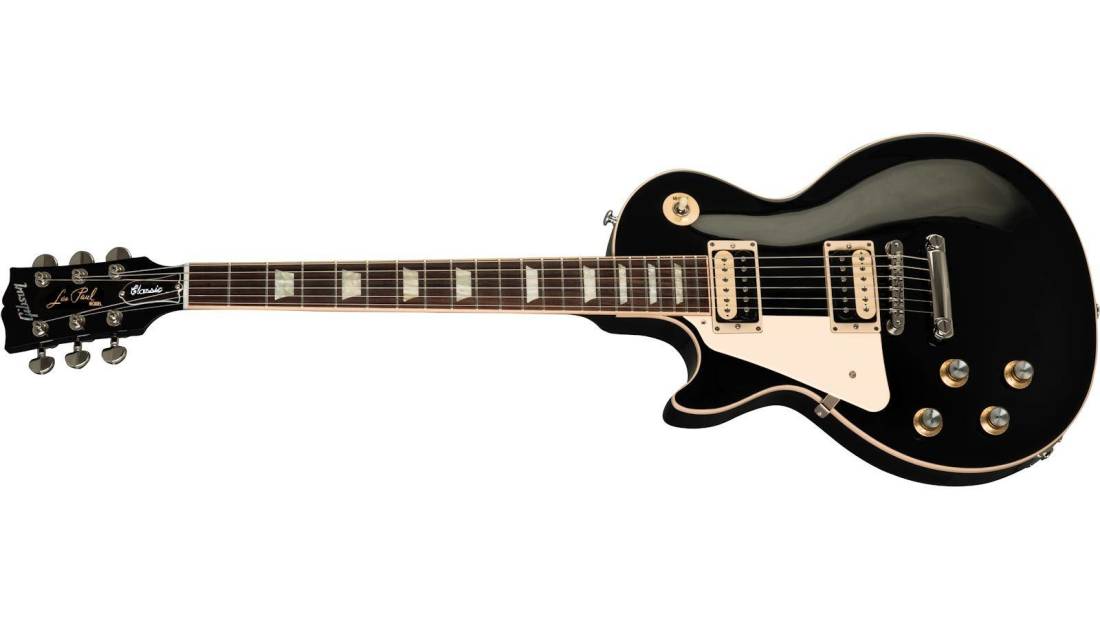 Additional Photos: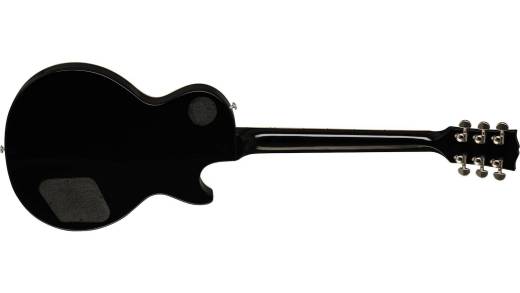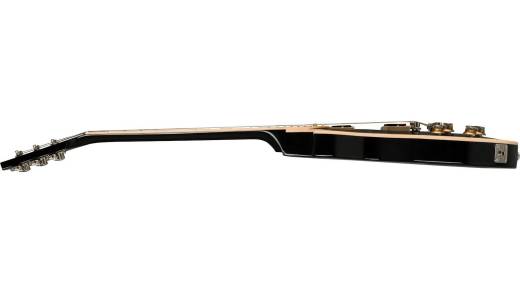 Your Price: $
3,299.00
CDN
or from
$153
CDN/mo
The Gibson Les Paul Classic combines the early 60's style Les Paul model with some functional and time-tested modifications. As expected, the LP Classic is crafted with a mahogany back and maple top coupled with a slim taper mahogany neck and bound, rosewood fingerboard. Burstbucker 61R & 61T zebra, open-coil pickups provide classic Gibson tones from the era with a bit of extra punch thanks to the open coils. The control assembly features 4 push-pull pots which provide choices of coil tapping, phase switching and pure bypassing for functional and versatile sonic variety.

Specifications
Body
Body Material: Mahogany
Top Material: Maple
Weight Relief: 9-Hole
Finish: Gloss Nitrocellulose Lacquer
Neck
Neck Material: Mahogany
Neck Profile: Slim Taper
Scale Length: 24.75" / 62.865cm
Fingerboard Material: Rosewood
Fingerboard Radius: 12" / 304.8mm
Number of Frets: 22
Frets: Medium Jumbo
Nut Material: Graph Tech
Nut Width: 1.695" / 43.05mm
End-of-Board Width: 2.26" / 57.4mm
Inlays: Acrylic Trapezoids
Hardware
Finish: Nickel
Bridge: ABR-1 Tune-O-Matic
Tailpiece: Aluminum Stopbar
Tuners: Grover Rotomatics w/ Kidney Buttons
Pick Guard: Cream
Control Knobs: Gold Top Hats with Silver Reflector
Switch Tip: Cream
Switch Washer: Cream
Jack Plate: Nickel
Electronics
Neck Pickup: Burstbucker 61R (Zebra)
Bridge Pickup: Burstbucker 61T (Zebra)
Controls: 2 Push/Pull Volumes (Coil-Tap), 2 Push/Pull Tones (Pure Bypass/Phase) & Toggle Switch
Miscellaneous
Strings: .010, .013, .017, .026, .036, .046
Included Accessories: Includes Gibson Accessory Kit
There are currently no questions for this product.
18.206.194.21
CCBot/2.0 (https://commoncrawl.org/faq/)
Right Thing Baby
0 of 0 customers found this review helpful
Product Experience
I own it
Closest Store
Fredericton, New Brunswick
Purchased this classic in April gibson month. This guitar is awsome the different sounds you can get from this guitar is amazing.Beautiful guitar just to look at; but when you play it wow. I am a very happy guy.
Posted by

Erwin Scott

on

Jul 11, 2023
I'm so pleased with this model
4 of 4 customers found this review helpful
Product Experience
I own it
Closest Store
North York, Ontario
I'm one of those guys who used to think the Standard was above all else. Which yes, arguably it is. But I went into this purchase with the 100% intent of walking out with a standard. When I was younger my dad bought me my first Gibson which was a 50s tribute in satin black. This particular model gave me many nostalgic vibes of the old school looking LP's I knew and loved. I have smaller than average hands and pretty stubby fingers. It was immediate that I knew which model was right for me. While the Standard 60s has a tapered slim neck, and so does the studio, the Classic without a question has the thinnest neck profile. It's the fastest Les Paul I've ever played. Neck's are all subjective 100% , if you have a taste for thin necks, I can't give this model enough praise. The sustain was absolutely phenomenal and I think that has something to do with the 9-hole chambers, but what makes it so nice is that it's actually not weight relieved at all, the balance in my opinion is perfect, and the consistency of 8-9 lbs classics was definitely there. They also share the exact same pickups as the standard. The extra tonal options are just icing on the cake, having them doesn't give any worse tone, so just enjoy that it's there and use it on a rainy day if it isn't your cup of tea. The overall finish was perfect, no binding imperfections, and in-fact, the small excess of glue that I found I was easily able to rub off clean within minutes. Extremely pleased with this guitar and I can 100% see this one staying in my guitarsenal. It is 100% on par with a standard and anybody who says different doesn't know what they're talking about
Posted by

J

on

May 19, 2023
Guitare vraiment incroyable
0 of 1 customers found this review helpful
Product Experience
I own it
Closest Store
Vaudreuil-Dorion, Quebec
Je viens tout juste de me procurer cette guitare j'ai déjà eu dans le passé une Gibson Les Paul Studio que j'ai aimé et que j'ai du chagrin d'avoir vendu mets la Les Paul Classic le manche est très rapide le son des micros sont incroyable et j'aime les contrôles push/pull une très bonne acquisition une guitare que je vais garder le restant de ma vie les gars de Long & Mcquades à Vaudreuil/ Dorion m'on très bien servies encore merci à vous.
Posted by

Sylvain Pelchat

on

Apr 17, 2023
A Real Player With A Very Fast Neck
1 of 2 customers found this review helpful
Product Experience
I own it
Closest Store
Scarborough, Ontario
Bought my Les Paul American Standard in Heritage Cherry Suburst at the downtown location in 2006. Aside from my 1976 American Les Paul Standard that got stolen, hands down this is the best guitar I have ever owned. Pickups are very hot Burstbucker III's. I've gigged with this guitar. Played it so much that it recently required a fret dressing. I would highly reccommend this model.
Posted by

Oldj

on

Jun 12, 2022
Les Paul Classic Ebony
8 of 8 customers found this review helpful
Product Experience
I own it
Closest Store
Orleans, Ontario
This was a Christmas gift to myself. I have never had a Gibson before. Always went with Epiphones and other brands. I wish I would of known a long time ago about how good these are. It is a stunning guitar and the neck and fretboard are so smooth. I noticed a big increase in speed when playing. The pickups sound amazing and with the push pull pots any sound can be arranged. Love this guitar. The guys at Long & McQuade were fantastic. They did not have one in stock so they arranged to get it from another store. Only took 2 days. Thanks and I would recommend this guitar to anybody.
Posted by

Brian Guilboard

on

Jan 18, 2022
Absolutely amazing guitar!
0 of 0 customers found this review helpful
Product Experience
I own it
Closest Store
Belleville, Ontario
This guitar is really awesome! It sounds great, looks great, feels great and has a lot of options on hand to get as many tones as possible from a les Paul. Unfortunately I had some quality control issues with 2 gibson les Paul studios before this. I returned the first one to Kingston and it was not a terrible experience not as nice as I feel it could have been though. But then that guitar had issues and so I took the trip to bellevile. And when I say it was an amazing experience it was truely an amazing experience. The staff was very understanding of my problem with the guitar and instead of making excuses like \"that\'s the nature of hand built guitars\" I was told that the return would be dealt with and to look around the store. And that\'s when I found this beautiful guitar and it was very easy to walk out feeling I made the right choice because the staff where able to answer all the questions I had and where easy to find if I needed help. I can say I will be a life long bellevile long and mcquade customer. Amazing store with a large selection and awesome staff!
Posted by

Thomas

on

Nov 25, 2021
Les Paul Classic
9 of 10 customers found this review helpful
Product Experience
I own it
Closest Store
Ottawa, Ontario
I had been looking to get a Les Paul for a little while. Started to look at reviews on you tube and compare various models. I had read and seen things in the past regarding Gibson lack of quality control but most of the reviews were very good with this classic model,saying they did not have a flame top and a few other features but are priced very well. I found a classic at my store as a demo and was quite pleased with the overall quality of this guitar. I could probably do without the coil tap and other features of the push pull knobs but I do like the bypass control for the bridge pickup. This guitar does have some weight relief but you wouldn't know it,it still has some weight to it. I've owned other Les Paul's with the chambered weight relief and found them too light which does affect the tone of the guitar. The neck is a slim taper but still has some roundness to it but I find it very comfortable and I have small hands.Acoustically the guitar sounds great with lots of sustain. Plugged in it rocks and has that Gibson crunch,I like the pickups and usually I end up swapping pickups out on guitars but these are great.The guitar itself when I first got it was not set up a all but Gibson's are quite easy to setup so no problem there. I run my guitars through Marshall JVM or a Mesa TC 50 both sounds great with this guiitar. All in all I would highly reccommend this guitar if your in the market for a Gibson Les Paul guitar.
Posted by

Tim

on

Aug 29, 2021
Amazing Guitar
1 of 1 customers found this review helpful
Product Experience
I own it
Closest Store
Montréal, Quebec
I heard bad things about Gibson Quality Control but I got a diamond out of this guitar! it's play great, has a wonderful sound and you can do so much with the tone, you'll love it too!
Posted by

Max

on

Jul 13, 2021
Great Guitar
1 of 1 customers found this review helpful
Product Experience
I own it
Closest Store
Markham, Ontario
I can't stop playing this guitar. The updates with the push/pull knobs add tonal capabilities that typcial les pauls can't do. You have to play around to understand how it all works together. For expample, in some configurations you need to roll the bridge pick up volume back just a hair to get the tone to blossom but once you figure it all out, this guitar can do just about any tone you want. Overall this guitar is a winner!!
Posted by

Kevin

on

Jul 12, 2021
Yes it?s worth it
0 of 0 customers found this review helpful
Product Experience
I own it
Closest Store
Vancouver, British Columbia
After decades of dancing around the issue of loving the tone of a les Paul in all my favourite recordings yet being stuck on playing a longer scale guitar, this one plus free financing sealed the deal. I jammed a humbucker in a strat, not the same. I built a single cut guitar and put on a 25 1/2" scale neck with the best humbuckers, ended up sounding more like a gretsch. There's just no substitute for the real thing. I recommend anyone looking to buy anything Gibson play as many of the same model as you can, they will all be good but one might be great. I found a great one.
Posted by

M2

on

Jun 25, 2021
It?s different!
0 of 0 customers found this review helpful
Product Experience
I own it
Closest Store
Toronto (Bloor St.), Ontario
Don't know where to start but the new Gibson LP Classic is just so good! Got the HCB as my first Gibson. It's perfect for me! Sheesh!
Posted by

HappyBoi

on

Jun 23, 2021
Gibson Les Paul Classic
0 of 0 customers found this review helpful
Product Experience
I own it
Closest Store
Mississauga, Ontario
I just picked this up today after returning something I purchased 3 weeks ago. Thanks to L & Ms great return policy. I wasn't really happy with my first decision but the LP Classic is just awesome. The quality and sound are really impressive. Thanks to Derrick in the Mississauga store for the help and quick service. Great guitar and great service.
Posted by

Paul Lima

on

May 3, 2021
My first Gibson Les Paul
7 of 7 customers found this review helpful
Product Experience
I own it
Closest Store
Burlington, Ontario
I've been playing guitar for over 30 years and have owned a number of different electrics over the years. I've never felt compelled to spend more than a $1000 on a guitar and have generally been pretty happy. I've always wanted a Gibson but like a lot of people the price has always been the stumbling point. How much better could it really be? Well I finally decided to upgrade from my Epi Les Paul to this Gibson and all I can say is it really is worth every penny. I chose the Les Paul Classic because it seemed like the best value compared to other LP models and it has so many cool features that other models don't have. The build quality is top notch, the range of tones is amazing and it has the legendary sustain that Les Paul's are know for. Plus it looks awesome. Once you start playing it really is hard to put down. Life is short, go buy this Gibson! You won't be disappointed.
Posted by

Paul

on

Apr 7, 2021
I did buy it
1 of 1 customers found this review helpful
Product Experience
I own it
Closest Store
St. John's, Newfoundland and Labrador
It's absolutely amazing guitar! Always been a dream of mine to own one and not disappointed.
Cannot beat the service at this store. Thank you for the assistance in purchasing.
Posted by

Mike

on

Feb 18, 2021
I didn?t buy this
1 of 2 customers found this review helpful
Product Experience
I've heard about it
Closest Store
Lethbridge, Alberta
Dang I want this guitar but I'm broke
Posted by

Rest In Peace eddie van halen guitar legend!

on

Dec 31, 2020
Response from Long & McQuade
Hi there, it's a beautiful guitar. We offer financing plans, if that's of interest: https://www.long-mcquade.com/financing/ Feel free to contact your local L&M for details. Hope this helps!
The perfect les Paul
1 of 1 customers found this review helpful
Product Experience
I own it
Closest Store
London North, Ontario
Purchased this guitar back in June and I'm still completely in love with it. The fit and finish were almost perfect right out of the box, just needed a small adjustment for intonation. The pickups are great for any form of rock, all the way up to metalcore.
Posted by

John

on

Sep 22, 2020
Stunningly Good to play & look at
5 of 5 customers found this review helpful
Product Experience
I own it
Closest Store
Hamilton, Ontario
Bought mine at the Hamilton location, great staff and great experience

I had a 2016 Traditional and traded it towards a rare Ibanez guitar (which I don't regret) so I was missing the feel of a Les Paul. I didn't bother looking at the standards or traditionals in the 2019 range because the extra $800- $1000 didn't seem worth it. I tried a custom shop first to get the feel and then tried this one right after. It was a solid guitar, well made and no QC troubles that have been plaguing Gibson for the last 10 years or so. I was a bit leery to spend $3000 on another LP but hey, you buy Gibson because it delivers the tone man! This one certainly does, the pickups are excellent for me, the fit & finish are excellent on mine. Needless to say I don't miss my traditional anymore, especially the weight of it. The push/pull pots are a nice feature but sadly I don't really use it much. But it is nice to know its there.

Lastly, if you are worried about buying another Gibson cause of the bad press recently, don't be. They do roll out quality instruments with the occasional duds.

Check out the 2019's, you wont be disappointed. I wasn't. :)
Posted by

Barry

on

Jul 10, 2019
Great guitar.
4 of 4 customers found this review helpful
Product Experience
I own it
Closest Store
North Vancouver, British Columbia
Gibson finally got it right. Fabulous instrument. Faultless. Plays like a dream. Sounds great. Beautiful finish. Lets hope Gibson leaves well enough alone and doesn't change it. Looks like Gibson finally got their act together.
Posted by

Steve McCarthy

on

Jun 24, 2019
Beautiful in Every Respect ... But Its Best Feature Is Its Value
4 of 4 customers found this review helpful
Product Experience
I own it
Closest Store
Oshawa, Ontario
The only thing that's taken me away from playing this guitar for the last two hours (brought home tonight) is this review. What a great piece.

The Classic's fit and finish is just perfect. I could go on and on about how eye-catching it is. But gorgeous looks aside, it's the options that slay, here. The pickups in combination with the coil-taps, phase selection and your amp make for options, options, options. Play it wide open with decent saturation and you're going to sustain for days.

There's also something to be said for the leveling down, too. No triple-A maple, no pearloid, etc. - it really doesn't matter because to me, at the end of the day, you get a much more interesting, versatile instrument that's still a true Gibson at a great price.

Good to see the old company back in the saddle. What a great guitar! (And thanks again to my buddy Bill G. in Oshawa for the assist!)
Posted by

Ian D.

on

May 30, 2019
Looks Great, Plays and Sounds Beautiful
3 of 3 customers found this review helpful
Product Experience
I own it
Closest Store
Halifax, Nova Scotia
Recently bought one of these, Couldn't be happier with it. Plays and sounds beautiful. I have have been looking for the last couple of years for a Les Paul for a fair price, and one that feels plays and sounds the way it should. For me this one is perfect in every way.
Posted by

Lee

on

May 20, 2019
---
Available In Exceptional Guitars
---
Price: $3299
This product is normally available for rental. Please contact your preferred location for further information.
1 Day from $43.00
1 Week $85.00
1 Month $170.00

Protect your investment with the Long & McQuade Performance Warranty
A warranty can be a very important factor when making a buying decision. Because repairs can be very expensive in terms of parts and labour costs, manufacturers usually only provide one year limited warranties that generally only cover items that malfunction due to a manufacturer's defect. With an important purchase such as a musical
instrument or piece of studio gear, however, many people want to have the peace of mind in knowing that their investment will be protected should the product no longer be performing at 100%.
Because of this, Long & McQuade provides our customers with a FREE one-year Performance Warranty on most of our products. The Long & McQuade Performance Warranty supplements the manufacturer's warranty to ensure that our customers receive complete "no hassle" warranty coverage within their first year.
How does the Long & McQuade Performance Warranty differ from most manufacturers' warranties?
Performance Guarantee: Normal wear and tear is covered, so your product will be performing as well as the day you purchased it for the entire duration of the coverage. Band and Orchestral Performance Warranty does not include replacing pads or cleaning for woodwind instruments, unless deemed necessary by our repair staff. Ultrasonic cleaning for brass instruments will be provided if deemed necessary by our repair staff, but is not routinely offered under the Performance Warranty.
Product Replacement: If your product cannot be fixed or costs too much to fix, we will replace it with the equivalent model for no additional charge. If this is not possible, a full refund will be provided.
No Lemon Policy: Your product will be replaced should the same problem occur multiple times.
Convenient: Easy drop off and pick up of the product at any Long & McQuade location.
Guitar Setup: Guitars purchased at Long & McQuade come with 1 free setup, to be redeemed within 1 year for new guitars and 90 days for used guitars.
Loaners Available: A loaner product may be given while the product is being repaired.
Power Surge Protection: Your product is covered even if damaged from a power surge.
Accessory Coverage: Any peripheral devices or accessories that come with your product (i.e. foot pedal, case) are also covered.
Commercial Use Coverage: Music and recording professionals who purchase gear for "heavy-use" commercial purposes will still be covered.
Long & McQuade reserves the right to restrict the purchase of additional years of Performance Warranty. Used products come with a 3-month Long & McQuade Performance Warranty. Some products (i.e. computers, software, cymbals and other items) are covered only by the manufacturer's warranty. Consumables (i.e. strings, reeds, drum sticks, batteries, tubes, cross faders) are excluded as they are designed to be replaced. Cosmetic Damage, Accidental Damage, or problems caused by Humidity or Temperature Issues are not covered. Speakers damaged by overpowering are generally not covered. Our coverage does not provide compensation for loss of use. As of June 2018 the Performance Warranty is no longer transferable. The warranty is only valid in Canada.
Purchasing additional years of coverage
Some manufacturers provide warranties for longer than 1 year; however, these are usually limited warranties that do not provide the same coverage as the Long & McQuade Performance Warranty. Customers interested in more complete and convenient (but not necessarily longer) coverage are still able to purchase additional years of the Performance Warranty.
If you are interested in receiving this coverage for longer than one year, you have the option of purchasing additional years of the Performance Warranty. The pricing is as follows:
NEW products: 4% of the current new selling price to double the warranty from 1 year to 2 years. 4% for each additional year.
USED products: 4% of the current new selling price to increase the warranty from 3 months to 1 year. 4% for each additional year.
GUITARS: 4% of the current new selling price to double the warranty from 1 year to 2 years. 4% for each additional year. $45 maximum. An additional free setup is not included with additional purchased years of Performance Warranty.
BAND and ORCHESTRAL instruments: 4% of the current new selling price to double the warranty from 1 year to 2 years. 4% for each additional year.