Gibson
Kluson-Style Tuner Set - Nickel
---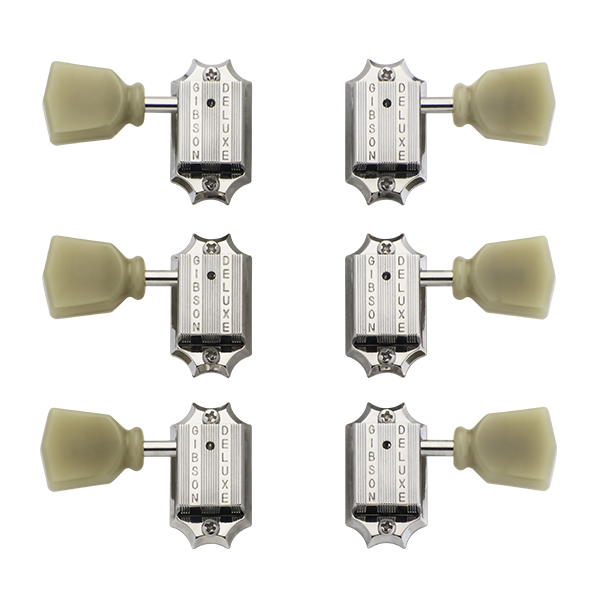 or from
$15
CDN/mo
Gibson's vintage machine heads with pearloid buttons feature solid nickel, closed housing construction, period-correct vintage styling, and traditional pearloid buttons that deliver precise tuning, while adding a luxurious, classic feel to your guitar's headstock. This OEM part comes in either Nickel or Gold finish. Special note: These tuners feature screw in bushings, which require a larger diameter mounting hole than traditional 'push in' bushing tuners.

*Note: parts subject to change without notice. May not appear exactly as illustrated.
44.201.72.250
CCBot/2.0 (https://commoncrawl.org/faq/)
The best
0 of 0 customers found this review helpful
Product Experience
I own it
Closest Store
Tracadie, New Brunswick
Posted by

Keith Benoit

on

Aug 26, 2021
Replaced Grovers with these
0 of 0 customers found this review helpful
Product Experience
I own it
Closest Store
Edmonton South, Alberta
I have a Gibson LP Standard and a LP Traditional. BOTH guitars came new with the ugly bean shaped Grover tuners. To keep the classic look of either guitar I changed to these tuners as I aquired each guitar. There are two screws so I had to make new holes whereas the Grovers used one screw. No big deal as you use the one original hole to mount the Gibson tuner, line the tuner up so its straight then make the new hole with the new screw. Make sure to get the Gibson approved Kluson like these as the actual Klusons are part see through which is weird.
Posted by

Mitch

on

Apr 28, 2018
Gibson Kluson Tuners
1 of 2 customers found this review helpful
Product Experience
I own it
Closest Store
Windsor, Ontario
I installed these on my 2015 Les Paul deluxe GT, along with the graph tech zero frett adjustable nut. Now it sounds like a Gibson. The robot tuners that were on the guitar, plus the brass nut are sitting on the sidelines. It's a much more reliable better sounding guitar now for me. I bought the guitar during the April 2016 Gibson month for a greatly reduced price.
Posted by

LMB

on

Jul 11, 2017
Drop in replacements for Vintage and Modern Gibson
4 of 4 customers found this review helpful
Product Experience
I own it
Closest Store
Port Coquitlam, British Columbia
I bought these for a rebuild project of a Gibson Firebrand SG. One of the machine heads popped its cover on me so I reckoned if one is ready to go, they all probably are. (Plus, you cant buy singletons retail anyhow. May as well do the set). These are awesome and even as new product, the color of the pegs was an exact match for the originals on my SG (which the S# dates to the Nashville plant in '83). I replaced them all. They work great and retained the aesthetic of the original. One thing. The product description calls these 'pearloid'. Not rly the case. The color is spot-on for OEM Gibson. But its that creamie-grey-greenish color that Klusen uses. Back in the day, we used to just call it 'Gorilla-Snot'. These are a solid color though, not swirlie as 'pearloid' usually connotes (c.f Dark Pealoid pickguards etc.). One Tip: While these DO come with the little set screws in addition to the bushings and collet. I strongly recommend you keep the original screws and re-use them. They will go back into the original holes without re-chewing up the wood nicer. If the original holes havent gotten all chewed up, use the original screws if you can get away with it. If your project has become so loose that you need to do the toothpick/sawdust and titebond trick, then your gonna have to drill pilots anyhow. Use whatever you choose. The machine heads will cover up any repair that you had to do.
Posted by

SB

on

Aug 28, 2013