Offset
Eclipse Double Bass Drum Pedal System
---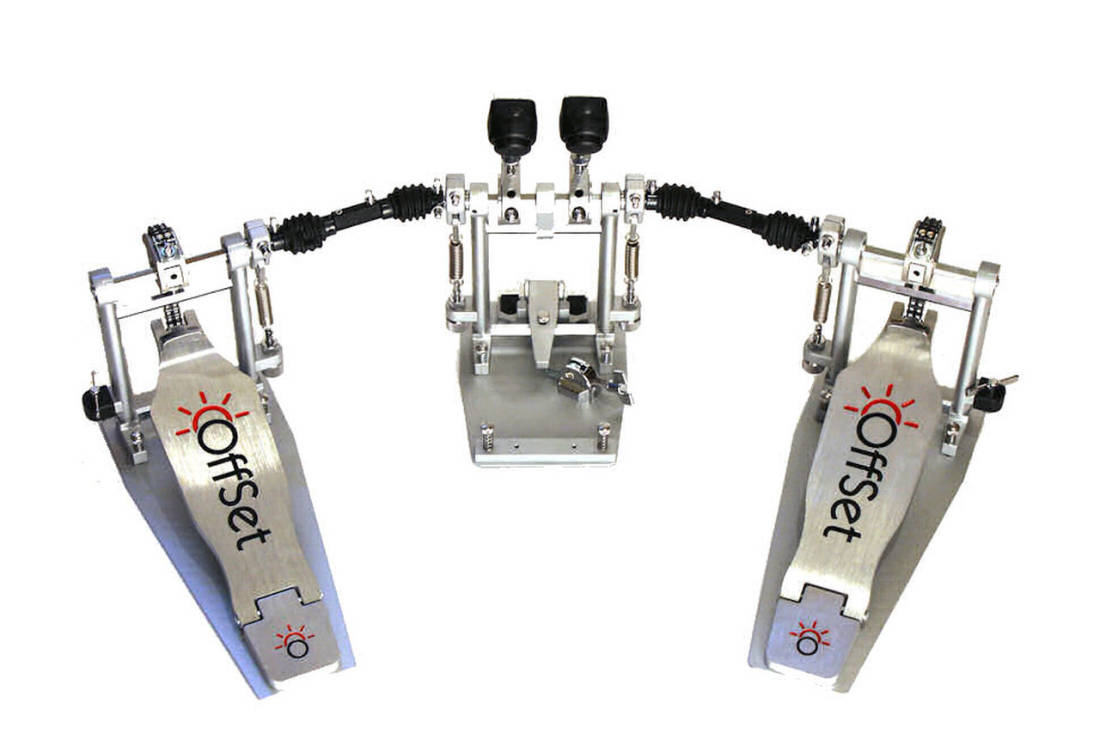 Additional Photos: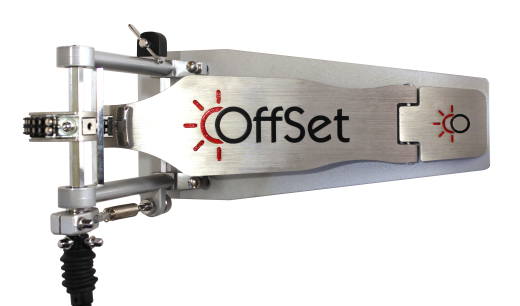 or from
$80
CDN/mo
The Ultimate Double Bass Drum Pedal System
You should never have to compromise when playing the music you love- and now you don't have to. The Eclipse Double Bass Drum Pedal system combines form with function in one ergonomic, fun to use setup.

No Left or Right- Always Centered
Most double-pedal systems are do not provide equal response from both pedals. Offset Eclipse drum pedals are manufactured with a bi-lateral symmetrical design, creating a system where both pedals feel and react identically every time. Combined with some of the largest foot pedals in the industry (measuring 12.5" by 3.5"), the Eclipse pedal system will react the same every time you play, no matter your style of playing- heel up or heel down. Additionally, Eclipse double pedals are easily speed-adjustable, with a radius-adjustable drive wheel. This allows you to fine-tune the diameter of the drive wheel from 1.5" to 3"; from speed cam to power cam and anything in between with only a drum key!

Made Durable for Real Drummers
Offset designed the Eclipse system to be smooth and functional, but also durable for the demanding drummer. From spring shackle lugs to 7/16" tempered u-joints with dust covers, the Eclipse system has been designed to eliminate wear and tear that shortens the lifespan of your pedals. Outfitted with spring-loaded anti-skid spurs and industrial-strength Velcro on both pedal base and center beater housing for zero movement, you can rest assured that your pedals don't go anywhere without you!

Ergonomic and Easy to Use
Eclipse double bass Drum pedals aren't just fun to use, they are designed to be ergonomic and functional. Extreme drumming- especially for long periods of time can be stressful on the body, particularly joints. Eclipse pedals reduce joint-related stress and potential hip-displacement that standard pedals do not accommodate for. Independently-height adjustable pedal boards allow any drummer to tailor their pedals to their specific needs.

Features
• Bi-laterally symmetrical design creating a unit where both pedals can FEEL IDENTICAL
• No Left or Right, always centred
• Top craftsmanship, engineering, speed and smoothness make this a professional quality pedal
• Better stereo imaging when miked up
• Backed by the OffSet 2-year Limited Warranty
• 30-day "Try Me" Satisfaction guarantee
• Free-standing pedestal design with upper transverse beam and solid metal base plate for maximum strength and rigidity
• Centre ribbed base plate for maximum rigidity
• Smooth bearing-loaded heel plate pedal board
• Two 12.5" long x 3.5" wide foot pedals among largest in the industry - for either heel-up or heel-down techniques
• Spring shackle lugs thread into a locking nut keyed into the body of the shackle, totally eliminating the possibility of them stripping out
• Fully adjustable concentric double chain drive
• Quad drive springs for increased response and sensitivity
• 7/16" Tempered U-joints with dust covers for long lasting life
• Spring-loaded anti-skid spurs and Industrial Strength Velcro on both pedal base and centre beater housing for zero movement
• Completely independently adjustable beater holders with 1" lateral adjustment each
• Independently height-adjustable pedal boards
• Hard-soft mallets with mallet shaft keys
• Centre-mounting, Swivel-foot hoop clamp which eliminates all lateral torque on the bass drum hoop
• Twin drum key holders with drum keys
• Prevents hip displacement and joint stresses caused by traditional placement of standard pedals
• Extremely ergonomic drum-centring design
• Radius adjustable drive wheel - The only pedal in the industry on which the diameter of the drive wheel can be infinitely adjusted from 1.5" to 3" with only a drum key. This allows drummer to adjust the drive wheel from a speed cam to a power cam and anything in between with no parts to get lost
There are currently no questions for this product.
18.205.26.39
CCBot/2.0 (https://commoncrawl.org/faq/)
A game changer
10 of 10 customers found this review helpful
Product Experience
I own it
Closest Store
Sydney, Nova Scotia
I have been drumming 40 years ,I have played several brands styles and qualities of double pedals and I have to say that this pedal is simply a game changer. Having come from a double bass background I have always found it semi uncomfortable playing a traditions double bass pedal as the snare had to be moved left etc. This pedal puts you in a front position dead centre with your snare and toms at the same position as a double bass drum setup The strain on my back and sides is almost eliminated , and the whole kit feels more ergonomically correct. Many I have spoken to asked about floor tom positioning and there is no issue with their placement ,even with a 2 floor tom setup . Build quality is Above any I have ever seen , Adjustments are easy and plentiful Sealed bearings as well as CV joint boots are a real nice thing to see ., Setup was as simple as a traditional double pedal, but the FEEL ... That' where it's at, very smooth and Fast . The adjustable cams are simply brilliant , the foot pads are Huge even for someone who wears a size 13 + a fellow drummer with size 16 shoes felt perfectly comfortable on it All in all, This is a Very serious piece of gear and I am glad it has made it's way into my setup I only wish I had known about these 30 years ago .
Posted by

Luke Lafantaisie

on

Feb 12, 2021