Roland
Fantom-8 88-Key Synthesizer/Workstation Keyboard
---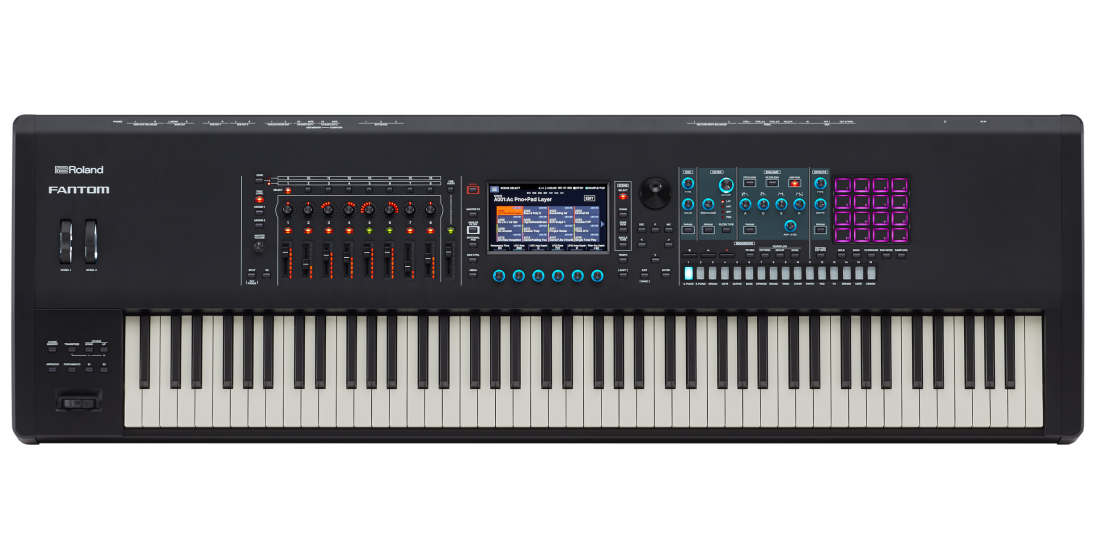 Additional Photos: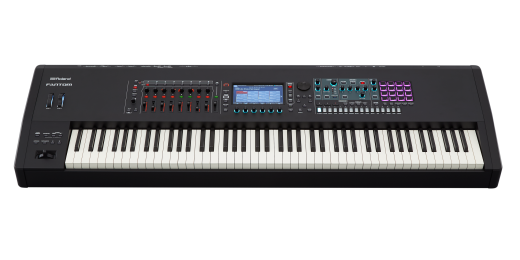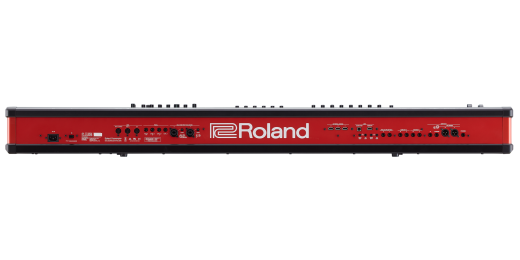 Product Videos :
YouTube Video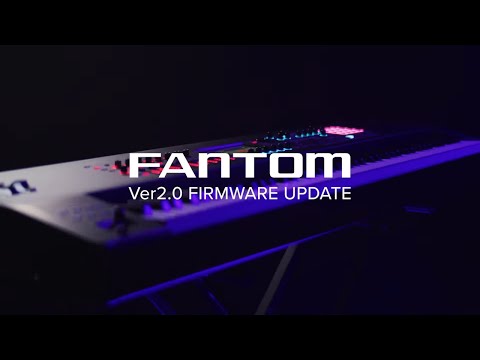 Your Price: $
6,199.99
CDN
or from
$287
CDN/mo
FANTOM is a new kind of creative hub, made for rapid production and expressive performance. Inspiring onboard production tools and deep computer integration fuel an experience that feels intuitive, natural, and full of possibilities. The expandable sound engine delivers Roland's best electronic and acoustic sounds, with the depth and control to combine and shape them in exciting new ways. And it's built from premium materials, with a purposeful design, and the best 61-, 76-, and 88-note keyboards Roland has ever made.

Building on the recent additions of multiple SuperNATURAL sound engines and a stunning 32-band stereo vocoder, FANTOM now takes another giant leap forward with version 2.0. The free update includes major enhancements to FANTOM's sampling, sequencing, effects, and routing capabilities, and new ways to make FANTOM the center of your creative universe. Check out the new features of FANTOM Synthesizer Version 2.0 in the video.

Fantom-8 Key Features

• Powerful Hybrid Workstation, Synthesizer and Sequencer
• 88 Keys (Acclaimed PHA-50 weighted keyboard with aftertouch)
• ZEN-Core and V-Piano Sound Engines
• 7", Wide VGA, Backlit LCD Colour Touch Screen
• Over 3,500 tones; over 90 drum kits
• Comprehensive Multi-Effects and Stereo Analog Filter
• 16 Channel MIDI Sequencer with TR-Rec Step Editing
• Pad Sampler with 16 Pads x 4 Banks
• Rhythm Pattern, Arpeggiator and Chord Memory
• Assignable Controllers, Sliders, Wheels and Function Knobs
• Built-in 16 x 3 Stereo Audio Interface
• Dual CV/Gate and Soft Synth Integration
• USB Connectivity with External Memory Slots and MIDI Control
• Built for the road with premium materials and high-grade components

CREATION

At every turn, FANTOM fulfills the need to create. FANTOM's creative process reflects how today's musicians work, with fluid composition tools, instantly recallable creative environments, and deep computer integration.

When you're ready to create, so is FANTOM - and all it takes is a single touch. Your sounds, patterns, and performance layouts are arranged into custom creative spaces called Scenes. A Scene can be an entire song, section of a song, or a starting point with your favorite sounds laid out just how you like. Scenes can be chained together and changed instantly with no gaps or glitches.

With FANTOM, you can focus on playing music, not rationing processing power. And with so much power under the hood, you can run all 16 parts with all available effects - simultaneously - with full patch-remain for seamless transitions. It's like having the power of two complete FANTOMs in one.
 
SOUND

FANTOM's flexible and expandable sound engine dishes out inspiring and authentic electronic, acoustic, and hybrid sounds by the bucketload. Combine different synthesis and sampling technologies along with the onboard analog filter for new and unusual sounds and take advantage of new sound expansions and capabilities as they arrive. Sample your own sounds and trigger up to 2 GBs worth of loops and one-shots from the pad matrix. There's a fully routable analog filter for extra warmth and grit, and you can even mix soft synths with FANTOM's internal sounds.

Considered by many as the king of instruments, piano sits at the heart of the creative process for composers across a range of musical genres. FANTOM uses Roland's V-Piano technology for pianos that don't just sound real, they feel real. Craft pianos that play and respond like their acoustic counterparts and match your personal taste.

FANTOM's synth engine is based on partials. Each partial starts with a discrete synth voice - complete with oscillator, filter, amplifier, dual LFO and effects. You can have up to four partials in a single tone, and a Scene can contain up to 16 tones for complex layers, splits, and sequenced parts.

Low-frequency oscillators add movement to static sounds. More LFOs mean more modulation possibilities and more ways to explore new ground. FANTOM has two LFOs per partial, four partials per tone - and since you can stack 16 tones, that's a staggering 128 LFOs per voice. And FANTOM's Step-LFOs have 16 steps of beat-synced automation with 35 curve choices per step. This creates long evolving passages, modular-style animated textures, and sounds with deeply intricate movement.

PLAYABILITY

After sound quality, what's more important than playability? The way an instrument feels under your fingers, and how it helps you express yourself, is vital. FANTOM focuses on the experience of playing, from its immersive keyboard action to its arsenal of performance controls.

FANTOMs have Roland's best keyboards ever, including the acclaimed PHA-50 on the 88-note model and a brand new semi-weighted action on the 61- and 76-note models. Each feels solid, precise, and supremely playable, with the expressive capabilities of aftertouch.

FANTOM has plenty of knobs and sliders for intuitive and immediate control, with high-resolution for buttery-smooth sweeps and fine adjustments. There's a dedicated synthesizer section with oscillator, filter, and envelope controls, along with numerous buttons and pads for triggering and sequencing.
 
SEQUENCING

FANTOM is a complete musical composition platform that excels at fast creation and fluid arrangement. You have RGB pads, a classic TR-REC style pattern sequencer, real-time recording with piano-roll editing, and a grid for recording and launching clips. Use any or all, whenever you want.

Different musical genres need diverse production styles and specialized tools. You can create patterns on FANTOM in a variety of ways including real and step-time polyphonic sequencing, or the TR-REC pattern sequencer - perfect for rhythmic parts - as used on Roland's iconic drum machines.

Clip-based sequencing. A great way to build up a track is by arranging clips that contain musical patterns. Drums, basslines, pads, and other patterns can be recorded into clips that you can trigger individually, or in groups. It's a lightning-fast way to compose and ideal for triggering backing tracks during live performance.

The foundation of dance music is the step-sequencer, specifically the 16-step TR-REC variety found on drum machines like the Roland TR-808, TR-909 and modern TR-8S. FANTOM's onboard TR-REC sequencer is fully modernized with sub-steps for ratcheted parts, motion control for per-step automation, and support for chords.

CONNECTIVITY

While FANTOM is powerful by itself, its powers grow exponentially when connected to other gear like computers or analog synthesizers. FANTOM can control software synthesizers directly from the touchscreen, drive modular and analog synthesizers from its dual CV/Gate outputs, and is also a high-quality audio interface capable of 16 stereo outputs and 3 stereo inputs.

FANTOM doesn't just work with computers - it fully integrates. It's a high-quality 16x3 stereo audio interface and can control DAWs and plugins from its touchscreen. It can integrate soft synths into Scenes, and send parts composed on FANTOM directly to your DAW.

Deep soft synth integration. Customize your sound by integrating your plugin soft synths with FANTOM. Control Apple Logic, Garage Band, and Mainstage, and adjust soft synth parameters right from FANTOM's touchscreen. Mix and layer soft synths with FANTOM's internal sounds, and then route them through FANTOM's analog filter section.

While FANTOM provides enormous creative potential, you may also want to integrate analog synths or drum machines with your setup. FANTOM has two sets of CV/Gate outputs so you can sync tempo or play them from FANTOM's keyboard or its many pattern sequencers.

DESIGN

A clean and intuitive layout, premium materials, and Roland's best-ever keyboard action. The result? An instrument that begs to be played. The placement of each control, and how it interacts with the creative heart inside FANTOM, has been thoroughly considered with today's workflow in mind.

FANTOM is made of tough metal with high-grade components throughout. Everything about it is sturdy and built to withstand the perils of live gigs and life on the road.

The more you get to know FANTOM, the more you appreciate the thoughtful details that simplify your life as a keyboardist. From the slight curvature of the top-panel labels for rear connections, to the informative RGB-lit controls and buttons, FANTOM facilitates creativity and eliminates frustration.

SYSTEM UPDATE V1.50 - Enhanced functionality at ZERO COST

System update v1.50 brings even more power to the flagship Fantom series. Among the additional functions, improvements and bug fixes, you can now access the stunning SuperNATURAL Acoustic Tones and import/export ZEN-Core Synthesis System files.

Main New Functions with V1.50
• ZEN-Core TONE IMPORT and EXPORT functions
• SuperNATURAL Acoustic Tones added as a Tone Type
• Stereo 32-band VOCODER added
• TONE RATING function
• TONE TEXT SEARCH and TONE RATING SEARCH functions added
• PATTERN and VARIATIONS PLAY functions provided in PAD MODE
• SELECT MULTIPLE NOTES and DRAGGING A NOTE TO COPY IT functions now available

Additional New Functions
• Additional shortcuts to the Effect Edit Screen
• V-Piano Tone Edit Items added
• AIRA LINK support
• LCD Brightness Function

SPECIFICATIONS

Keyboard: Acclaimed PHA-50 weighted keyboard with 88 keys and aftertouch

Sound Generator: ZEN-Core, V-Piano Technology

Parts: 16 Zones(Internal + External)

Scenes: 128 Scenes x 4 Bank

Tones: Over 3,500 Tones; Over 90 Drum kits

Effects
Multi-Effects: 16 systems, 90 types
Part EQ: 16 systems
Drum Part COMP: 6 systems
Insertion Effect: 2 System, 90 Type
Chorus: 8 types
Reverb: 6 types
Master Compressor
Master EQ
Mic Input Reverb: 6 types

Analog Filter
STEREO
Type: LPF1/LPF2/LPF3/HPF/BPF/Bypass
Drive
Amp

Sequencer
MIDI Tracks: 16(Internal/External)
Group:16
Pattern: 8 (per each Track)
Pattern Length: 32 mesures
Recording Method: Realtime recording, Step recording, TR-REC

Sampler
PAD Sampler
Format: 16-bit linear, 44.1/48kHz, WAV/AIFF import supported
Maximum Polyphony: 8
Number of Samples: 16 Pads x 4 Banks

Rhythm Pattern: Arpeggiator, Chord Memory

Controllers:
• Pitch Bend/Modulation Lever
• Assignable Switch x 2 (S1/S2)
• Control Knob x 8
• Slider x 8
• USB Audio Slider
• Wheel x 2
• Function Knob x 6
• Sound Modified Knob x 11
• 4 x 4 Pad

Display: Graphic Type, 7", Wide VGA (800 x 480 dots), backlit LCD (Colour/Touch screen)

Connectors
• Headphones Jack: Stereo 1/4-inch phone type
• MAIN OUT Jacks (L/MONO, R) (1/4-inch phone type)
• MAIN OUT Jacks (L, R) (XLR type)
• SUB OUT1 Jacks (L, R) (1/4-inch phone type)
• SUB OUT2 Jacks (L, R) (1/4-inch phone type)
• ANALOG OUTPUT Jacks(1,2)(1/4-inch phone type)
• Mic/Line Input Jacks: (1,2) (1/4 inch phone type/XLR type)
• 2 x CV OUT, 2x GATE OUT
• FOOT PEDAL JackS(HOLD, CTRL1,CTRL2,CTRL3)
• MIDI connectors (IN, OUT1, OUT2/THRU)
• USB MEMORY Port
• USB COMPUTER Port (AUDIO/MIDI)
• 3 x External Device Port

External Memory: USB Flash drive (sold separately)

Power Supply: AC 117-240V 50/60Hz

Power Consumption: 50 W

Dimensions (W x D x H)
FANTOM-6: 1,084 x 403 x 106 mm (42-11/16 x 15-7/8 x 4-3/16 inches)
FANTOM-7: 1,296 x 403 x 106 mm (51-1/16 x 15-7/8 x 4-3/16 inches)
FANTOM-8: 1,432 x 439 x 153 mm (56-7/16 x 17-5/16 x 6-1/16 inches)

Weight
FANTOM-6: 15.3 kg (33 lbs 12 oz)
FANTOM-7: 17.7 kg (39 lbs 1 oz)
FANTOM-8: 27.7 kg (61 lbs 2 oz)

Accessories
- Owner's manual
- Power Cord
Youtube video product demo
There are currently no questions for this product.
44.197.101.251
CCBot/2.0 (https://commoncrawl.org/faq/)
Roland Fantom 6,7,8
5 of 5 customers found this review helpful
Product Experience
I own it
Closest Store
Calgary Royal Vista, Alberta
I have a full recording studio with all top gear and I would say the Fantom 8 that I purchased on Boxing Day at Long and McQuade Calgary north is one amazing sounding keyboard.. In fact it's a workstation, an audio interface via USB and XLR/phono jacks, a USB hub and CV controller, a sampler, a 3 way sequencer, incredible arpeggs, effects on board......anyway, the sound is what I was alluding to, it is very polished and record ready. Not a lot of eq and compression has to be applied if any at all. Seems the people at Roland have ears. I am excited that they will be developing updates with new features that make this keyboard non obsolete for years to come. Love the feel of the 88 key version although alll 3 units are identical in every other way. I have been composing a lot of instrumental ideas and don't even need the Mac until its time for acoustic instruments or vocals. Shout out to the Paul and the guys at L&M Calgary North. Been a fan for many many years.
Posted by

Lou F

on

Feb 11, 2020
Roland Fantom-8 88-key
2 of 2 customers found this review helpful
Product Experience
I own it
Closest Store
Toronto (LM Pro) Eastern Ave, Ontario
I purchased this Fantom-8 on October 2019 at Long-McQuade store in Markham Rd. This machine is extremely well designed and exceptional high quality as I can say. This is a very complete multiple instruments and can be used for creating musics of all kinds by professional musicians. It's very rich in features and seems to be one of the bests in musical workstations business!. The machine is built with highest materials and newest technology from Roland. I'm not a musical professional and this machine seems to be used by all professional musicians and musical composers to create musics of all kinds. I believe all musical folks will love this machine due to it can be used and being kept for numerous years to enjoy its very rich features and musical applications personally for at least few decades or even more!. I am very happy to have this Fantom-8, it's heavy machine and very rugged multipurpose instrument. Again, this machine is similar to a "Roll Royce" quality musical instrument that you can expect. It's expensive but it's worth to pay for if you wanted a best musical workstation for your musical business or playing music. My personal opinion is if you definitely wanted a best and most powerful musical instrument and have a deep pocket of cash, then, this is the machine for you to choose! You definitely will be happy with its powerful abilities and embedded features more than you can expect from a state of the art machine with highest quality materials and latest technologies invested into this machine by Roland developers and engineers. Don't take my words, pls try for yourselves and you will find down on your own with surprise! Good Luck to all. Kind Regards, tom
Posted by

tom

on

Jan 25, 2020

Protect your investment with the Long & McQuade Performance Warranty
A warranty can be a very important factor when making a buying decision. Because repairs can be very expensive in terms of parts and labour costs, manufacturers usually only provide one year limited warranties that generally only cover items that malfunction due to a manufacturer's defect. With an important purchase such as a musical
instrument or piece of studio gear, however, many people want to have the peace of mind in knowing that their investment will be protected should the product no longer be performing at 100%.
Because of this, Long & McQuade provides our customers with a FREE one-year Performance Warranty on most of our products. The Long & McQuade Performance Warranty supplements the manufacturer's warranty to ensure that our customers receive complete "no hassle" warranty coverage within their first year.
How does the Long & McQuade Performance Warranty differ from most manufacturers' warranties?
Performance Guarantee: Normal wear and tear is covered, so your product will be performing as well as the day you purchased it for the entire duration of the coverage. Band and Orchestral Performance Warranty does not include replacing pads or cleaning for woodwind instruments, unless deemed necessary by our repair staff. Ultrasonic cleaning for brass instruments will be provided if deemed necessary by our repair staff, but is not routinely offered under the Performance Warranty.
Product Replacement: If your product cannot be fixed or costs too much to fix, we will replace it with the equivalent model for no additional charge. If this is not possible, a full refund will be provided.
No Lemon Policy: Your product will be replaced should the same problem occur multiple times.
Convenient: Easy drop off and pick up of the product at any Long & McQuade location.
Guitar Setup: Guitars purchased at Long & McQuade come with 1 free setup, to be redeemed within 1 year for new guitars and 90 days for used guitars.
Loaners Available: A loaner product may be given while the product is being repaired.
Power Surge Protection: Your product is covered even if damaged from a power surge.
Accessory Coverage: Any peripheral devices or accessories that come with your product (i.e. foot pedal, case) are also covered.
Commercial Use Coverage: Music and recording professionals who purchase gear for "heavy-use" commercial purposes will still be covered.
Long & McQuade reserves the right to restrict the purchase of additional years of Performance Warranty. Used products come with a 3-month Long & McQuade Performance Warranty. Some products (i.e. computers, software, cymbals and other items) are covered only by the manufacturer's warranty. Consumables (i.e. strings, reeds, drum sticks, batteries, tubes, cross faders) are excluded as they are designed to be replaced. Cosmetic Damage, Accidental Damage, or problems caused by Humidity or Temperature Issues are not covered. Speakers damaged by overpowering are generally not covered. Our coverage does not provide compensation for loss of use. As of June 2018 the Performance Warranty is no longer transferable. The warranty is only valid in Canada.
Purchasing additional years of coverage
Some manufacturers provide warranties for longer than 1 year; however, these are usually limited warranties that do not provide the same coverage as the Long & McQuade Performance Warranty. Customers interested in more complete and convenient (but not necessarily longer) coverage are still able to purchase additional years of the Performance Warranty.
If you are interested in receiving this coverage for longer than one year, you have the option of purchasing additional years of the Performance Warranty. The pricing is as follows:
NEW products: 4% of the current new selling price to double the warranty from 1 year to 2 years. 4% for each additional year.
USED products: 4% of the current new selling price to increase the warranty from 3 months to 1 year. 4% for each additional year.
GUITARS: 4% of the current new selling price to double the warranty from 1 year to 2 years. 4% for each additional year. $45 maximum. An additional free setup is not included with additional purchased years of Performance Warranty.
BAND and ORCHESTRAL instruments: 4% of the current new selling price to double the warranty from 1 year to 2 years. 4% for each additional year.