April Avenue Music
Doctor Mozart Music Theory Workbook - Level 2A
---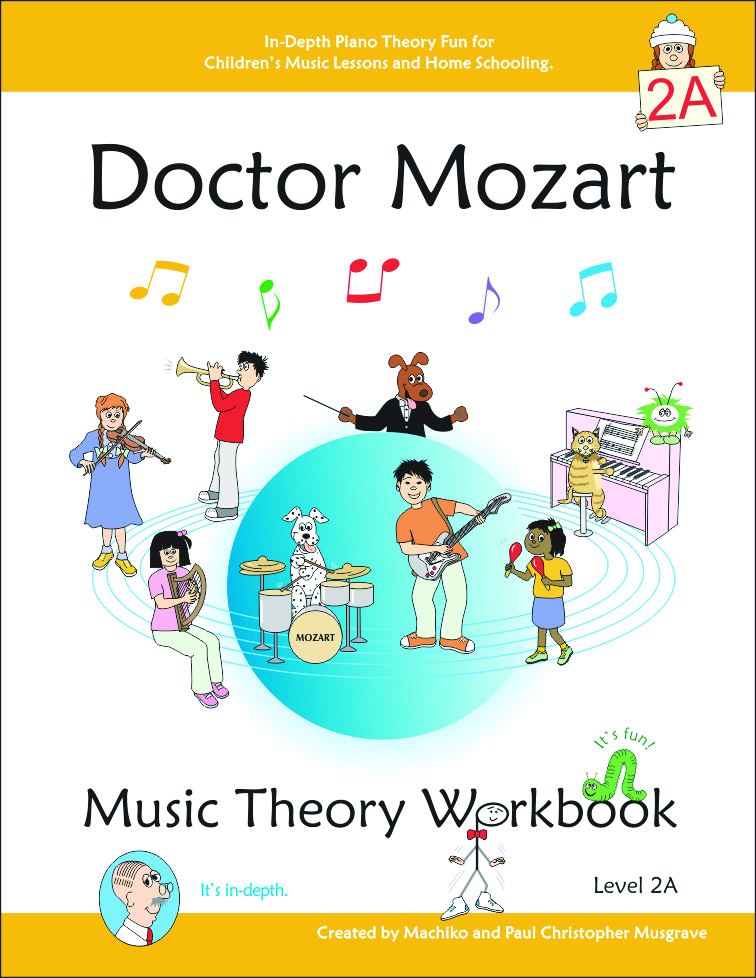 Highly effective for beginners
learning a musical instrument.
To succeed with a musical instrument, your child needs to understand basic music theory in-depth. Fortunately, learning music theory essentials in-depth is fun with Doctor Mozart music theory workbooks.

Fun and in-depth. Doctor Mozart is both. This is one important difference between Doctor Mozart and other theory workbooks.

Doctor Mozart's crew of colorful cartoon characters will coach your child with:

Entertaining illustrations and diagrams that stimulate your child's interest and serve as memory aids.
Highly effective exercises, to ensure that your child understands every topic.
Clear, detailed explanations in short, simple sentences.
A hands-on, pencil and paper, tactile experience, that involves writing notes, clefs, and musical symbols by hand, for learning that is deep and enduring.

Just right for beginners 6 to 12 years old, Doctor Mozart workbooks come in three levels. The Level 1 workbooks offer the solid music theory foundation your child needs to begin music lessons. With close supervision, even 5-year-old children can start the very first Level 1A workbook, if they are exceptionally bright. The more advanced Level 2 and 3 workbooks will help your 7 to 12 year old child excel with intermediate music lessons.

Whether your child is learning piano, guitar, or violin or singing in a choir Doctor Mozart's keyboard-based approach to music theory can help your child succeed.

Level 2A

Pitch: Ledger notes; whole steps up and down; the C, F, and G major scales.
Musical Time: Eighth notes, dotted half notes, primary and secondary accents, time signatures.
There are currently no questions for this product.
There are currently no reviews for this product. Be the first to write one!