Yamaha
Genos 76-Key Arranger Workstation
SKU: #

513297
|
Model: #

GENOS
|





Product Reviews

3 Reviews
Write a Review
---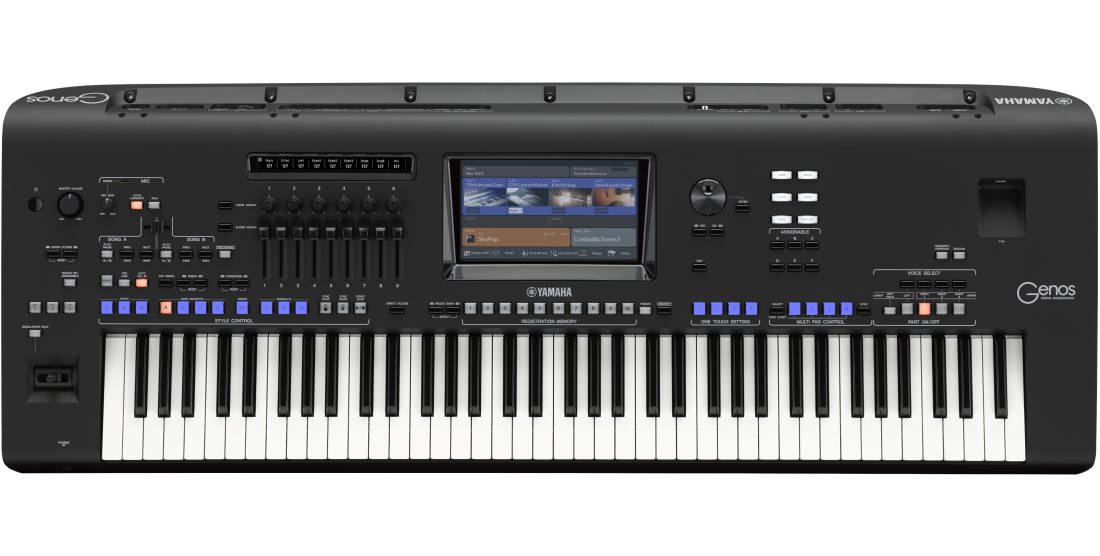 Additional Photos: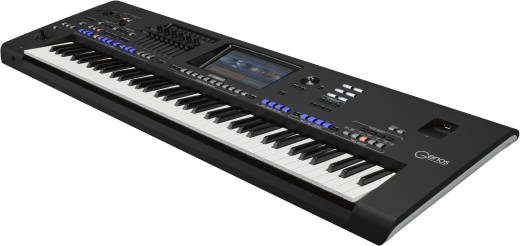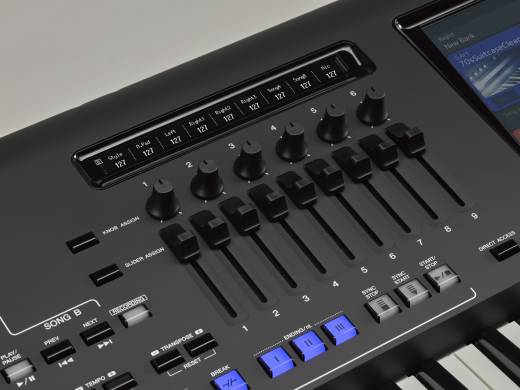 Product Videos :
YouTube Video

YouTube Video

YouTube Video

Your Price: $
6,799.99
CDN
or from
$314
CDN/mo
Take Control of Your Music
Welcome to the new world of Digital Workstations. Genos is the new benchmark in Digital Workstation sound, design and user experience. Whether you are in a recording studio or on stage, Genos will inspire your musical creation and performance.

The Best Sound Quality Ever on a Digital Workstation
Powered by specially developed Yamaha technology, the sonic quality of every Voice in Genos is beyond any other Digital Workstation you've ever played. Everything you hear, whether it be the beautiful CFX piano, the lush Kino Strings or the punchy Revo!Drums, it just blows you away!

AEM (Articulation Element Modeling)
This technology simulates the characteristics of musical instruments. During a performance the technology sounds appropriate samples, in real time, according to what and how you play. Samples are smoothly joined and articulatedas would naturally occur on an actual acoustic instrument.

C7 Grand Piano
For the first time in any Yamaha product, the Genos features our newly sampled C7 Grand Piano Voice. It is great match with Pop/Rock/Jazz and other music.

Revo!Drum/SFX
Revo!Drum Voices recreate the authentic sound of drums. Even when playing the same key multiple times, the sound is always of a different nuance, making it incredibly natural and realistic.

Revo!Drum/SFX
Revo!Drum Voices recreate the authentic sound of drums. Even when playing the same key multiple times, the sound is always of a different nuance, making it incredibly natural and realistic.

Effects
From Reverb to Distortion, Rotary Speaker to Compressor, Genos boasts unprecedented DSP power. 28 insert effects can be routed freely, making Genos an incredibly versatile production tool.

Using the same VCM technology as professional Yamaha mixing consoles, Genos has the tools to create the perfect sound. Not only do the effects sound great, they look great toowith a stunning graphical user interface.

Vocal Harmony & Synth Vocoder
You can automatically apply various Vocal Harmony effects to your voice as you sing, or you can use the Synth Vocoder to craft the unique characteristics of your voice onto synthesizer and other sounds.

Expand Your Music
You can continually expand the onboard content of your Genos by creating and installing your own custom or purchased Packs. The scope of possibilities for new sounds and styles is virtually unlimited.
• YEM (Yamaha Expansion Manager)
YEM is PC/Mac software designed to manage the Expansion contents for Yamaha keyboards.
• Integrated Flash Memory
Genos includes 1.8GB of user flash memory with high speed reading/writing for your own Voices.
• Extra USB memory slot for data storage
Genos has three USB TO DEVICE ports (one on the panel, one on the back side, one on under the instrument) for you to keep the data.
• Extra USB memory slot for data storage
Genos has three USB TO DEVICE ports (one on the panel, one on the back side, one on under the instrument) for you to keep the data.

Recording Function (MIDI/Audio)
Quickly record your performance as audio (WAV) or Standard MIDI File (SMF) with the Quick Recording feature. For more complex arrangements, Multi Recording features a fully functional 16-track MIDI sequencer with realtime and steptime functionality.

When you are happy with your recording, it can be stored to the internal User Drive or saved to USB Memory for easy sharing. The new S/PDIF Digital output can be connected to compatible studio equipment or home theatre to output audio from Genos without any loss in quality.

Specifications
Size/Weight
Dimensions: 123.4 cm x 13.8 cm x 45.6 cm (48-9/16" x 5-7/16" x 17-15/16")
Weight: 13.0 kg (28 lb, 11 oz)
Control Interface
Number of Keys: 76
Type: Organ (FSX), Initial Touch/Aftertouch
Touch Response: Normal, Easy1, Easy2, Soft1, Soft2, Hard1, Hard2
Other Controllers: Joystick
Control Knobs: 6 Live Control knobs (Assignable)
Sliders: 9 Live Control sliders (Assignable), Cross Fader
Art. Switches: 3
Main Display: TFT Color Wide VGA LCD Touchscreen | Sub Display: OLED (Live Control view)
Size: Main Display: 800 x 480 dots (9 inch) | Sub Display: 589 x 48 dots
Language: Main Display: English, German, French, Spanish, Italian | Sub Display: English
Voices
Tone Generating Technology: AWM Stereo Sampling, AEM technology
Number of Polyphony: 256 (max.) (128 for Preset Voice + 128 for Expansion Voice)
Preset Number of Voices: 1,652 Voices + 58 Drum/SFX Kits
Featured Voices: 10 Revo! Drums/SFX, 76 Ensemble, 390 Super Articulation!, 75 Super Articulation2!, 82 MegaVoice, 40 Sweet!, 81 Cool!, 160 Live!, 24 Organ Flutes!
Compatibility: *XG, *GS, GM, GM2 (*for Song playback)
Part: Right 1, Right 2, Right 3, Left
Expandability
Voice: approx. 1.8 GB
Effects
Reverb: 59 Preset + 3 User
Chorus: 107 Preset + 3 User
DSP: Variation: 358 Preset (with VCM) + 3 User | Insertion 1-28: 358 Preset (with VCM) + 10 User
Master Compressor: 5 Preset + 5 User
Master EQ: 5 Preset + 2 User
Part EQ: 28 Parts
Vocal Harmony Presets: Vocal Harmony: 54 | Synth Vocoder: 20
Number of User Settings: 60 (Total Vocal Harmony and Synth Vocoder)
Vocal/Mic Effect: Noise Gate, Compressor, 3 Band EQ | Vocal Effect: 23
Multi Pads
Preset Number of Multi Pad Banks: 448 Banks x 4 Pads
Songs
Number of Preset Songs: 9 Demo Songs, 11 Preset Songs
Recording Number of Tracks: 16
Recording Function: Quick Recording, Multi Track Recording, Step Recording
Compatible Data FormatPlaybackSMF (Format 0, Format 1) , XF
RecordingSMF (Format 0), approx. 3 MB per Song
Functions
Audio Recorder/Playback: WAV (44.1 kHz, 16 bit, stereo), MP3 (44.1 kHz, 64/96/128/256/320 kbps, stereo)
Recording: WAV (44.1 kHz, 16 bit, stereo), approx. 0.8 GB (80 minutes) per Song
Audio/Recording Functions: Time Stretch, Pitch Shift, Vocal Cancel
Voice Functions: Harmony/Echo, Arpeggio, Panel Sustain, Mono/Poly
Number of Registration Buttons: 10
Metronome: 5 - 500, Tap Tempo
Transpose: -12 - 0 - +12
Tuning: 414.8 - 440.0 - 466.8 Hz (approx. 0.2 Hz increments)
Octave Button: Yes
Scale Type: 9 Types
Storage
Internal Memory: approx. 58 GB
External Drives: USB flash drive
Connectivity
Headphones: Standard stereo phone jack (PHONES)
FOOT PEDAL: 1 (SUSTAIN), 2 (ART.1), 3 (VOLUME), Function assignable
Microphone: Yes (Combo Jack) , Phantom Power (+48V) available
MIDI: MIDI A (IN/OUT) , MIDI B (IN/OUT)
AUX IN: L/L+R, R
DIGITAL OUT: Yes (coaxial)
LINE OUT: MAIN (L/L+R, R) , SUB (1, 2) , SUB (3, 4 / AUX OUT)
USB TO DEVICE: Yes (x 3)
USB TO HOST: Yes
LAN: Yes Standards: IEEE802.11b/g/n (IEEE802.11n 5GHz: not compatible)

Youtube video product demo

Youtube video product demo

Youtube video product demo

44.200.112.172

CCBot/2.0 (https://commoncrawl.org/faq/)
Expensive
3 of 3 customers found this review helpful
Features





Quality





Value





Overall





Product Experience
I've tried it
Closest Store
Mississauga, Ontario
I've tried this keyboard. From my experience with high end Yamaha and Korg arranger keyboards, there are several things to highlight regarding Genos.
1. Comparing to Korg pa4x, it's over $1000 more expensive.
2. The screen is not tilting which is a must for a high end keyboard.
3. A bigger touchscreen doesn't necessarily eliminate the need for buttons; the Styles and Sounds buttons should have been kept like previous Tyros models.
4. The Expansion Manager, EP, software which is used in conjunction with a computer is lacking a lot of features comparing to Korg's onboard voice editing feature on their PA series keyboards; for example, you cannot even unlock a factory Yamaha pack on EP or edit factory sounds while Korg sounds can be freely edited on their on keyboards onboard. When it comes to Drum Kids, being able to modify the original factory Drum Kids is an essential.
5. The quality of a sound on Genos is amazing yet their isn't a huge improvement over Tyros5.
6. The internal memory have been increased to 3GB for expending sounds and 58GB for saving data, but though 58GB looks enough for saving data it is not enough to store some quality custom styles, sounds etc; in other words have ones personal library handy on the keyboard. As a result, the option of adding a hard drive should have not been eliminated.
Posted by

Hedayat

on

Jun 11, 2021
Screen must be adjusted lifting option !
1 of 2 customers found this review helpful
Features





Quality





Value





Overall





Product Experience
I've tried it
Closest Store
Belleville, Ontario
Tyros 5 is Beautiful awesome model with adjustable screan then even came with 76 keys and can be played tons of styles with Indian Styles and other world greatest styles Back in 201 l requested to Yamaha bring Thanks to Yamaha They did that but now Genos is upgraded as Tyros but they killed the adjustable screan option which degrades the value of Genos next update they should bring with LED screen with adjustable min 9" screan to make the Yamaha users to enjoy the product
Posted by

Anton

on

Mar 22, 2021
This Arranger Keyboard is Amazing for Making and Playing Music
1 of 1 customers found this review helpful
Features





Quality





Value





Overall





Product Experience
I own it
Closest Store
Toronto (Bloor St.), Ontario
This is the best piece of equipment I have ever bought.
This arranger keyboard is really a breakthrough for both live performance and also for recording.
The amount of work I have been able to accomplish and the amount of time I have saved in recording and live performance is amazing.
Out of the box, this unit is easily playable and intuitive. To dig deeper, there is a huge learning curve that really pays off in structuring recording and keeping things organized.
You must be able to play to a click track or any prerecorded beat of your choosing to use this equipment, just like in any modern studio using current recording techniques. Your drummer must be able and willing to follow this as well, just like in a studio. If your drummer cannot or will not play to a click track, this will not work. (But if your drummer can't or won't play to a click track, you won't be able to ever record in a studio using modern recording techniques that are in common use the past two decades). If you or your band cannot do this or are unwilling to do this you cannot use this equipment for live performance, but can still use it in for quickly creating and arranging your own songs, and also practicing on your own without the band if you like, and getting your musical skills perfected. You can also of course record an amazing version of it and show let your band mates check it out, post it to Soundcloud or Spotify, have fun with it.
So much music is created electronically these days, and mixed with live vocals and a live instrument (for example guitar or keyboard), and it is amazing how easy it is to do this with this arranger keyboard all by yourself and not in a studio. The sound quality is amazing.
This way of making and playing music is so much easier than using a DAW (computer based Digital Audio Workstation). Making music with a DAW you must work from the bottom up, and it takes forever. Working with this unit you work from the top down. Take your favorite song and it's so easy to just put in the chords, pick a style, and right away the backup for your song is there. The backup drums, bass, chords, keyboards, etc. can be automatically picked and mixed into the song for you, or you can easily pick from hundreds of instrument choices, will now automatically and uniquely play unique music to these chords, just like a real studio musician backing you up as you lay down your vocal track and your own instrument track through your mic.
Quick and easy, but if you want to arrange the music, verses, intro etc. it is so easy and intuitive. Likewise with mixing the various parts, either live or after they are recorded. This arranger keyboard is built to be able to do this on live performances or live recording or step recording, there are so many options. Very quick and easy, unlike a DAW. If you want to then export and mix it in a DAW it can also be done much quicker than doing it all on a DAW in the first place. The sound quality is amazing.
You can absolutely use this arranger keyboard with your whole band in live performances, and it takes the pressure of and holds everything together much better. So many live performances integrate this type of technology into their performances, ever since Pink Floyd, David Gilmour, The Cars, U2, the list is huge.
Best of all, I just enjoy playing my music again. I really enjoy just playing my songs, singing and playing my guitar or keyboard and being backed up to my songs with drums, bass, other instruments of my choice, all on the fly, adjusting the mix and changing the parts and chord progressions live, just for kicks. I record it all while I do this, and often come up with great new work, all while relaxing and just enjoying it.
Posted by

James

on

Jan 9, 2021

Protect your investment with the Long & McQuade Performance Warranty
A warranty can be a very important factor when making a buying decision. Because repairs can be very expensive in terms of parts and labour costs, manufacturers usually only provide one year limited warranties that generally only cover items that malfunction due to a manufacturer's defect. With an important purchase such as a musical
instrument or piece of studio gear, however, many people want to have the peace of mind in knowing that their investment will be protected should the product no longer be performing at 100%.
Because of this, Long & McQuade provides our customers with a FREE one-year Performance Warranty on most of our products. The Long & McQuade Performance Warranty supplements the manufacturer's warranty to ensure that our customers receive complete "no hassle" warranty coverage within their first year.
How does the Long & McQuade Performance Warranty differ from most manufacturers' warranties?
Performance Guarantee: Normal wear and tear is covered, so your product will be performing as well as the day you purchased it for the entire duration of the coverage. Band and Orchestral Performance Warranty does not include replacing pads or cleaning for woodwind instruments, unless deemed necessary by our repair staff. Ultrasonic cleaning for brass instruments will be provided if deemed necessary by our repair staff, but is not routinely offered under the Performance Warranty.
Product Replacement: If your product cannot be fixed or costs too much to fix, we will replace it with the equivalent model for no additional charge. If this is not possible, a full refund will be provided.
No Lemon Policy: Your product will be replaced should the same problem occur multiple times.
Convenient: Easy drop off and pick up of the product at any Long & McQuade location.
Guitar Setup: Guitars purchased at Long & McQuade come with 1 free setup, to be redeemed within 1 year for new guitars and 90 days for used guitars.
Loaners Available: A loaner product may be given while the product is being repaired.
Power Surge Protection: Your product is covered even if damaged from a power surge.
Accessory Coverage: Any peripheral devices or accessories that come with your product (i.e. foot pedal, case) are also covered.
Commercial Use Coverage: Music and recording professionals who purchase gear for "heavy-use" commercial purposes will still be covered.
Long & McQuade reserves the right to restrict the purchase of additional years of Performance Warranty. Used products come with a 3-month Long & McQuade Performance Warranty. Some products (i.e. computers, software, cymbals and other items) are covered only by the manufacturer's warranty. Consumables (i.e. strings, reeds, drum sticks, batteries, tubes, cross faders) are excluded as they are designed to be replaced. Cosmetic Damage, Accidental Damage, or problems caused by Humidity or Temperature Issues are not covered. Speakers damaged by overpowering are generally not covered. Our coverage does not provide compensation for loss of use. As of June 2018 the Performance Warranty is no longer transferable. The warranty is only valid in Canada.
Purchasing additional years of coverage
Some manufacturers provide warranties for longer than 1 year; however, these are usually limited warranties that do not provide the same coverage as the Long & McQuade Performance Warranty. Customers interested in more complete and convenient (but not necessarily longer) coverage are still able to purchase additional years of the Performance Warranty.
If you are interested in receiving this coverage for longer than one year, you have the option of purchasing additional years of the Performance Warranty. The pricing is as follows:
NEW products: 4% of the current new selling price to double the warranty from 1 year to 2 years. 4% for each additional year.
USED products: 4% of the current new selling price to increase the warranty from 3 months to 1 year. 4% for each additional year.
GUITARS: 4% of the current new selling price to double the warranty from 1 year to 2 years. 4% for each additional year. $45 maximum. An additional free setup is not included with additional purchased years of Performance Warranty.
BAND and ORCHESTRAL instruments: 4% of the current new selling price to double the warranty from 1 year to 2 years. 4% for each additional year.