Vandoren
M/O Bb Clarinet Silver-Plated Ligature & Cap
---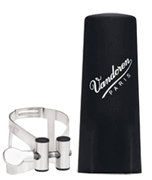 The all new M|O ligature series combines beauty, efficiency and function in one simple, yet elegant design. The M|O series combines the light weight and elegant design characteristics of the original Masters series with the symmetrical tightening and speed of the Optimum series, resulting in a beautiful ligature that allows an optimum vibration of the reed and a crisp articulation. Silver-plated finish. Matching plastic cap is included.

Two models are available: LC51SP fits most standard hard rubber and plastic mouthpieces, and LC61SP is designed to fit only Vandoren Masters mouthpieces.
There are currently no questions for this product.
There are currently no reviews for this product. Be the first to write one!