Elixir Strings
POLYWEB 13-56 Medium Acoustic Strings
---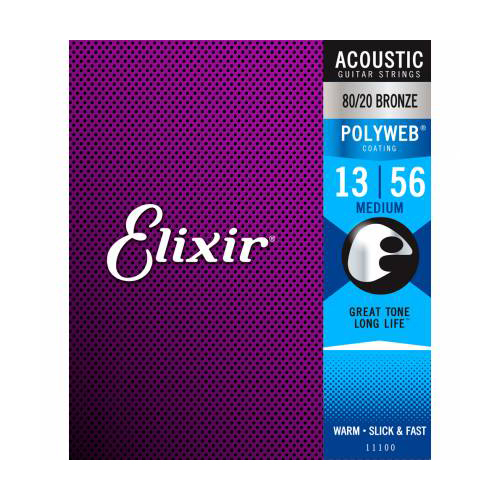 Additional Photos: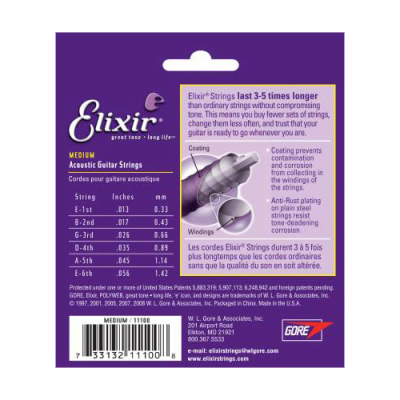 Elixir Strings Acoustic 80/20 Bronze with POLYWEB Coating deliver a warm, "played-in" tone together with extended tone life that players have come to expect from Elixir Strings. The #1 acoustic guitar string, Elixir Strings provide consistent performance, smooth feel and reduce finger squeak. With less hassle and expense of frequent string changes, you enjoy more time making music.

Elixir Strings is the only brand to coat the entire string, protecting not only the outer string surface, but also the gaps between the windings. Elixir Strings retain their tone longer than any other string, uncoated or coated*. The Anti-Rust Plated Plain Steel Strings also resists tone-deadening corrosion, ensuring longer life for the entire set.
*Elixir Strings player survey

Gauges Available Include:
Extra Light: 010 014 023 030 039 047
Custom Light: 011 015 022 032 042 052
Light: 012 016 024 032 042 053
Light/Medium: 012 016 024 035 045 056
Medium: 013 017 026 035 045 056
Resonator: 016 018 028 035 045 056
12-String Light: 010 014 023 030 039 047; 010 014 009 012 018 027

Elixir Strings Acoustic 80/20 Bronze Guitar Strings are available with NANOWEB or POLYWEB Coating.
There are currently no questions for this product.
18.206.12.157
CCBot/2.0 (https://commoncrawl.org/faq/)
Acceptable 13-56 strings, good value

2 of 2 customers found this review helpful
Product Experience
I own it
Closest Store
Burlington, Ontario
These strings last well, they are comfortable to play, and don't lose their coating very fast. They don't seem to have much of a coating, or maybe it's just that they don't lose very much of it at all, either way, they last very well, and are comfortable to play even at the heavier gauge. They sound good also, not overly bright, just kind of neutral.
Posted by

L

on

Aug 3, 2018
Twice disappointed

3 of 4 customers found this review helpful
Product Experience
I own it
Closest Store
Montréal, Quebec
I usually rush to give out great reviews since I get excellent service from the L&M team on Lajeunesse in Montreal. I've always used the NanoWeb in the past and used to change them on a monthly basis. So, I bought the PolyWeb thinking they would last longer as the coating is a little thicker. The first set was great and lasted over 3 months; they had lost their sustain and sharpness but not their coating. Then, the last 2 sets of PolyWeb strings were a nightmare. When stringing the guitar, I noticed that the "G" string looked more like a regular Bronze string. The coating flaked off within 2 days and the string itself became oxidized and sounded dead. Then the "B" and the high "E" did the same and sounded dead as well. Within a week I changed the whole set to a new one, then, when stringing the guitar I noticed the following: the "A" (10th to 15th fret), "D" (8th to 11th), "G" (1st to 17th) strings seemed to have been missing some coating. The coating were already flaked out at the specific fret numbers mentioned above. They didn't rust, but they became oxidized after the first guitar practice which involved a light picking song I was learning then. I've spent an overall $500 in Elixir strings in the past 2 years (for Acoustic and Electric) and I won't buy them ever again. I'll still shop at L&M and will buy a different brand of strings.
Posted by

Josee

on

Oct 14, 2015
best ever strings

4 of 4 customers found this review helpful
Product Experience
I own it
Closest Store
Vancouver, British Columbia
Played for 40 years and found the Elixir strings on a guitar for sale in London. It was a beautiful Taylor around $2500. The guitar was great but the feel and tone from the strings made me buy a set and they are hands down the best strings I have ever used.Make my old guitar ring like a new. Easy on the fingers and smooth slide action.
Posted by

Guy Mathany

on

Jun 15, 2013
Poly Web strings

0 of 0 customers found this review helpful
Product Experience
I own it
Closest Store
New Minas, Nova Scotia
I have these strings on my Gibson J-45. No annoying string squeeks with these. They sound great and are all I use.
Posted by

anonymous

on

Apr 11, 2012
N/A

9 of 9 customers found this review helpful
Product Experience
I own it
Closest Store
London North, Ontario
All I have to say is amazing strings. Very long lasting and keep tune very well. For 15 years I was using D'Addario, until a frind of mine recommended Elixr. I don't think I can ever go back. For anyone who wanted to know about the difference between Polyweb and Nanoweb. Guitar strings are pretty much a wire, with another wire coiled around it. With Polyweb, the wire is coated and then wrapped and coated again. With Nanoweb, it's only coated once at the end of the coiling process. I find Polyweb to last much longer than Nanoweb.
Posted by

AC

on

Mar 18, 2012