Strymon
Iridium Amp and IR Cab Simulator
---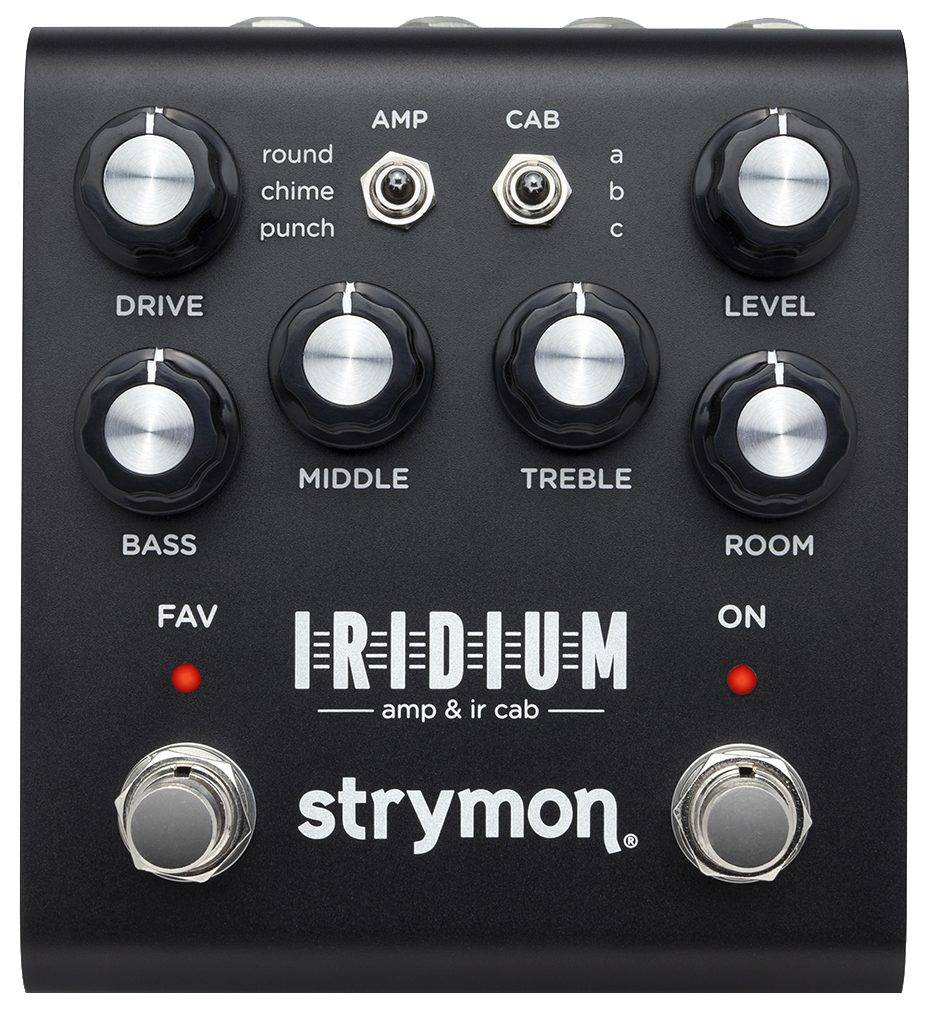 Additional Photos: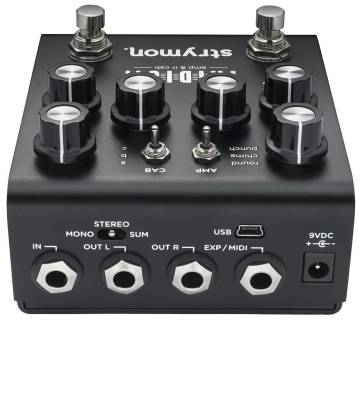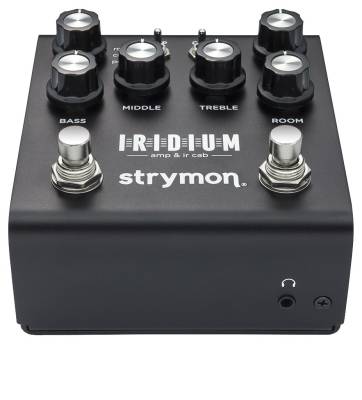 Product Videos :
YouTube Video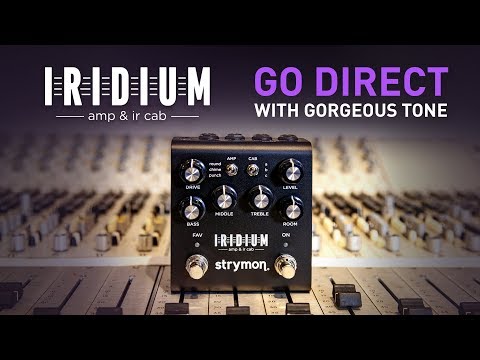 YouTube Video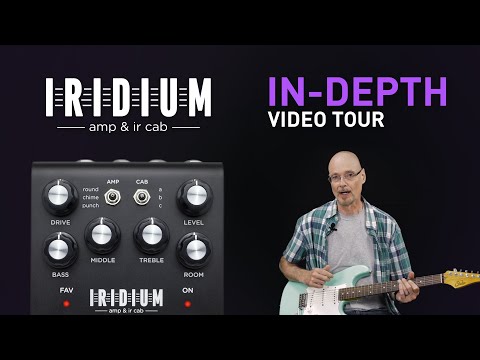 YouTube Video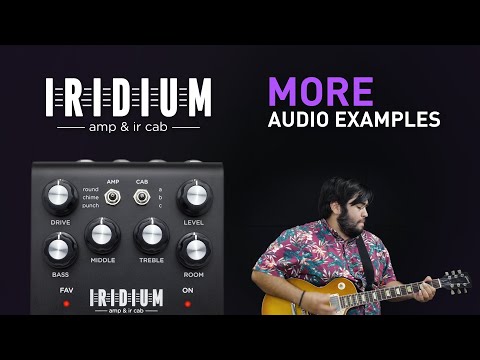 or from
$58
CDN/mo
Iridium delivers the sound and feel of a world-class tube amp driving a perfectly matched speaker cab in a great sounding room. You get three iconic amplifiers, loadable impulse response speaker cabinets, adjustable room ambience, and simple controls to easily dial in the perfect amp tone when going direct.

Skip the hassle of lugging around or miking amps. Place Iridium on your pedalboard and send gorgeous stereo amplifier tones, stunningly realistic cabs, and lush room ambience direct to a recording interface or PA system. With Iridium, it's a snap to dial in a direct tone that will truly inspire and sound great whether you are monitoring through in-ears, floor wedges, reference monitors, or studio headphones.

Three Iconic Amplifiers
All the subtleties and unique tonal qualities of each amplifier has been captured. Every aspect of their circuitry has been modeled with absolute precision to deliver the response, feel, and inspiring experience of playing through the original amps at their best.

• Round Amp based on a Fender® Deluxe Reverb®
The Deluxe is one of the most recorded amps in history for good reason. This amp is clean, bright, and mid-scooped, with plenty of headroom. At higher Drive settings it delivers an overdriven sound unique to its architecture. The Deluxe's Normal channel was chosen for its round tone that plays well with pedals. While preserving access to all the tones originally available with this channel, this model gives you something extra: a midrange control. With the midrange at noon, you get the original fixed-resistor value and standard tonal characteristics of the Deluxe. Turn down the midrange for a more scooped sound, or turn it up for tweed-era tones.

• Chime Amp based on the Brilliant channel of a Vox® AC30
The amp that defined the guitar sound of the British Invasion. Our model of the AC30TB Brilliant channel is jangly, bright, and chimey, providing air for subtle passages with a light touch, and bite when you want to dig in. For this amp, the Middle knob acts a Tone Cut knob, providing high-end roll-off just before the power tubes, per the original AC30 design. In addition to the full available gain of the original amp, toward the top end of the Drive knob's range of travel, Strymon has added a frequency-shaped front end boost to tighten the low end while driving the amp further into saturation.

• Punch Amp based on a Marshall® Plexi (Super Lead model number 1959)
This powerful amp is meatier, with higher gain than the other two amps, and has a powerful midrange response. This amp features a buttery, smooth overdrive. At higher Drive settings it will deliver all the high gain distortion and growl this amp is known for, and then some. Setting the Drive control at around 2 o'clock gets you the maximum gain the original Plexi design allowed. Beyond that, this model has some additional gain on tap, giving you access to custom hot-rodded Plexi high gain tones.

Nine Stunningly Realistic Cabs
Iridium comes pre-loaded with a carefully curated collection of premium cabinet IRs from OwnHammer, Celestion, cabIR and Valhallir. You can also load your own IRs using Strymon Impulse Manager software.

Deluxe Reverb® 112″ by OwnHammer
Impulse of a vintage Fender® Deluxe Reverb 112″ open back combo with a 1978 Fender CTS ceramic 12″ speaker.

Blues Junior® 112″ by cabIR
Impulse of a 112″ Blues Junior cabinet with a Jensen® C12N speaker.

Vibrolux® 210″ by cabIR
Impulse of a 1965 Fender Vibrolux 210″ with Jensen C10NS speakers.

AC30 212″ AlNiCo by OwnHammer
Impulse of a Vox® AC30/6 open back 212″ combo with 2001 Celestion® T0530 Blue AlNiCo speakers.

112″ AlNiCo by Celestion
Impulse of a Celestion Blue AlNiCo speaker in a closed back 112″ cab.

Mesa® 412″ by Valhallir
Impulse of a 412″ Mesa Boogie halfback with two Celestion Black Shadow® MC-90 and two ElectroVoice® Black Shadow EVM12-L speakers.

GNR 412″ by OwnHammer
Impulse of a 1971 Marshall® 1960B "basketweave" 412″ cabinet with 1971 Celestion T1221 G12M-25 speakers.

212″ Vintage 30 by Celestion
Impulse of a Celestion Vintage 30 in an open back 212″ cab.

Marshall 812″ AlNiCo by cabIR
Impulse of a 1965 Marshall 812″ re-issue full stack cabinet, with Celestion T652 AlNiCo speakers.

An Amp, Through a Cab, in a Room
Iridium features a hybrid room ambience design that combines 256ms impulse response captures of real rooms for realistic early reflections, with an algorithm for extended decay and modulation. This combination places your amp and cab in a natural sounding room, creating a real space for your amp to open up and breathe. In addition to controlling the amount of room ambience, you can also choose a small, medium, or large room.

Specifications

SOUND DESIGN
• Three amplifier models crafted using Matrix Modeling™, capturing the subtleties and unique tonal qualities of each amp
• Nine Impulse Response speaker cabinets, 24bit / 96kHz 500ms
Stereo (three per amp type), pre-loaded with a curated set of IRs
• Load your own impulse responses using Strymon Impulse Manager software
• Hybrid IR/algorithmic Room control with selectable small, medium, and
large rooms
• Simple, responsive amp-style controls for Drive, Level, Bass, Middle,
and Treble
• Premium stereo high impedance discrete JFET analog front end with
up to 22dB of pure analog gain

I/O AND SWITCHES
• Stereo Input (requires TRS adapter cable)
• Stereo Output
• Operates at instrument and Line Level input sources
• Discrete transistor headphone amplifier
• Expression pedal input provides seamless morphing between knob positions (Expression mode), or smooth pre/post volume control with logarithmic taper (Volume mode)
• USB jack for connecting to Strymon Impulse Manager software
to add and edit your own speaker cabinet IRs
• Compatible with Strymon MultiSwitch Plus for remote selection of up to 4 presets
• Full featured MIDI control accessible via EXP Jack for remote parameter control and access to 300 preset locations (requires Strymon MIDI EXP cable or • MIDI to TRS interface)

AUDIO QUALITY
• Ultra-low noise, high performance 24-bit 96kHz A/D and D/A
converters provide uncompromising audio quality
• Super high performance SHARC and ARM co-processors
• 32-bit floating point processing

MORE
• Transparent Analog Buffered Bypass
• Strong and lightweight anodized black aluminum chassis
• 9V DC power supply included
• Power requirements: maximum 9 volts DC center-negative, with a minimum of 500mA of current
• Dimensions (D x W x T): 11.4 cm x 10.2 cm x 4.4 cm (4.5" x 4" x 1.75")
• Designed and built in the USA
Youtube video product demo
Youtube video product demo
Youtube video product demo
There are currently no questions for this product.
3.80.4.147
CCBot/2.0 (https://commoncrawl.org/faq/)
Great Amp in a Pedal

0 of 1 customers found this review helpful
Product Experience
I own it
Closest Store
Edmonton South, Alberta
I fought replacing my amp and playing direct into PA systems for years - now I do with the Iridium. It is simple to use and replicates a Marshall, Vox and Fender quite well. With 2 channels I normally have 1 clean and 1 crunch. It takes pedals very well and you can really get a great natural OD/Distortion by boosting your signal with an EQ in front of it. I found the factory IRs pretty good - once I downloaded YORK IRs into this pedal it came alive - wow!!!
Posted by

James Ruettnauer

on

Apr 12, 2023
Love this pedal with the York Audio IRs loaded

0 of 0 customers found this review helpful
Product Experience
I own it
Closest Store
Edmonton South, Alberta
I love this pedal now that I have loaded the York IRs. The Factory IRs are mediocre. I used it this way for about 18 months...I didn't really understand why IRs could do so I ignored that capability.
Had a few days off so I tried the York Audio IRs in it - wow now I just love the pedal - like a new toy that I can customize to just about any sound and tone I'm looking for.
Posted by

James Ruettnauer

on

Jan 2, 2023
Best investment in a long while

0 of 0 customers found this review helpful
Product Experience
I own it
Closest Store
Edmonton Mayfield, Alberta
As I grew older, my arms and shoulder became weaker and my amps got heavier. I have been thinking of a way to minimize my gig rig and have seen other guitarists plug directly into the PA and thought maybe I need to start doing that. My research got me to discover the Iridium. A little pricey for a pedal but I bit the bullet and so glad I did. This little thing sounds great! No it doesn't sound 100% like a tube amp but it sounded so close that I don't think most people will even notice.
The only thing I regret now is why I did not buy it sooner. I use the round amp ( fender de luxe model ) with the fender blues junior cab and it sounds so close. I have both the deluxe and blues junior. Great job on the Strymon team for this awesome little pedal.
Posted by

Deo P.

on

Oct 4, 2022
Love your TONE!

0 of 0 customers found this review helpful
Product Experience
I own it
Closest Store
Burlington, Ontario
Bought this because I needed to get good amp tone without the volume. After many years of overt volume during practice in my house, it was time to find a low or no volume solution. Out of the Box it was okay, but after spending some time learning up on impulse responses and how to install 3rd part IR's, I've come to love this little box. Sounds great through the PA and my IEM. Sounds really good for recording direct into my DAW. Pedals sound great great going into the strymon Iridium. The room dial is a nice add. An aux input would have been nice. You need to work it a bit, but I really, really like it. And it's saving my ears.
Posted by

Jim

on

Mar 3, 2022
Just what I needed

0 of 0 customers found this review helpful
Product Experience
I own it
Closest Store
Courtenay, British Columbia
I've been trying to trim the weight of my rig as I've grown older. That mean't moving to an HX Stomp to consolidate a bunch of pedals and amp modelling into one tidy package. As good as it is however, the HX Stomp is limited in its abilities having only 8 blocks to work with. I had managed to get a few awesome sounding amps dialled in but I would regularly make a small adjustment and lose the magic tone. I was always tweaking with the amps which in the end, pulled me away from actually playing music.
Recently, thanks again to L&M, I threw an Iridium into my FX loop on the Stomp and in just a few minutes,I had dialed in 3 killer amp tones and was done with it. This Iridium is brilliant. I've owned 2 of the 3 amps that the Iridium models and can attest thet this Iridium is frighteningly close to the real thing in a tidy little 2 lb package. Love it!
Posted by

David Gauci

on

Jan 11, 2022
The pedal that made me smile

4 of 4 customers found this review helpful
Product Experience
I own it
Closest Store
Toronto (LM Pro) Eastern Ave, Ontario
I know, it's expensive for a pedal, just don't think of it as pedal, but 3 amps is a box. My gear hunt for a perfect headphone amp landed here and I pulled the trigger and bought one . Let me tell you it is the best piece of gear (excluding maybe guitars) I have ever purchased . Plugged in the guitar, dialed in an edge of breakup tone on the "fender" amp and played for an hour with headphones on . The best headphone tone I've come across . Do yourself a favour and grab one . There is a reason why they rarely are found in the used market, and when they do its basically the retail price minus 40 bucks. I think it's because nobody really wants to get rid of it . Happy with the purchase and I haven't even plugged it into a pc or explored any of the mullion other options available . Watch the videos and reviews but just know that for the price, before you get to a Kemper amp territory at 5 times the cost , you won't find a better amp and cab sim . Yes you "only" get 3 amp models , but they do those 3 amp sums so we'll you'll forget about wanting a dozen others . Buy it and smile
Posted by

Steve

on

Jun 15, 2021
Almost perfect...

2 of 2 customers found this review helpful
Product Experience
I own it
Closest Store
Toronto (Bloor St.), Ontario
I bought this unit as I am a solo performer and found that bringing an amp to certain festivals and bar settings made it rather challenging as sound setups often varied and getting a consistent platform for my guitar was almost impossible. Enter Irridium. I can now show up to any gig and patch directly into FOH and get my tone every time without the fuss. oh and when I need to practice... I just plug my headphone and bam, a very credible tone to work with. My only gripe is that there is no effects loop so my entire signal chain must go into the front which limits my ability to push the overdrive tones of the unit.
Posted by

Steve

on

Jan 26, 2021
Get One!!

4 of 5 customers found this review helpful
Product Experience
I own it
Closest Store
Saint John, New Brunswick
After owning this for a year or so, I have to say it's the best purchase I ever made. There are lots of arguments about analog vs. digital, but I actually prefer this to a tube amp: It's three amps in one - Fender, Marshall, Vox. I use mine as a clean pedal platform and it takes overdrives very well. I haven't experimented with overdriving a Strymon amp and then pushing it over the top with a boost. Can't comment on that. If you are someone who loves a basic tone - overdrive, delay, reverb - this is a lot lighter than a 2 x 12 tube amp. And I can't believe how much it responds like a real tube amp. You roll back the volume on your guitar and it cleans up. I own an HX Stomp and it's ok, but it's a lot easier to get a great tone out of the Iridium (in my opinion)
Posted by

anonymous

on

Nov 6, 2020
Strymon iridium

14 of 14 customers found this review helpful
Product Experience
I own it
Closest Store
Kanata, Ontario
Took a chance on this unit since it was not in stock at my usual Long store. Watched Utube vids and got good idea of the pedal sound and functions. I know Strymon makes great pedals and sure enough this pedal sounds great and it very easy to use.I would rather a pedal with three great sounds instead of 100 terrible tones...The amps modeled are a fender,vox and Marshall with irs to run direct to a PA. I use a active dI to my board and the guitar tones were very easy to dial in. You can have two sounds to switch to using the favorite footswitch,I wish you could have three to pick from but I can make it work. The tones are touch sensitive and when you dig in the pedal reactions similar to an amp. I was looking for something to use in my acoustic shows (I run acoustic and electric signals ) and this fits the bill. I tried other products from line 6, Boss, Tech 21, this unit to me sounded better then other products. If you are looking for good guitar tones in a small pedal form I highly recommend this unit.
Posted by

Tim

on

Feb 10, 2020

Protect your investment with the Long & McQuade Performance Warranty
A warranty can be a very important factor when making a buying decision. Because repairs can be very expensive in terms of parts and labour costs, manufacturers usually only provide one year limited warranties that generally only cover items that malfunction due to a manufacturer's defect. With an important purchase such as a musical
instrument or piece of studio gear, however, many people want to have the peace of mind in knowing that their investment will be protected should the product no longer be performing at 100%.
Because of this, Long & McQuade provides our customers with a FREE one-year Performance Warranty on most of our products. The Long & McQuade Performance Warranty supplements the manufacturer's warranty to ensure that our customers receive complete "no hassle" warranty coverage within their first year.
How does the Long & McQuade Performance Warranty differ from most manufacturers' warranties?
Performance Guarantee: Normal wear and tear is covered, so your product will be performing as well as the day you purchased it for the entire duration of the coverage. Band and Orchestral Performance Warranty does not include replacing pads or cleaning for woodwind instruments, unless deemed necessary by our repair staff. Ultrasonic cleaning for brass instruments will be provided if deemed necessary by our repair staff, but is not routinely offered under the Performance Warranty.
Product Replacement: If your product cannot be fixed or costs too much to fix, we will replace it with the equivalent model for no additional charge. If this is not possible, a full refund will be provided.
No Lemon Policy: Your product will be replaced should the same problem occur multiple times.
Convenient: Easy drop off and pick up of the product at any Long & McQuade location.
Guitar Setup: Guitars purchased at Long & McQuade come with 1 free setup, to be redeemed within 1 year for new guitars and 90 days for used guitars.
Loaners Available: A loaner product may be given while the product is being repaired.
Power Surge Protection: Your product is covered even if damaged from a power surge.
Accessory Coverage: Any peripheral devices or accessories that come with your product (i.e. foot pedal, case) are also covered.
Commercial Use Coverage: Music and recording professionals who purchase gear for "heavy-use" commercial purposes will still be covered.
Long & McQuade reserves the right to restrict the purchase of additional years of Performance Warranty. Used products come with a 3-month Long & McQuade Performance Warranty. Some products (i.e. computers, software, cymbals and other items) are covered only by the manufacturer's warranty. Consumables (i.e. strings, reeds, drum sticks, batteries, tubes, cross faders) are excluded as they are designed to be replaced. Cosmetic Damage, Accidental Damage, or problems caused by Humidity or Temperature Issues are not covered. Speakers damaged by overpowering are generally not covered. Our coverage does not provide compensation for loss of use. As of June 2018 the Performance Warranty is no longer transferable. The warranty is only valid in Canada.
Purchasing additional years of coverage
Some manufacturers provide warranties for longer than 1 year; however, these are usually limited warranties that do not provide the same coverage as the Long & McQuade Performance Warranty. Customers interested in more complete and convenient (but not necessarily longer) coverage are still able to purchase additional years of the Performance Warranty.
If you are interested in receiving this coverage for longer than one year, you have the option of purchasing additional years of the Performance Warranty. The pricing is as follows:
NEW products: 4% of the current new selling price to double the warranty from 1 year to 2 years. 4% for each additional year.
USED products: 4% of the current new selling price to increase the warranty from 3 months to 1 year. 4% for each additional year.
GUITARS: 4% of the current new selling price to double the warranty from 1 year to 2 years. 4% for each additional year. $45 maximum. An additional free setup is not included with additional purchased years of Performance Warranty.
BAND and ORCHESTRAL instruments: 4% of the current new selling price to double the warranty from 1 year to 2 years. 4% for each additional year.