Zoom
R8 8-Track Digital Recorder/Interface/Controller/Sampler
SKU: #

344476
|
Model: #

R8 ZOOM
|





Product Reviews

5 Reviews
Write a Review
---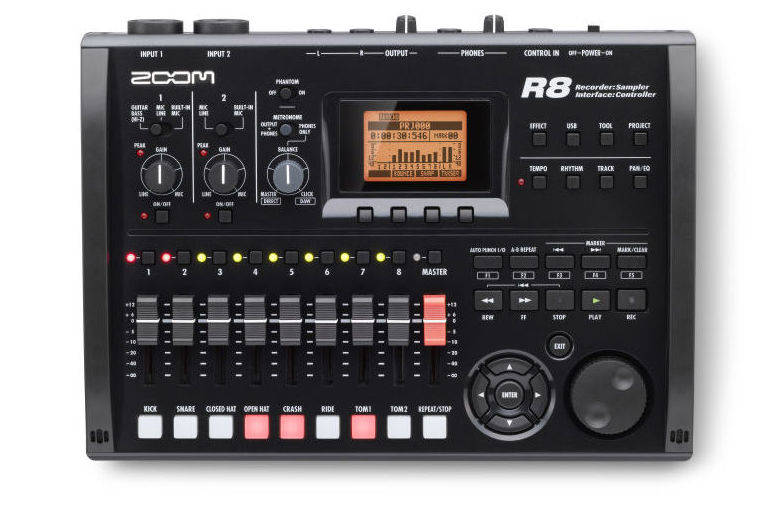 Additional Photos: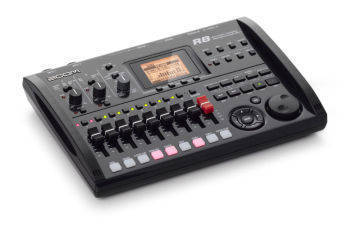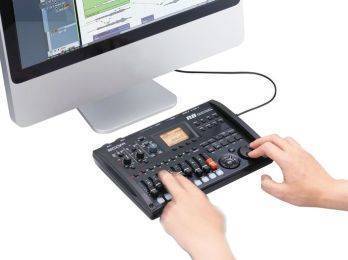 Product Videos :
YouTube Video

or from
$40
CDN/mo
The Zoom R8 combines multiple audio production tools in one compact device. In addition to being an 8-track recorder, it's a pad sampler and a rhythm machine, and can even serve as a DAW control surface and computer audio interface. Advanced features such as built-in stereo condenser microphones, dual mic/line/instrument level inputs, onboard DSP effects and chromatic tuner complete the picture, making the R8 a great choice for home recordists and road warriors alike.

Recorder
With 2-track simultaneous recording and 8-track playback, the R8 is the perfect tool for capturing audio on-the-go. Record live music performances, rehearsals, songwriting sessions or even audio for film and video. Playback up to eight tracks of audio at up to 24-bit/48kHz resolution as WAV files. If you make a mistake, use the Undo/Redo function to cancel the last recording operation and restore the previous state. You can even mix down completed songs inside the R8 and save a mix for each project.

Audio interface
When combined with your computer, the R8 becomes a powerful audio interface. Connect the R8 to your computer via USB, launch your favorite DAW or use the included Cubase LE software and start laying down your tracks. Simultaneous 2-in/2-out capability allows you to record up to 24-bit/96kHz high definition audio. If you use the 44.1kHz sampling rate, the internal DSP effects of the R8 are also available for your computer tracks. A dedicated control lets you adjust the mixing balance between the DAW playback sound and the direct sound for monitoring.

Control surface
The R8 can be used as a control surface for DAW transport functions (play, record, stop) and mixing operations. Through a USB connection, you can control the transport and mixing functions of major DAWs such as Cubase, Logic, and Sonar from the R8. In addition, you can easily move multiple faders at the same time. No more mixing with a mouse! The R8 makes mixing a pleasure.

Sampler
The built-in, 8-voice/8 pad sampler functions allow you to loop audio data on any track. You can play the pads in real-time and combine loops to create a performance for an entire song. When setting loop intervals, you can see the waveforms for visual confirmation. Time-stretching, which allows you to change the tempo without changing the pitch, and trimming the unneeded parts of loops, is also possible. You can use the sampler and recorder functions together seamlessly to play back loop tracks while recording instrumental performances on other tracks.

Create your own beats with the powerful rhythm machine
The R8s rhythm machine includes 10 types of drum kits that use linear PCM audio samples. Use the touch-sensitive drum pads to program up to 511 of your own beats, and use the rhythm patterns that you create just like audio loops. Use the R8s pads to start playback of patterns and use the R8s sequencer to arrange them into songs. You can start fast with the 472 preset patterns, which include intros, fills, endings, and other phrase variations.

Built-in stereo microphones
The built-in high-sensitivity stereo microphones are convenient for recording sketches of musical phrases and melodies as they come to mind. Use these mics for clear recordings of vocals and acoustic instruments.

Supports SDHC cards with capacities of up to 32GB
The R8 uses compact and readily available SD and SDHC memory cards as recording media. Unlike tape and disk recorders, this unit has no motor, making it more resistant to physical interference and concerns about mechanical noise.

Locate functions make editing easier
Set up to 100 markers and directly move to them whenever you want. Also, use the A-B repeat function to play or re-record a designated interval and use auto punch-in and punch-out for efficient editing.

Rapid file transfer with Hi-Speed USB 2.0
The R8s Hi-Speed USB 2.0 port allows WAV-format audio files recorded on the R8 to be sent to a computer smoothly and rapidly. Use the R8 with a computer for additional music production, including editing with DAW software, creating original CDs and importing WAV files.

Tuner and metronome functions
The R8s built-in tuner is great for quickly tuning instruments and checking vocal pitch. The metronome can provide a click track for a drummer during recording and is also useful in practice settings. The metronome can also be sent to just the headphones. This allows you to play along to backing tracks previously recorded on the R8.

Powered by an AC adapter, batteries or USB bus power
Power options provide flexibility for different situations. Power the R8 on its own in one of two wayswith the included AC adapter or four alkaline AA batteries (not included). The R8 operates for over 5 hours on batteries, plenty of time for most field recordings. When using the audio interface or control surface functions, the R8 can be powered by the computers USB bus.

Steinberg Cubase LE DAW software included
Cubase LE is powerful music production software for recording, editing, and mixing both audio and MIDI tracks. Cubase LE uses an audio engine that is equivalent to software that has received numerous awards and is an ideal introduction to computer-based music production.

Features
• 8-track playback, 2-track simultaneous recording
• Built-in stereo condenser microphones
• Records directly to SD and SDHC cards up to 32GB
• Records 16-bit/24-bit, 44.1kHz/48kHz mono and stereo WAV files
• Dual mic/line/instrument level inputs on XLR/TRS combo connectors
• +24 and +48V phantom power
• Dual balanced 1/4" TRS output jacks
• Headphone output with dedicated volume control
• Control input for foot switch start/stop/rewind, punch-in/out, and patch up/down
• Built-in metronome and chromatic tuner
• Over 140 send-return and insert DSP effects, including amp/preamp models and mastering algorithms
• User editing of effects parameters, with 370 patch memories for storage
• Independent level, pan, and EQ for each track
• Internal track bouncing and mixdown of multitrack to stereo
• Flexible overdubbing and both manual and automatic punch-in/out
• Loop playback with waveform zoom and user-defined start/stop points
• Variable playback speed from 50% to 150%, without affecting pitch
• Up to 100 marks per recording
• Invert track phase function
• Trim and Divide file editing
• 8-voice pad sampler with adjustable sensitivity
• Rhythm machine with 160 drum and percussion sounds
• Storage for 100 user-created rhythm patterns of up to 100 bars each
• Manual play or step entry of rhythm patterns with adjustable quantization
• Loop-based audio sequencer integrates recorder, rhythm machine, and pad sampler
• Backlit LCD with contrast control for easy viewing in low-light environments
• 2-in/2-out USB audio interface for PC/Mac computers
• High-definition 24-bit/96kHz playback capability with DAW software
• Control Surface functionality (Mackie Control emulation)
• Full mixing and transport controls for Cubase, Logic, Ableton Live, and other DAWs
• USB bus power
• SD card reader function
• Runs on 4 AA batteries, with alkaline battery life of more than 5 hours
• AC adapter included
• Steinberg Cubase LE DAW software included
Youtube video product demo
3.231.217.107
CCBot/2.0 (https://commoncrawl.org/faq/)
Owner of 8 yrs
0 of 1 customers found this review helpful
Features





Quality





Value





Overall





Product Experience
I own it
Closest Store
Victoria, British Columbia
Its older. I have Zen tour Synergy core, Live , Cubase, loopers etc... digitakt, volcas, circuit, uno. Aside from only two inuts I use this ALL the time, including yesterday jamming on a portable Cube using its built in condensers. Oh, it can also send clock via an old school sync pulse trick via headphones. This device is amazing, and its a daw controller, and usb interface? What more do you need from a battery powered 'recorder'? oh sampler too, and loop recorder!
Posted by

Ben

on

May 23, 2021
Very versatile machine
5 of 5 customers found this review helpful
Features





Quality





Value





Overall





Product Experience
I own it
Closest Store
Calgary, Alberta
This recorder is loaded with goodies although not all great but none that are so bad that it affects the usefulness. The unit comes with an 8 track recorder although it can only record two channels at a time. It can, however, bounce the recorded track to other tracks and combine multiple tracks. The recorder also includes a number of guitar effects including distortion, phaser, chorus flanger, compressor and pitch shifter. This where I had my issues. I found that some of the effects where not up to the quality I get from my stomp boxes. Just me nit-picking. One of the other major pluses is the on board drum machine which sounds excellent and has a number of drum patterns you can use or you can make your own. At first the menus can be a bit daunting and the instruction manual a bit vague but there are several good tutorials on youtube that help you navigate the recorder. Most of the menus are self explanatory and videos definitely helpful. All in all there isn't another 8 track recorder that will touch the zoom R8 for value, extras and price.
Posted by

Mark Carey

on

Apr 22, 2020
Looper Times Ten
3 of 3 customers found this review helpful
Features





Quality





Value





Overall





Product Experience
I own it
Closest Store
Calgary, Alberta
As a guitar player and amateur songwriter, I use a Ditto looper pedal a lot. I can record a rhythm with guitar, then overdub with more guitar, and with any of the thousand sounds, including drum loops, in my Roland Go:Keys. I play it all back through a powered pa speaker as a backtrack, and practice lead guitar or writing lyrics. Best $130 I ever spent. But, I can't save or edit the backtrack once it's built. Creating a new song, starts with recording the old backtrack to my iPhone, because it will be deleted when building the new song.
I wanted to advance my songwriting, be able to record multi tracks (like the Ditto does with overdubs) including vocals, and be able to edit each track. Enter the world of multitrack recorders... and I thought buying a guitar amp was complicated with choices...
Brought the Z8 home to try out. Opened the box to see an enormous manual and thought, this won't be simple. But I was wrong. Sure, I had to spend a couple hours reading the manual and trying it all out, but after that, it's quite intuitive, a simple but effective user interface. Over the next hour, I built an 8 track song and was playing it back through the speaker. I flipped back and forth through the manual a bit. In the next hour, I was editing and mixing, saving the song to the SD card, and starting a new song. Only revisiting parts of the manual. Sound reproduction seems great, just as good as the Ditto for the instruments, really great for the vocals (I was surprised to hear my voice so clearly). I was in business!
I'm exploring the other features (record options, effects, sync with iOS) this weekend, I'll be handling it carefully (it's solid, but not a heavy duty build), and going back to the manual for awhile, but it doesn't matter, I'm keeping it. Best $400 I ever spent.
Posted by

Don

on

Mar 9, 2019
Not a 24/96 Recorder
0 of 5 customers found this review helpful
Features





Quality





Value





Overall





Product Experience
I own it
Closest Store
Lethbridge, Alberta
It records at 44.1/48 16/24 bit.
Posted by

Brayden Smith

on

Oct 4, 2017
Best Bang For The Buck For A Portable 8 Track
9 of 10 customers found this review helpful
Features





Quality





Value





Overall





Product Experience
I own it
Closest Store
Toronto (Bloor St.), Ontario
Exceptional quality. A little learning curve but not steep. The drum "pads" are a huge bonus. This will easily fit in guitar gig bag and runs on AA's.
Posted by

Mark Rossi

on

Aug 24, 2013