G. Henle Verlag
Piano Sonata C major K. 330 (300h) - Mozart /Herttrich /Theopold - Piano - Sheet Music
---
Additional Photos: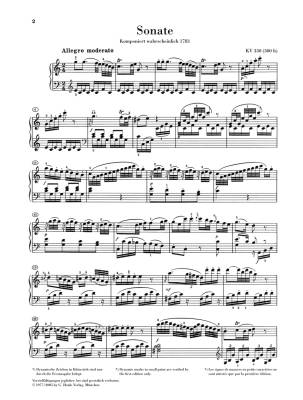 Composer: Wolfgang Amadeus Mozart
Editor: Ernst Herttrich
Fingering: Hans-Martin Theopold
Format: Sheet Music
Instrumentation: Piano

Whoever has experienced a major pianist performing this sonata live (the slow "Andante cantabile" middle movement is occasionally played as an encore) knows the grandeur and effect of this C major work, which is only apparently modest in scope. It appeared in print during the summer of 1784, along with the famous sonata in A major ("alla turca") K. 331 and the lyrical, technically quite challenging sonata in F major K. 332. The three sonatas were probably composed only shortly before printing, countering the assumption of earlier Mozart scholars. This first edition is editorially significant because numerous details deviate so markedly from Mozart's manuscript that they could only have come from their creator himself. In the C major sonata K. 330 this particularly applies to the slow movement, the final bars of which, with their doleful farewell, are not to be found in the autograph.
There are currently no questions for this product.
There are currently no reviews for this product. Be the first to write one!