Alfred Publishing
Teach Yourself Mixing (Digital & Analog)
---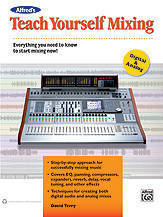 This book explains multi-track mixing in simple terms and covers everything a beginner needs to know. Topics include signal processing, compressors and limiters, EQ, effects, and mix-down techniques for professional-sounding results.
There are currently no questions for this product.
There are currently no reviews for this product. Be the first to write one!