Mel Bay
Somebody's Been Playing With That Thing (Ragtime Blues Guitar) - Grossman - Book/Audio Online
---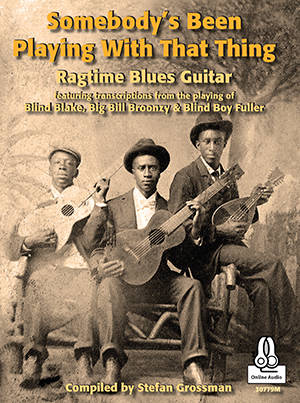 Additional Photos: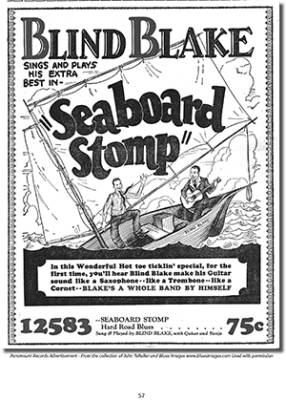 Compiled:Stefan Grossman
Format: Book with Audio Online
Instrumentation: Guitar
This book presents three of the greatest ragtime blues guitar players from the 1920s-1940s. They all possessed what Rev. Gary Davis called that sportin' right hand. Each could sing the blues or play a dance instrumental. They favoured first-position chords but produced incredible textures and rhythms from these easy left-hand fingerings. There are years of exciting fingerpicking challenges in these pages. But what fun it will be once you can play these tunes!
Big Bill Broonzy

Big Bill Blues
At the Break of Day
Friendless Blues
Shuffle Rag
Worrying You off My Mind
Bull Cow Blues
Five Feet Five

Blind Blake

Georgia Bound
Back Biting Bee Blues
Cold Hearted Mama Blues
Ice Man Blues
Righteous Blues
Tootie Blues
Rope Stretchin' Blues
Sea Board Stomp
Walkin' Across the Country
What a Lowdown Place the Jailhouse Is

Blind Boy Fuller

Baby, I Don't Have to Worry
Careless Love
Georgia Ham Mama
Keep Away From My Woman
Somebody's Been Playing With That Thing
Why Don't My Baby Write To Me
(I Got A Woman Crazy For Me) She's Funny That Way
Jivin' Woman Blues
HOW TO USE THIS BOOK
1) Listen over and over to the original recordings available via the download link for this collection.
2) Get a program that can control digital audio files. Use this with the transcriptions and the recordings.
3) Be patient!! Practice, practice and practice some more!!
Press play to listen:
Press play to listen:
There are currently no reviews for this product. Be the first to write one!