Apex
Three Button Footswitch
---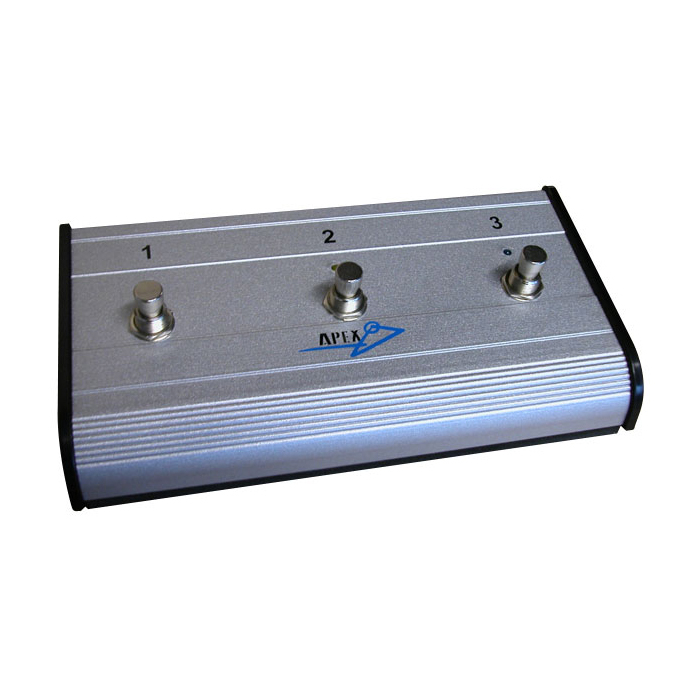 Triple On/Off footswitch w/LED's - metal box - detachable 10' 1/4" and 1/4" TRS cables

Features:
• Three Button On/Off Pedal / Latching Footswitch with LED's
• Channel Switch/ Effect Bypass/ On/Off Switches
• Rubberized Non-Slip Foot Pad
• Two Heavy Duty 10' Cables with 1/4-inch jacks
• Non-Slip Base
3.237.31.191
CCBot/2.0 (https://commoncrawl.org/faq/)
High Quality Switch
1 of 1 customers found this review helpful
Product Experience
I own it
Closest Store
Halifax, Nova Scotia
If you've ever used a Traynor amp, you'll recognize these Apex switches - they are exactly the same as the Traynor branded switches. The three button switch is like buying a doube and a single switch in one housing. There are two jacks on the back. The first uses a TRS cable and acts like a normal two-button switch - would probably work with a lot of different amps. The second jack uses TS (standard instrument cable) which operated the third button. This is a perfect switch for a Traynor Dynagain DG65R, which has footswitchable reverb in addition to channel and drive. All three switches are of the latching type, and are LED indicated. You could easily connect this switch to more than one device since it has two cables, potentially saving some space.
Posted by

Dave

on

Feb 24, 2020
Apex 3 Button Footswitch
3 of 3 customers found this review helpful
Product Experience
I own it
Closest Store
Abbotsford, British Columbia
Identical to Crate CFS3, except comes with a cable that has two TRS (tip-ring-sleeve) 1/4" plugs, instead of one TRS and one TS (regular guitar) plug. This dual cable is zipped together like lamp cord, so lies flat and is neater on stage than two separate cables.

At this price, the cables alone justify the price. I was going to make my own footswitch for an amp that was missing its footswitch, but buying this one ready made was less expensive. The red-yellow-blue LEDs illuminate when the respective switch is engaged, and function identically to the Crate original.

The only drawback is very minor: the Apex logo below the centre switch makes labeling inconvenient. I had to label the switches on the lower narrow strip, as opposed to directly below the switches. A minor quibble.
Posted by

Al H

on

Dec 15, 2014