PG Music
Band-in-a-Box UltraPAK+ for Windows
SKU: #

738617
|
Model: #

W-BBUP
|





Product Reviews

0 Reviews
Write a Review
---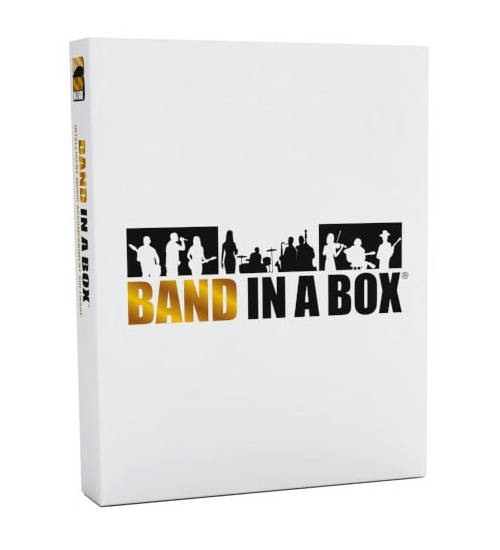 Product Videos :
YouTube Video

YouTube Video

or from
$65
CDN/mo
There are over 50 new features in Band-in-a-Box®! There are enhancements to RealTracks (smoother sounding vocal RealTracks, RealTracks thickening, "Find-a-Sub" RealTracks, and MultiRiffs). Most RealDrums now have RealCharts (with accurate drum notation). There's a new RealTracks Artist Browser to find info/bios/links/lists of RealTracks on all the artists. A new Feature Browser allows the new or "forgetful" user to easily find and use most features/hotkeys/docs from a single window. Equalize Tempo allows changing a recorded rubato song to a fixed tempo. Enhanced audio time/pitch stretching (lastique) included. There are SongPicker enhancements, Bass/Drums or Drums only Auto-Intros, 3,400 titles added, MusicXML enhancements, "Left-Handed" and "Student View" guitar, Drag and Drop enhancements, Audio Chord Wizard Multi-Window Display, and more!

• Band-in-a-Box®
• RealBand
• VST DAW Plugin
• Over 2,900 RealTracks
• 49-PAK
• Over 175 MIDI SuperTracks
• Over 2,000 MIDI Styles
• Over 300 MIDI Soloists
• Over 200 MIDI Melodists
• 145 Artist Performances
• Over 1,000 Loops
• Band-in-a-Box® MIDI Songs & Lessons PAK: 25 MIDI add-ons for Band-in-a-Box, including the Essential Riffs and Phrases Series, Fakebooks, complete Master Solos Series, CopyMe, Duets, Novelty Piano Riffs, Country Guitar Solos, and Folk Songs.

Band-in-a-Box® DAW Plugin
There are over 40 enhancements to the Band-in-a-Box® DAW Plugin, including Audio Harmonies (apply to any DAW audio track, 1-4 voices, using intelligent BIAB harmonies with passing tones). New features allow Customizing Tracks, Bar and Song settings. RealTracks and RealDrums sound improvements (gap filling, thickening), enhancements or reading/writing more data types to/from BIAB song files and much more!

RealTracks in the UltraPAK+: Over 2,900 instruments total.
What are RealTracks? RealTracks replace the MIDI track for that instrument, and can be controlled just like the MIDI instrument (volume changes, muting etc.). They follow the chord progression that you have entered, so you hear an authentic audio accompaniment or solo. RealTracks are not "samples"... They are full recordings, lasting from 1 to 8 bars at a time, playing in perfect sync with the other tracks.
Youtube video product demo
Youtube video product demo
There are currently no reviews for this product. Be the first to write one!