Themes & Variations
Alto Recorder Resource Teacher's Guide - Gagne/Cassils - Book/Enhanced Downloads
---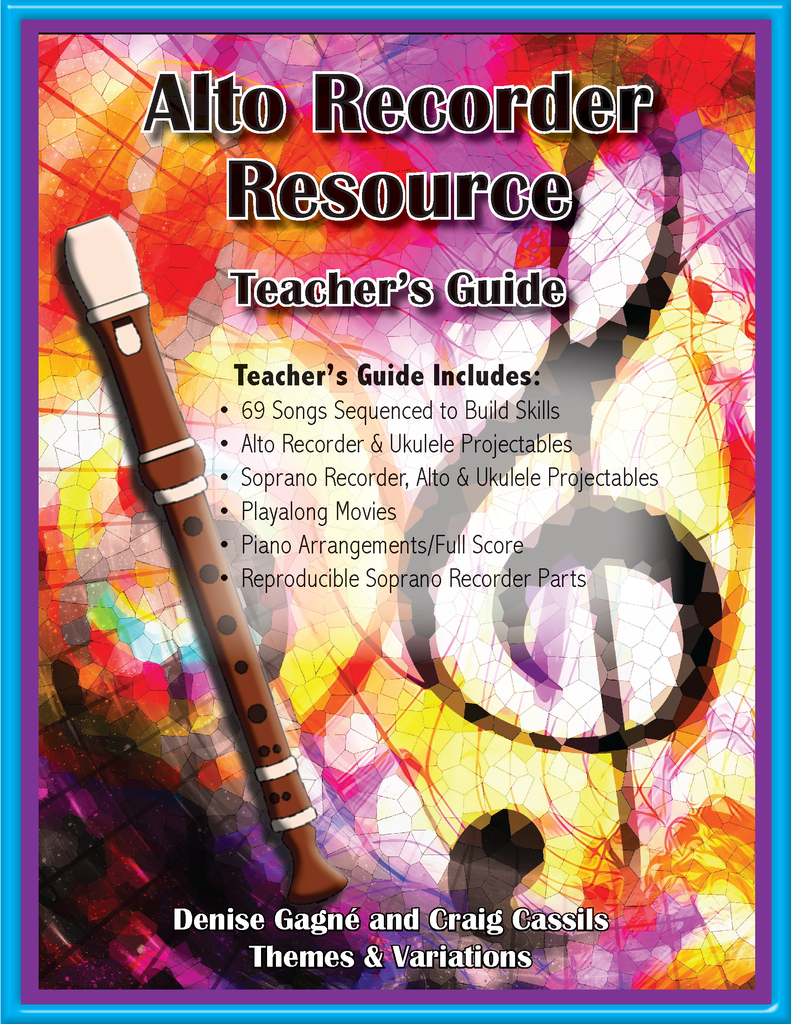 Additional Photos: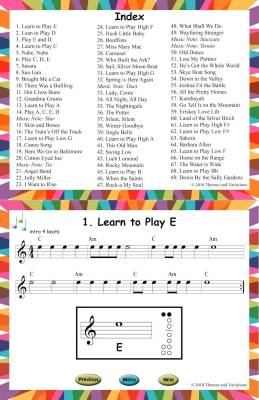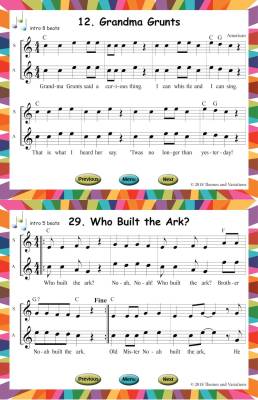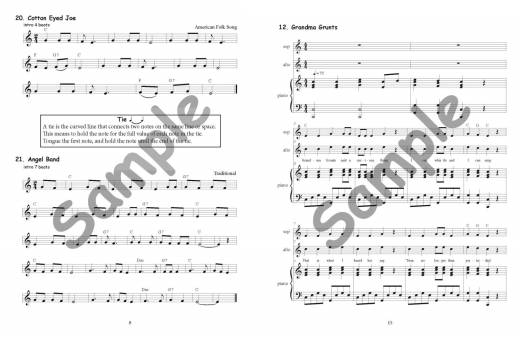 Authors: Denise Gagne, Craig Cassils
Format: Book with Enhanced Media Downloads
Version: Teacher's Guide (Classroom Materials)
Alto Recorder Resource Teacher's Guide
follows the success of the
Complete Recorder Resource Kit
, which has been used to teach thousands of children to play the recorder. This is a beginning recorder method for Alto Recorder with 60+ unison and duets in the book, carefully sequenced so that children will have success in the very first lesson. The Teachers Guide includes projectables, performance movies, optional soprano recorder parts, fingering posters, piano accompaniments, and ukulele/guitar chords. Children will love to play along with the accompaniment tracks that are included - and parents will find these performances enjoyable - not painful to listen to! Chord symbols are included with each song so students can play guitar or ukulele with these songs.
Materials Included:
Printed Book
Digital Book PDF
Audio MP3 (Performance and Accompaniment)
Projectable PDF
PowerPoint
Performance Movies
Alto Recorder Fingering Charts
Piano Arrangements
Soprano Reproducibles
Worksheets
Contents:
01 Learn to Play E
02 Learn to Play D
03 Play E and D
04 Learn to Play C
05 Nabe, Nabe
06 Play C, D, E
07 Sasara
08 Suo Gan
09 Bought Me a Cat
10 There Was a Bullfrog
11 Hot Cross Buns
12 Grandma Grunts
13 Learn to Play A
14 Play A, C, E, D
Music Note: Slur
15 Skin and Bones
16 The Train's Off the Track
17 Learn to Play Low G
18 Canoe Song
19 Here We Go to Baltimore
20 Cotton Eyed Joe
Music Note: Tie
21 Angel Band
22 Jolly Miller
23 I Want to Rise
24 Learn to Play High F
25 Hush Little Baby
26 Bouffons
27 Miss Mary Mac
28 Carousel
29 Who Built the Ark?
30 Sail, Silver Moon Boat
31 Learn to Play High G
32 Spring is Here Again
33 Lady, Come
34 All Night, All Day
35 Nightingale
36 The Potter
37 Silent, Silent
38 Winter Goodbye
39 Jingle Bells
40 Learn to Play High A
41 This Old Man
42 Swing Low
43 Loch Lomond
44 Rocky Mountain
45 Learn to Play B
46 When the Saints
47 Rock-a My Soul
48 What Shall We Do
49 Wayfaring Stranger
Music Note: Staccato
Music Note: Tenuto
50 Old Dance
51 Lost My Partner
52 He's Got the Whole World
53 Skye Boat Song
54 Down in the Valley
55 Joshua Fit the Battle
56 All the Pretty Horses
57 Kumbayah
58 Go Tell It on the Mountain
59 Eriskay Love Lilt
60 Land of the Silver Birch
61 Learn to Play High F#
62 Learn to Play Low F#
63 Sakura
64 Barbara Allen
65 Learn to Play Low F
66 Home on the Range
67 The Water is Wide
68 Learn to Play Bb
69 Down By the Sally Gardens
There are currently no reviews for this product. Be the first to write one!