Plank Road Publishing
Ukulele Karate - Philipak/Jennings - Classroom Ukulele - Teacher's Handbook/2 CDs
---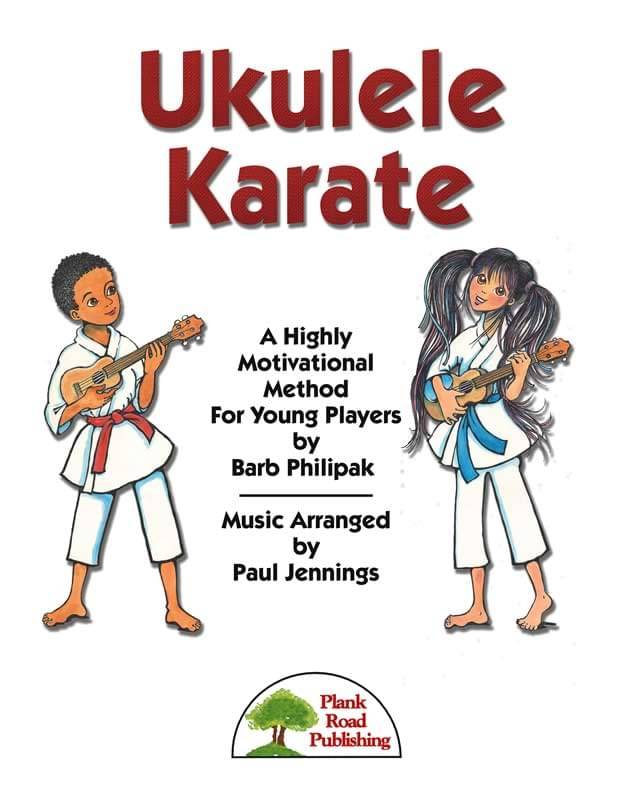 Additional Photos: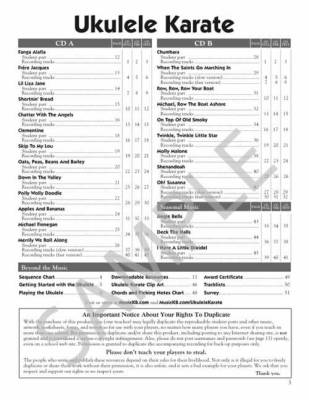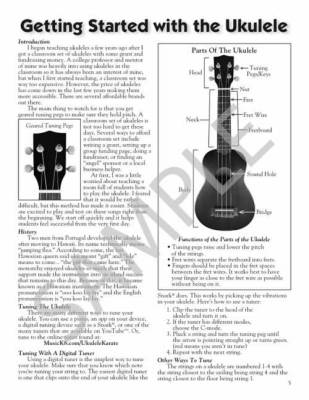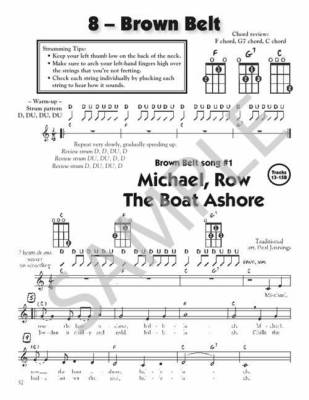 Author: Barb Philipak
Arranger: Paul Jennings
Format: Teacher's Handbook with Reproducible Student Parts & 2 Performance/Accompaniment CDs
Instrumentation: Classroom Ukulele
By popular demand, Plank Road Publishing brings you the much anticipated ukulele method from Barb Philipak with dozens of songs arranged by Paul Jennings and recorded with the professional tracks you have come to expect.
Beginning with the 9 belt levels, there are 2 strumming songs per level getting gradually more complex as you head toward black belt. There are also several special holiday tunes and a group of optional picking tunes starting in the middle levels.
The Teacher's book is full of ideas to guarantee a successful ukulele unit, as well as a classroom-tested method of working with this extremely motivational system of rewards and reinforcement. Also included at each level are warm-ups and exercises appropriate to the new learning elements. And this thorough method includes special sections on tuning, details on strumming, reading and understanding TAB, as well as playing and mastering chords. It also digs into the best approaches for testing and for organising and running the essential Dojo Groups and Class Roles.
This method is filled with familiar folk songs and other songs that students may already be learning. This way, they are mainly concentrating on improving their technique on the ukulele, learning more chords and progressively more complex strumming. The songs start with one chord and simple patterns and progress logically from there. Here are just a few: Shortnin' Bread; Chumbara; Lil Liza Jane; Apples And Bananas; Michael Finnegan; On Top Of Old Smoky; Down In The Valley; Oats, Peas, Beans And Barley; When The Saints Go Marching In; Molly Malone; Shenandoah; Deck The Halls; I Have A Little Dreidel; Jingle Bells; and 11 more for a total of 25 tunes!
Songs & Excerpts - Some songs are available in two tempos, and most songs include a 1-verse "Test" version of the tracks to make the testing process easier.
Student Books - While student pages with songs and diagrams are legally reproducible, separate time-saving, budget-sensitive Student Books are also available in handy
10-pack
or
5-pack
Add new life to your beginning ukulele classes with
Ukulele Karate
, a great stand-alone method or a fun supplement to any current method you are using.
Song List:
Strumming:

Fanga Alafia
Frere Jacques
Lil Liza Jane
Shortnin' Bread
Chatter With The Angels
Clementine
Skip To My Lou
Oats, Peas, Beans And Barley
Down In The Valley
Polly Wolly Doodle
Apples And Bananas
Michael Finnegan
Chumbara
When The Saints Go Marching In
Michael, Row The Boat Ashore
On Top Of Old Smoky
Molly Malone
Shenandoah

Picking:

Merrily We Roll Along
Row, Row, Row Your Boat
Twinkle, Twinkle Little Star
Oh! Susanna

Holiday:

Jingle Bells
Deck The Halls
I Have A Little Dreidel
Press play to listen:
Press play to listen:
Press play to listen:
Press play to listen:
Press play to listen:
There are currently no questions for this product.
There are currently no reviews for this product. Be the first to write one!