Dave Smith Instruments
Analog Synth (DSI-2300)
SKU: #

388278
|
Model: #

PROPHET 12
|





Product Reviews

9 Reviews
Write a Review
---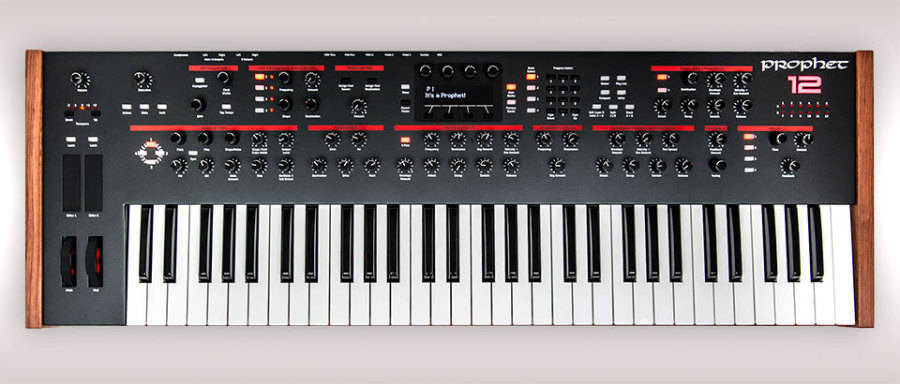 Additional Photos: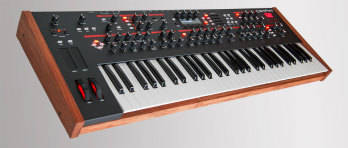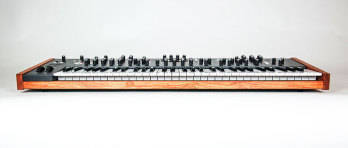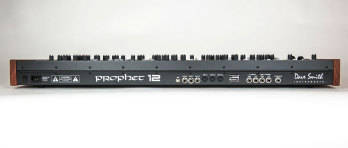 This product is no longer available.
The Prophet 12 is an epiphany!
The Prophet 12 is the next step for Dave Smith's revered line of Prophet synthesizers. Each of the Prophet's twelve voices is composed of a brand new hybrid digital/analog architecture that sounds different than any other DSI synth, yet retains the true Prophet vibe. With a humongous twelve voice polyphony, streamlined design, and sophisticated architecture, the Prophet 12 is ready to handle any sound you can dream up!

The Prophet sings
The Prophet 12's brand new hybrid voice has a digital front end followed by an all analog signal path output. Each voice has five high resolution digital oscillators, a digital character effects section, a resonant Curtis low-pass filter, a high-pass filter, a tune-able feedback circuit, a four-tap delay line with feedback per line, four loopable five-stage envelope generators, four syncable LFOs with slew and phase offset, a sophisticated arpeggiator, and a sixteen slot modulation matrix with 26 mod sources and 97 modulation destinations. The Prophet 12 is packed with a plethora of sonic potential and power!

The digital oscillators can be frequency and amplitude modulated by each other with incredible accuracy. They can be freely assigned in whatever operator and modulator configurations you would choose. You can even assign each of the oscillators to modulate LFOs, envelopes, and filters.

The Prophet controls
The Prophet's sleek and instinctive interface invites full control of the synth. Every parameter is fully programmable and editable from the front panel. The controls are laid out in a coherent and logical fashion allowing quick and precise access in the studio and on stage.

The Prophet's full-sized, five-octave, semi-weighted keyboard with velocity and channel aftertouch is rugged without sacrificing great feel and playability. Two backlit, smooth and precise pitch and mod wheels are accompanied by two location and pressure sensitive touch sliders. The Prophet offers a myriad of controls for creation and performance of its innovative sounds.

A prophecy for the future
The Prophet 12 is the most cutting edge hybrid synthesizer on the market and defines what a modern polyphonic synthesizer is. Designed and manufactured in San Francisco, the Prophet 12 has a glorious combination of form and function in a sturdy, yet refined and elegant build.

Dave has been a pioneer in the field for 35 years. After creating such greats as the Prophet-5, '08, and VS, this is his favorite Prophet yet!

Oscillators
Five DSP-based oscillators per voice (including one sine wave sub oscillator)
Four classic wave shapes (saw, square, triangle, sine) per oscillator
Twelve selectable complex shapes per oscillator
Three noise types per oscillator: white, pink, violet
Analog VCAs
Shape modulation
Oscillator cross modulation: frequency modulation (FM) and amplitude modulation (AM)
Hard sync on each of the four oscillators

Character Effects
Five high-quality digital effects. Thicken the signal and add harmonics or completely destroy the signal pre-filter.
Girth and Air are high and low shelf equalizers with harmonic excitement. Useful for thickening and/or adding air to the signal.
Hack and Decimate are sample and bit rate reduction algorithms which can add subtle grit or completely destroy the signal. It's harsh yet musical!
Drive is a soft saturator for adding soft distortion and harmonic content to the signal

Filters
Famed Curtis 2- or 4-pole resonant analog low-pass filter (self oscillates in 4-pole mode) per voice
2-pole resonant analog high-pass filter per voice

Feedback and Delay
Tuned feedback
Four-tap syncable multi delay with feedback and amount per delay per voice

Envelopes
Four Delay + ADSR envelopes (LPF, VCA , and two Auxiliary envelopes)
Auxiliary envelopes 3 and 4 freely assignable to multiple modulation destinations
All envelopes can repeat/loop

LFOs
Four syncable LFO's with phase offset and slew per LFO

Modulation
16 x 2 modulation matrix with 26 mod sources and 97 mod destinations
Modulation assignment buttons enable quick and easy modulation routing

Arpeggiator
Sophisticated programmable arpeggiator with up, down, up+down, random, assign modes
Re-latching arpeggiator

Programmable Distortion
Independent programmable stereo analog distortion per layer.

Controls
More than 50 knobs and 50 buttons enable deep and comprehensive editing with little to no menu diving.
Backlit pitch and mod wheels are easily visible in low light situations and have a smooth yet precise feel and response.
Independently adjustable upper and lower pitch wheel range.
Two assignable position- and pressure-sensitive latchable touch sliders for enhanced interactivity and control.
Full-sized, 5-Octave, semi-weighted keyboard with velocity and channel aftertouch

Memory
396 user and 396 factory programs
Direct program access using numeric keypad and dedicated User, Factory, and Bank buttons
Playlist mode for generating easily accessible setlists of your favorite programs. Create four play lists with up to forty programs each!

In/Out
1 MIDI In, 1 MIDI out, and 1 MIDI Thru port
USB port for bidirectional MIDI communication
1 Sustain/footswitch input
2 expression pedal inputs
Main stereo output (2 x 1/4" phone jack)
Layer B stereo output (2 x 1/4" phone jack)
Headphone out (stereo 1/4" phone jack)

Power
1 universal IEC AC power inlet for internal power supply
Operates worldwide on voltages between 100-240v, 50-60Hz, 30 watts maximum power consumption

Physical Specs
Oiled bubinga wood end panels and trim
38.4" L x 12.8" W x 4.15" H (97.5 cm x 32.5 cm x 10.5 cm)
26 lbs. (11.8 kg)
44.201.94.236
CCBot/2.0 (https://commoncrawl.org/faq/)
Incredible synth
0 of 0 customers found this review helpful
Features





Quality





Value





Overall





Product Experience
I own it
CLosest Store
Montréal, Quebec
I can see from reviews online that the Prophet 12 is a "love it or hate it" synth. Now that I own one I can understand why. It's not something that you can get instant results with, and I imagine some people are turned off by the complexity of it. But if you're into programming sounds and you want a real sound design machine, you won't be disappointed.
I was worried to read that the oscillators sound "thin and harsh" but I really think those unsatisfied customers just didn't push it enough. A simple trick to fatten the signal is to just lower the oscillator output volume and pump up the drive. And remember that you have four oscillators and a sub, so you can also layer up to make it sound fuller. I think that's the point of the instrument actually - why else would you need four?
With the P12, you can modulate almost everything. And the beauty of it lies in the user interface, in which pretty much every parameter has its own knob. The workflow they created there is one of the best things about the synth, in my opinion. It's hugely inspiring.
I even read some negative comments about the presets. The presets honestly blew my mind for originality and complexity. I think ultimately if you want to buy a synth just to dial up fat lead sounds to play with a band or something, this is not the one. It's an alchemist of warped and unusual patches. But that's not to say you can't create beautiful, musical textures with it too.
This is not a Prophet 6 or even a Rev2. It's something quite different, which gives you limitless sound design possibilities. If that's what you're looking for, you can't go wrong. Having owned a Waldorf Blofeld previously, I'd say this is quite similar. And considering the vastly higher cost I would accept that it probably is a bit overpriced. But the problem with the Blofeld is that you are just menu diving and staring at the screen. The P12, on the other hand, is a real joy to operate - as well as being quite a bit more capable, mostly because of the voice count and a nice analog filter.
I just wanted to write this review to help put some people at ease who were maybe hesitating, like I was, because of negative reviews they'd read. The P12 is an absolute beast, and if I could only own one synth it would certainly be this one.
Posted by

Colin Strachan

on

Oct 26, 2020
Quite Possibly All You'll Ever Need
2 of 2 customers found this review helpful
Features





Quality





Value





Overall





Product Experience
I own it
CLosest Store
Dartmouth, Nova Scotia
Title is not an understatement. If you had to own ONE synth, the Prophet 12 would get you by with just about every feature and definitely EVERY SOUND you'll ever want to create. A studio workhorse - you'll find yourself potentially avoiding your other synths, and just doing everything on this monster. A little daunting at first, once you spend an afternoon seeing how the workflow works... it's smooth sailing after that. You'll realise the genius of Smith's vision, and go right down the rabbit hole with him. This thing is made to handle simple programming, or one can get as obsessive and deep into the details as they like. Fabulous for the beginner, intermediate, or perfectionist user. Might take you an hour or two to flesh out your first sound... but after learning, you'll be 5 minutes or less for every other one, for the rest of your life. MAIN COMMENT I WANT TO MAKE: Don't listen to the purist snobs snubbing the digital oscillators. I own lots of pure analog units.. and once you have the Prophet 12, it reveals their limitations. Big time. Not that analogs don't have their place - they do. But the Prophet 12 can BE any analog synth, but none of your analog synths COULD EVER be the Prophet 12. Make sense? With this monster, you've got it ALL. People thumbing their nose at digital oscillators is so reductionist, they're missing the forest for the trees. So what if the circuitry to create the initial waveforms is digital? It IMMEDIATELY has to go through a D/A converter and becomes analog. Then the rest of your workflow is analog anyway! So what gives? All this means is your waveforms on the P12 are a) 100% reliable and always in tune b) ultra-versatile beyond anything analog oscillators could provide. I mean, can you modify the *actual tooth pattern* of your sawtooth wave on an analog? No you can't. All in all, purists (or anybody with that view in 2020) need to loosen up a bit, and wake up to modern advances. Digital when used correctly is not a sacrilege. Some people are just holding on with too many fingernails dug into the past. We're all recording on DAWs now, aren't we? Are these folks professing to a pure analog chain all the way to tape machines? I doubt it. So their allegedly precious analog oscillators' voices all end up digital anyway, in the end. Don't let analog oscillator voodoo taint your vision of this unit. If anything, Smith front-ended this masterpiece in a SUPERIOR way - a way that, after owning this unit for a while, I couldn't picture any other way.
Posted by

Kevin W.

on

Mar 28, 2020
Beautiful Hybrid
3 of 3 customers found this review helpful
Features





Quality





Value





Overall





Product Experience
I own it
CLosest Store
North Vancouver, British Columbia
First, to all potential buyers, pay very little attention to these reviewers who purchased a hybrid synth with digital oscillators and an analogue signal chain only to decry it for being a digital/analogue hybrid.
If you get deep into the tuning (each oscillator can be tuned to a specific pitch with additional fine tuning ranges -/+), play with the delay, use the delay to create chorus effects, use the feedback and character sections, explore the rhythmic syncing features of the LFOs and delay, use the 3rd envelope, and of course explore the modulation matrix, you can make this synth absolutely beastly.
Play with the latch feature of the arpeggiator and suddenly you are nearly sequencing (something I never seem to see talked about).
Throw some effects in after the outputs and then you'll just be making music and not dwelling on having mistaken the unit for something other than what it is.
That simple.
A versatile sound source that offers some very beautiful and clean tones to manipulate.
It might not be a synth that will make you feel like you're better with it than you are right off the hop, but pretty soon you will be a lot more adept than you were at synthesis if you put the time in.
And this is the point isn't it?
Posted by

Justin Gouin

on

Feb 28, 2020
Prophet 12
1 of 1 customers found this review helpful
Features





Quality





Value





Overall





Product Experience
I own it
CLosest Store
Saint-Eustache, Quebec
This synth is simply my favorite one. It takes time to master , but what a pleasure to explore .
Posted by

Denis

on

Jul 29, 2018
incredible synthesis tool
6 of 7 customers found this review helpful
Features





Quality





Value





Overall





Product Experience
I own it
CLosest Store
Toronto (Bloor St.), Ontario
There are a lot of misguided snobs that would have a complaint about digital oscillators. Dave could have used VCOs, but made the decision not to. This allows the instrument many more options ie- FM, nontraditional waves, etc.
The common complaint I hear about the P12 is that it is "harsh". I agree, it can be. But don't blame it on the digital oscillators; the synth was designed in a way that allows you to go past the point of pleasant sounds. To program warm lush vintage sound on the P12, you simply need to keep the knobs at very low values.
All in all the Prophet 12 can do just about anything I can imagine, pretty much anything can mod anything else, the synth can do multiple forms of synthesis at the same time. The P12 is a monster.
I gave 4.5 on value due to the high cost. That being said, a child in China had no part in the production; their production is done in the USA.
I feel that this synth will last me a lifetime and everyone I sit in front of it I am inspired.
True love.
Posted by

40hz

on

Sep 15, 2017
DIGITAL AND THIN SOUNDING
2 of 14 customers found this review helpful
Features





Quality





Value





Overall





Product Experience
I've tried it
CLosest Store
Chilliwack, British Columbia
This is cool synth but vastly overpriced for a mostly digital synth.
Posted by

anonymous

on

Jan 24, 2016
This is a genius machine. Grow old with it.
4 of 7 customers found this review helpful
Features





Quality





Value





Overall





Product Experience
I own it
CLosest Store
Toronto (Bloor St.), Ontario
I've owned a lot of stuff over the years. This is truly a great instrument. Don't worry about the oscillators being digital; they sound great and can do everything the analog stuff can do and worlds more. The filters, fx, modulation, ease of use... it can nail any vintage synth sound of the past pretty easily and goes to Saturn and back if you need to. Plenty of polyphony.

Be sure to upgrade the OS; the new version adds a few cool features, particularly the low pass filter on the delays, which gets them to sound more like bucket brigade analog gear.

As a polysynth, it is nearly perfect. Light weight, well made, sounds awesome and is very easy to use.
Posted by

Peter K.

on

May 11, 2015
Digital not analog
3 of 25 customers found this review helpful
Features





Quality





Value





Overall





Product Experience
I own it
CLosest Store
Charlottetown, Prince Edward Island
L&M Lists this as "analog synth" but it's digital actually, with analog filters. And it doesn't sound very nice - thin and harsh.
Posted by

anonymous

on

Feb 28, 2015
N/A
1 of 5 customers found this review helpful
Features





Quality





Value





Overall





Product Experience
I've tried it
CLosest Store
Burlington, Ontario
Posted by

anonymous

on

Sep 18, 2014

Protect your investment with the Long & McQuade Performance Warranty
A warranty can be a very important factor when making a buying decision. Because repairs can be very expensive in terms of parts and labour costs, manufacturers usually only provide one year limited warranties that generally only cover items that malfunction due to a manufacturer's defect. With an important purchase such as a musical
instrument or piece of studio gear, however, many people want to have the peace of mind in knowing that their investment will be protected should the product no longer be performing at 100%.
Because of this, Long & McQuade provides our customers with a FREE one-year Performance Warranty on most of our products. The Long & McQuade Performance Warranty supplements the manufacturer's warranty to ensure that our customers receive complete "no hassle" warranty coverage within their first year.
How does the Long & McQuade Performance Warranty differ from most manufacturers' warranties?
Performance Guarantee: Normal wear and tear is covered, so your product will be performing as well as the day you purchased it for the entire duration of the coverage. Band and Orchestral Performance Warranty does not include replacing pads or cleaning for woodwind instruments, unless deemed necessary by our repair staff. Ultrasonic cleaning for brass instruments will be provided if deemed necessary by our repair staff, but is not routinely offered under the Performance Warranty.
Product Replacement: If your product cannot be fixed or costs too much to fix, we will replace it with the equivalent model for no additional charge. If this is not possible, a full refund will be provided.
No Lemon Policy: Your product will be replaced should the same problem occur multiple times.
Convenient: Easy drop off and pick up of the product at any Long & McQuade location.
Guitar Setup: Guitars purchased at Long & McQuade come with 1 free setup, to be redeemed within 1 year for new guitars and 90 days for used guitars.
Loaners Available: A loaner product may be given while the product is being repaired.
Power Surge Protection: Your product is covered even if damaged from a power surge.
Accessory Coverage: Any peripheral devices or accessories that come with your product (i.e. foot pedal, case) are also covered.
Commercial Use Coverage: Music and recording professionals who purchase gear for "heavy-use" commercial purposes will still be covered.
Long & McQuade reserves the right to restrict the purchase of additional years of Performance Warranty. Used products come with a 3-month Long & McQuade Performance Warranty. Some products (i.e. computers, software, cymbals and other items) are covered only by the manufacturer's warranty. Consumables (i.e. strings, reeds, drum sticks, batteries, tubes, cross faders) are excluded as they are designed to be replaced. Cosmetic Damage, Accidental Damage, or problems caused by Humidity or Temperature Issues are not covered. Speakers damaged by overpowering are generally not covered. Our coverage does not provide compensation for loss of use. As of June 2018 the Performance Warranty is no longer transferable. The warranty is only valid in Canada.
Purchasing additional years of coverage
Some manufacturers provide warranties for longer than 1 year; however, these are usually limited warranties that do not provide the same coverage as the Long & McQuade Performance Warranty. Customers interested in more complete and convenient (but not necessarily longer) coverage are still able to purchase additional years of the Performance Warranty.
If you are interested in receiving this coverage for longer than one year, you have the option of purchasing additional years of the Performance Warranty. The pricing is as follows:
NEW products: 4% of the current new selling price to double the warranty from 1 year to 2 years. 4% for each additional year.
USED products: 4% of the current new selling price to increase the warranty from 3 months to 1 year. 4% for each additional year.
GUITARS: 4% of the current new selling price to double the warranty from 1 year to 2 years. 4% for each additional year. $45 maximum. An additional free setup is not included with additional purchased years of Performance Warranty.
BAND and ORCHESTRAL instruments: 4% of the current new selling price to double the warranty from 1 year to 2 years. 4% for each additional year.