Groove Masters Percussion
Wooden Frog Guiro, Dark Stain - 1.5''
---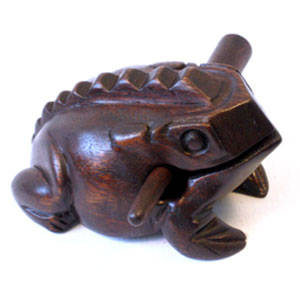 In the Kingdom of Thailand, there is a rich tradition of folk arts and handicrafts. One of these crafts, which helps supports the residents of a small village and protects their ancient forest, is the hand carved wooden frog. carved from either monkey wood or teak, the wooden frog Guiro makes a croaking sound when played. beautifully finished in a medium-dark stain. It also makes an excellent tone block, and an attractive gift.
There are currently no questions for this product.
There are currently no reviews for this product. Be the first to write one!