Excelcia Music Publishing
Adaptable Quartets for Bass - Putnam /Arcari /Traietta - Bass - Book
---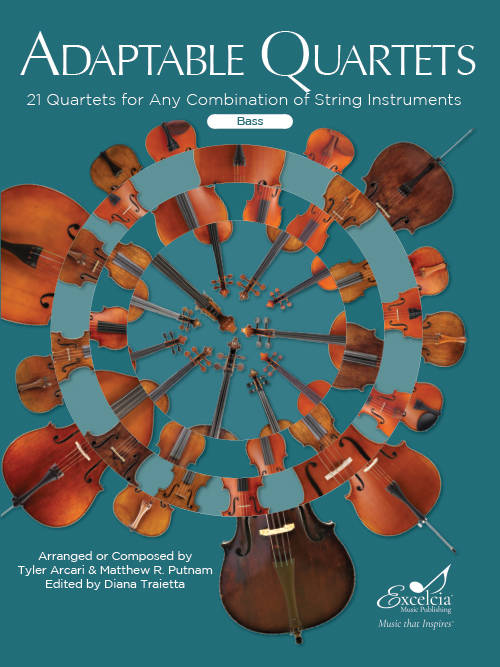 21 Quartets for Any String Instruments
Composers/Arrangers: Matthew R. Putnam, Tyler Arcari
Editor: Diana Traietta
Format: Book
Instrumentation: Double Bass
Level: 1.5 to 3
Adaptable Quartets
contains 21 newly-composed or arranged quartets that can be flexibly used with any combination of string instruments, making them an invaluable resource in the modern orchestra room! Written at an accessible 1.5-3 grade level,
Adaptable Quartets
follow the popular
Adaptable Duets and Trios
books by the same composers. Tyler Arcari and Matthew R. Putnam bring with them a wealth of educational experience as music educators to craft quartets that are fun to play and musically stimulating.
Adaptable Quartets
are sure to become an instant favourite. String editing by Diana Traietta.
Song List:
Abide with Me (Monk)
Agincourt Carol (English Folk Song)
The Barber of Seville (Rossini)
Be Thou My Vision (Trad. Irish)
Capstone (Arcari)
Chorale - Jupiter (Holst)
Country Gardens (Trad. Morris Dance)
Curse of Tortuga (Arcari)
Dawn of the Century - March (Paull)
Fortune Favors the Bold (Putnam)
Gesu Bambino (Yon)
Go Tell It on the Mountain (Spiritual)
Greensleeves (Trad. English Folk Song)
Home on the Range (Kelly)
In the Hall of the Mountain King (Grieg)
Les Toreadors - Carmen (Bizet)
Scimitar! (Matthew R. Putnam)
Sea Shanty (19th Century Sea Shanty)
Song Without Words - Second Suite in F (Holst)
The Emperor Waltz (Strauss II)
When Johnny Comes Marching Home (American Folk Song)
There are currently no reviews for this product. Be the first to write one!