Frederick Harris Music Company
RCM Violin Repertoire 2021 Edition, Preparatory Level - Book/Audio Online
---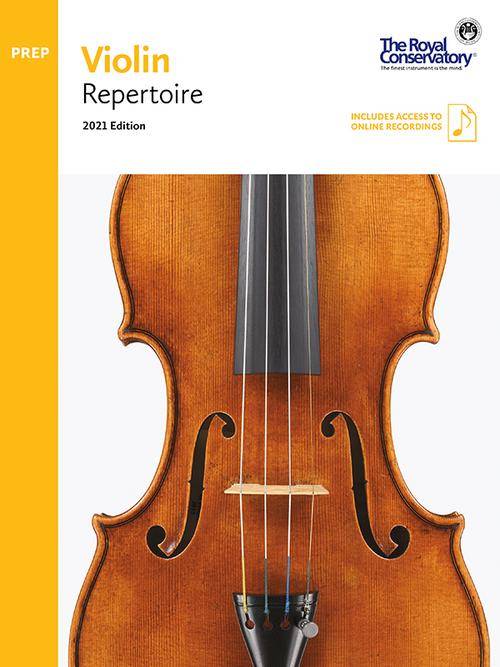 Author: Royal Conservatory Of Music
Format: Book with Audio Online
Instrumentation: Violin
Level: Preparatory
Carefully selected and curated to support teachers and students in their artistic and technical development, the Violin Series, 2021 Edition includes pieces from a diverse range of eras and styles that represent stepping stones to major violin repertoire. Each level is constructed to link repertoire selections to necessary techniques and corresponding etudes, while illustrating step-by-step connections for developing core skills. Each Repertoire book includes access to quality video and audio recordings by some of North America's finest violinists and accompanists; both performance and accompaniment-only tracks for each Repertoire selection offer students a model for performance practice and the convenience of accompanied rehearsal at home.
Violin Preparatory Repertoire
features student and teacher duets to promote listening skills and to provide an entry point into ensemble playing. This repertoire book for elementary-level students, distinguished by slow and fast tempos, is based on the foundational finger patterns of D major and A major, postural development, and bow division with legato and staccato strokes. Special effects, such as tapping on the side of the violin and open-string pizzicato, promote freedom of movement and encourage navigation of the fingerboard. Elementary rhythms are explored alongside supportive piano accompaniments within familiar time signatures.
Featured composers include Violet Archer, Ludwig van Beethoven, Harold Birston, Frank Blachford, Jean Couthard, David Gordon Duke, Jean Ethridge, Joanne Martin, and Mary Alice Rich.
Contents:
Ode to Joy - Ludwig van Beethoven, arr. Kelly Parkins-Lindstrom and Christine Donkin
In Ancient Times - Harold Birston
Berceuse - Frank Blachford
The Climb Up Mount Royal - Jean Coulthard
All Alone - David Gordon Duke
Pit-a-Pat Rain - Traditional German Tune, arr. Christoph and Kurt Sassmannshaus and Melissa Lusk
Sne Bahn (Fair Jean) - Duncan Johnston, arr. Harold Birston
Poeme - Paul de Keyser
The Bells of St. Basil's - Paul de Keyser
Machu Picchu Mountain - Joanne Martin
That Sounds So Glorious (Das klinget so herrlich) - Wolfgang Amadeus Mozart, arr. Christine Donkin
Waltz - Violet Archer
Spine-chiller - Edward Huws Jones
The Old Woman and The Peddler - English folk song, arr. Akiko Kinney
Opening Doors - Mary Alice Rich
The Subway Train - Jean Ethridge
Pony Trot - A. Krasev
Konope (The Old City) - Moravian folk song, arr. Leos Janacek, transc. Leos Faltus
Homage to Bartok - Jean Ethridge
Pepperoni Pizza Pie - Anita Hewitt-Jones and Caroline Lumsden
Happy-Go-Lucky - Joanne Martin
Wagon Wheels - Christine Donkin
Jumping Beans - Christoph Sassmannshaus and Melissa Lusk
Folk Song - Traditional French Song, arr. Hugh J. McLean
Press play to listen:
Press play to listen:
Press play to listen:
Press play to listen:
There are currently no questions for this product.
There are currently no reviews for this product. Be the first to write one!