Frederick Harris Music Company
RCM Violin Technique, Etudes, and Musicianship 2021 Edition, Levels Preparatory-2 - Book
SKU: #

754993
|
Model: #

VLT01
|





Product Reviews

0 Reviews
Write a Review
---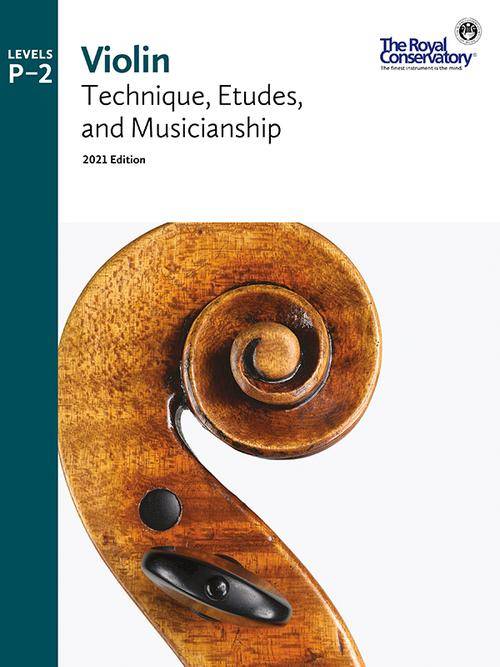 Author: Royal Conservatory Of Music
Format: Book
Instrumentation: Violin
Levels: Preparatory-2
Carefully selected and curated to support teachers and students in their artistic and technical development, the Violin Series, 2021 Edition includes pieces from a diverse range of eras and styles that represent stepping stones to major violin repertoire. Each level is constructed to link repertoire selections to necessary techniques and corresponding etudes, while illustrating step-by-step connections for developing core skills.
Violin Technique, Etudes, and Musicianship Preparatory-2
introduces progressive technical requirements that relate directly to the included etudes. Etudes are commissioned and arranged with balanced key signatures and time signatures, incremental hand-frame development, and a systematic step-by-step building of technique. Keys expand from one to two octaves, covering the fingerboard with scales from major to harmonic and melodic minor; basic double-stop exercises are introduced; and the foundations of shifting to third position are established. These resources explore rhythm and meter, expanding from simple time to compound time. Duets are included for teacher support and performance opportunities.
This book promotes the development of elementary musicianship skills through sight reading (rhythm and playing) and ear exercises (interval and chord identification, clapbacks, and playbacks).
Contents:
Chi Miigwetch! (Thank You Very Much!) - Alyssa Delbaere-Sawchuk
D Scale Waltz - Gerald E. Anderson and Robert Frost
Pizzicato Puddle Stomp - Katharine Rapoport
Leap Frog - Curtis J. Stewart
Sunny Syncopations - Harold Birston
Weaving Waltz - Christine Gale
Spring Is Here! - Kelly Parkins-Lindstrom, arr. Harold Birston
Beaver Mines - Christine Donkin
Aren't You Glad? - Shirley Givens
Cripple Creek - Traditional American, arr. Zav RT
Finger Action - Anonymous
The Sulky Sailor - Christine Gale
Falling Asleep in the Rocking Chair - Mary Cohen
The Denman Island Chocolate Stop - Zav RT
Stop 'n' Swing - Curtis J. Stewart
The Mountain Train - Shirley Givens
Mussels in the Corner - Traditional Newfoundland song, arr. Christina Smith
Raven Hop - Carmen Braden
Nojack - Christine Donkin
On the Open Road - Harold Birston
March in C Major, op. 38, no. 40 - Franz Wohlfahrt
Gym - Yaakov Geringas
On the Double - Christine Gale
That's the Spirit - Harold Birston
Listen to the Mocking Bird! - Richard Milburn, arr. Shirley Givens
Fiery Flourish - Paul Harris
Waterfall - Alyssa Delbaere-Sawchuk
Saturday Night Stomp - Mary Cohen
Etude in A Minor, op. 45, book 1, no. 8 - Franz Wohlfahrt, arr. Harold Birston
Pancake Peak - Christine Donkin
Etude in C Major - Louis Spohr
Melodious Double Stops No. 2 - Josephine Trott, arr. Kathleen Wood
There are currently no reviews for this product. Be the first to write one!