Gordon Stobbe
Of Course You Can Play the Fiddle, Book 3 - Stobbe - Book/CD
---
Additional Photos: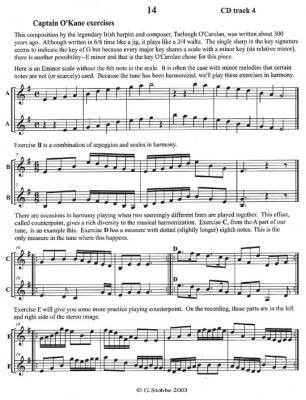 Author: Gordon Stobbe
Format: Book with CD
Instrumentation: Fiddle
The third book in the "Of Course You Can..." series features an in-depth study of 20 fiddle tunes in 8 keys suitable for intermediate players. Tunes include waltzes, jigs, reels, two-steps, a hornpipe, a fox-trot, a Metis tune, some tunes from Scandanavia and three tunes with harmony parts. Each tune comes with its own page of exercises covering scale, arpeggio, bowing and rhythmic aspects of the tune. Included are scale and arpeggio diagrams for all keys used in the book as well as a discussion of bowing techniques.
The accompanying 70 minute CD, with fiddle in the left channel and guitar in the right channel, includes all exercises, all tunes played slowly, and all tunes played at speed.
Contents:
Exercises and Tunes

Captain O'Kane
Claybank Reel
Driftwood Hormpipe
Gasvikarns Vals
La Claqueuse
Laid a Herring in Salt
Loggieville Two-Step
Maple Leaf Two Step
Miss Wedderburn's Reel
Mitton's Breakdown
Old Reel of Eight
P.M. Waltz
Put Me in the Big Box
Seaforth Two Step
Seamus O'Brien
Stan Lennox's First Change
Stoltzman's Jig
Svenska Shottis
Trans Canada Jig
Walking Uptown

Other Stuff

Arpeggios - what and why
Bowing exercises
CD contents
Scales and arpeggios
You and your right hand
There are currently no questions for this product.
There are currently no reviews for this product. Be the first to write one!