Theodore Presser
Flute 103: Mastering The Basics - Louke/George - Flute - Book
---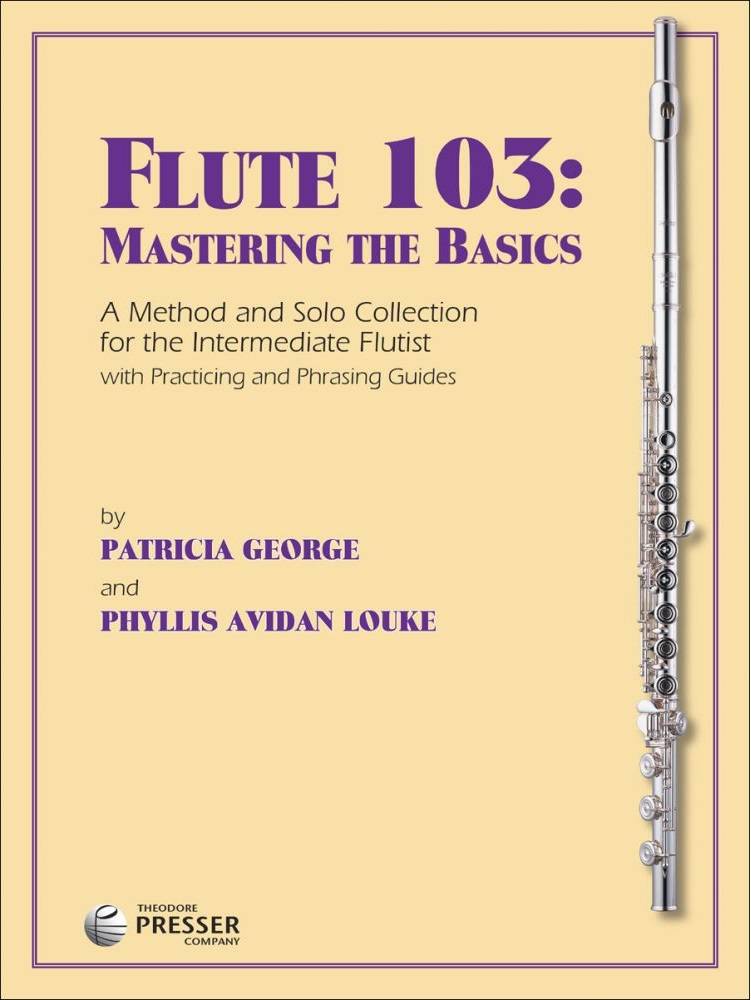 A Method and Solo Collection for the Intermediate Flutist with Practicing and Phrasing Guides
Composers: Phyllis Avidan Louke, Patricia George
Format: Book
Instrumentation: Flute
Flute 103: Mastering the Basics
continues the technical, creative, and musical development of advanced intermediate flutists by integrating etudes, solo repertoire, orchestral excerpts, duets, and contemporary techniques through an innovative curriculum in the major and relative minor keys of Ab, E, Db, B, and Gb. Lesson plans present, in a clear and logical sequence, activities to develop tone, vibrato, technique, and musicianship. The phrasing guides, practice suggestions, and prelude activities expand on the pedagogical approach used in Flute 101 and Flute 102, making Flute 103 a must-have staple - perfect for use in the private and university studio. Spiral bound, 92 pages
Contents:
Fingering Chart
How To Use This Book
Acknowledgments
Daily Warm-Up
Circle of Fifths
Enharmonic Practice
Chapter 1: Ab Major & Friends
Chapter 2: E Major & Friends
Chapter 3: Db Major & Friends

Lessons
Duet: Caprice No. 13, Sigfrid Karg-Elert

Chapter 4: B Major & Friends
Chapter 5: Gb Major & Friends
Style Guides

The Baroque (1600-1750)
Classic Era (1750-1827)
Romantic Era (1800-1910)
Impressionism (1890-1916)

Repertoire: Flute and Piano (Accompaniments are found in Flute 103: Piano Accompaniments 414-41211)

Anderson, Joachim (1847-1909)
Donizetti, Gaetano (1797-1848)

Sonata per Flauto e Pianoforte

Gluck, Christoph Willibald (1714-1787)

Minuet and Dance of the Blessed Spirits

Godard, Benjamin (1849-1895)

Suite de Trois Morceaux, I. Allegretto

Handel, Georg Friedrich (1685-1759)

Biography
Sonata in F Major, Op. 1, No. 11

Pessard, Emile (1843-1917)
Popp, Wilhelm (1828-1903)

Repertoire: Flute Alone

Ferroud, Pierre-Octave (1900-1936)

Biography
Trois Pieces pour flute seule, II. Jade

Teleman, Georg Philipp (1681-1767)

Biography
Fantasia 4 in B- Major

Repertoire: Duets

Karg-Elert, Sigfrid (1877-1933)

Supplemental Technical Studies

Two-Octave Scales: Major and Relative Melodic Minor
Major, Minor, Diminished, and Augmented Arpeggios
Chromatic Scale Preparation
Three-Octave Chromatic Scale
Chromatic Intervals
Whole-Tone Scales

Practicing by Patricia George
Learning to Play Musically by Patricia George
Simple Suggestions to Musical Phrasing by Patricia George
There are currently no questions for this product.
There are currently no reviews for this product. Be the first to write one!