Laurier Fagnan
Transform Your Choir's Sound - Fagnan - DVD/Booklet
---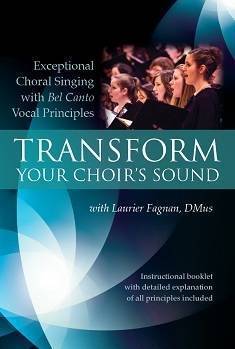 Exceptional Choral Singing with Bel Canto Vocal Principles
Author: Dr. Laurier Fagnan
Format: DVD & Booklet
Experience 75 minutes of instructions by Dr. Fagnan to help transform your choir.
Dr. Laurier Fagnan has dedicated his career to helping choirs create a more beautiful, energized, in-tune and well blended sound. The method found on this DVD is the result of Dr. Fagnan's years of research on the singing voice and vocal acoustics, as well as his hands-on experience working with hundreds of choirs around the globe.
While bel canto principles are typically associated with solo singing, here they have been extended to benefit the art of choral singing. The transformative results of this method can be seen in cutting-edge,real-time acoustical analysis that vividly displays the difference in the sound before and after the principles and techniques are applied.
Respiro - Prepare your instrument to sing well with proper inhalation
Core of Vibration - Sing with an easily controlled, focused tone
Chiaroscuro Resonance - Realize your voice's full resonance potential and sing with a balanced, bright-warm tone
Sing more expressively, using a variety of colours and dynamics
Messa Di Voce - Sing softly with an energized, in-tune and expressive sound
Sostenuto - Sing long musical phrases without running out of breath
Blend smoothly with other choristers while contributing your maximum potential to the overall sound
Vocal Tonus - Sing with self-sustaining energy rather than muscular effort
Sing like you have never sung before.
Included with your DVD is an instructional book with detailed explanations of all principles that are in the DVD.
There are currently no reviews for this product. Be the first to write one!