Hal Leonard
The Gretsch Drum Book - Cook/Sheridan - Book
---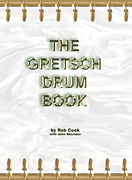 Authors: Rob Cook, John Sheridan
Publisher: Rebeats Press
Format: Softcover

The Gretsch Drum Book by Rob Cook in collaboration with John Sheridan is a complete business history of the Gretsch Drum Company and dating guide for Gretsch drums. From the founding of the company in 1883, every significant management change of direction is discussed right up to the current era in which owner Fred W. Gretsch partners with KMC Music. A history of Gretsch artist relations includes an alphabetic list of every Gretsch drum endorser from 1936 to 2012 with photos of over 200 of them. The dating guide illustrates every catalogue, colour, badge, snare drum, drum kit, and hardware item catalogued through the 130-year history of Gretsch drums.
There are currently no questions for this product.
There are currently no reviews for this product. Be the first to write one!