Editions Durand
Le Rossiniane Op. 119, 120, 121, 122, 123, 124 - Giuliani/Zigante - Classical Guitar - Book
---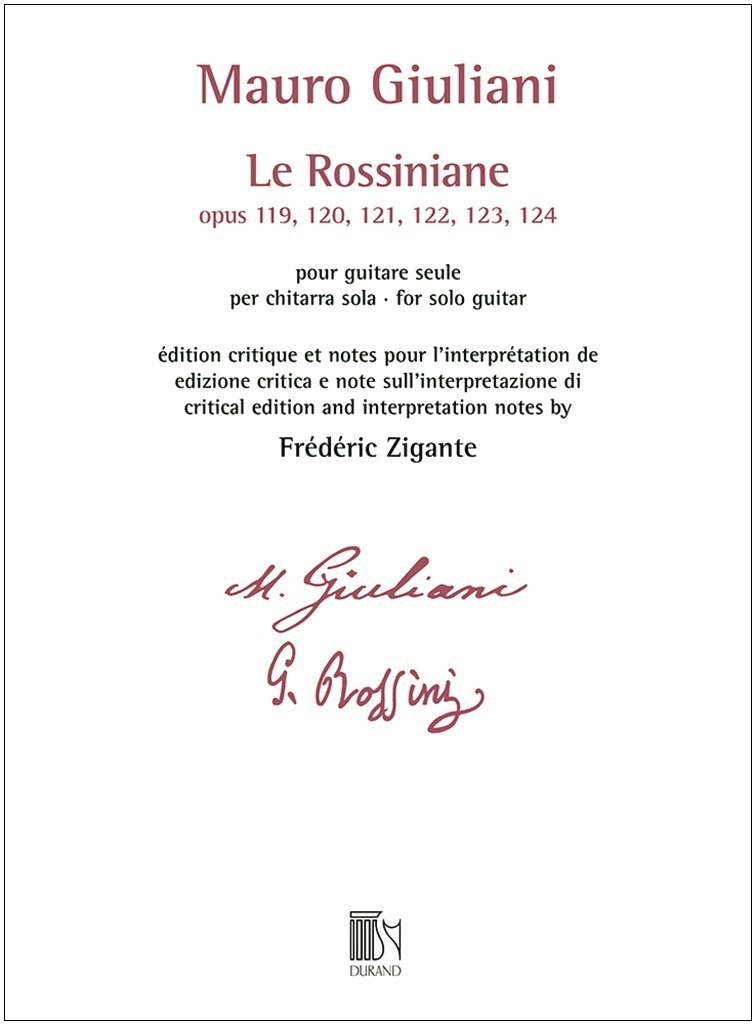 Composer: Mauro Giuliani
Editor: Frederic Zigante
Format: Book
Instrumentation: Classical Guitar
Mauro Giuliani's
Rossiniane
, published between 1821 and 1828, are a series of six musical potpourris entirely based on the music of Gioachino Rossini. The potpourri was one of the most popular instrumental genres of the early 1800s, an assembly of musical themes with different origins combined into a single composition. In the absence of the modern means of reproducing music, they had the very important function of bringing music, most often created for the theatre, into the home.
Some important points can be deduced from Giuliani's epistolary exchanges. The first is that the
Rossiniane
were part of his own concert repertoire. The second is that Rossini was not only aware of the project which would bear his name, but also collaborated with Giuliani in some ways, providing him with some themes expressly composed for his works. The third is that Giuliani was well aware that these pieces represented a new development for his own compositions and for the musical panorama of the time, "a hitherto-unknown style".
This edition of the
Rossiniane
is based on the contemporary musical sources that have come down to us. It is enhanced by some remarks on interpretation that should help towards making an accurate and coherent reading of this distinctive and original musical text.
Contents:
Rossiniana I, Op. 119--Introduction (Andantino) "Assisa a pie d'un salice" (Otello) "Languir per una bella" Scene 3 atto 1, Andante grazioso (L'Italienne a Alger) "Ai capricci della sorte" Scene 5 atto 1, Maestoso (L'Italienne a Alger) "Caro, caro ti parlo in petto", Moderato (L'Italienne a Alger) "Cara, per te quest'anima", Allegro Vivace (Armida)
Rossiniana II, Op. 120--Introduction (Sostenuto) "Deh ! Calma, o ciel", Andantino sostenuto (Otello) "Arditi all'ire", Allegretto innocente (Armida) "Non piu mesta accanto al fuoco", Maestoso (Cendrillon) "Di piacer mi balza il cor", (La pie voleuse) "Fertilissima Regina", Allegretto (Cendrillon)
Rossiniana III, Op. 121--Introduction (Maestoso Sostenuto) "Un soave non so che" (Cendrillon) "Oh mattutini albori!", Andantino (La dame du lac) "Questo vecchio maledetto", (Le Turc en Italie) "Sorte! Secondami", Allegro (Zelmira) "Cinto di nuovi allori", Maestoso (Ricciardo et Zoraide)
Rossiniana IV, Op. 122--Introduction (Sostenuto-Allegro Maestoso) "Forse un di conoscerete", Andante (La pie voleuse) "Mi cadono le lagrime" (La pie voleuse) "Ah se puoi cosi lasciarmi", Allegro Maestoso (Moise en Egypte) "Piacer egual gli dei", Maestoso (Mathilde de Shabran) "Voglio ascoltar" (La pierre de touche)
Rossiniana V, Op. 123--Introduction (Allegro con brio) "E tu quando tornerai", Andantino mosso (Tancrede) "Una voce poco fa" (Le Barbier de Seville) "Questo e un nodo avviluppato", Andante sostenuto (Cendrillon) "La seduto l'amato Giannetto", Allegro (La pie voleuse) "Zitti zitti, piano piano", Allegro (Le Barbier de Seville)
Rossiniana VI, Op. 124--Introduction (Maestoso) "Qual mesto gemito", Larghetto (Semiramis) "Oh quante lagrime finor versai", Maestoso (La dame du lac) "Questo nome che suona vittoria", Allegro brillante (Le siege de Corinthe)
There are currently no questions for this product.
There are currently no reviews for this product. Be the first to write one!