Carus Verlag
Erhalt uns, Herr, bei deinem Wort BWV 126 - Bach - Full Score
---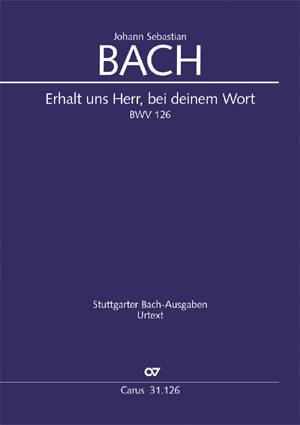 Cantata: Sustain us, Lord, by this your Word, 1725

Composer: Johann Sebastian Bach
Editor: Karin Wollschlger
Songwriter / Librettist: Martin Luther
Format: Full Score
Scoring: Soli ATB, Coro SATB, 2 Ob, Tr, 2 Vl, Va, Bc
Language: German/English
Duration: 22 min

Cantata for Sexagesimae

Carus Urtext editions are scholarly editions for practical performance. They are edited according to current musicological standards and complete performance material is available.
There are currently no questions for this product.
There are currently no reviews for this product. Be the first to write one!