La Bella
760F-MUS Flat Wound Mustang 30' Scale 4-String Bass Set (43-104)
---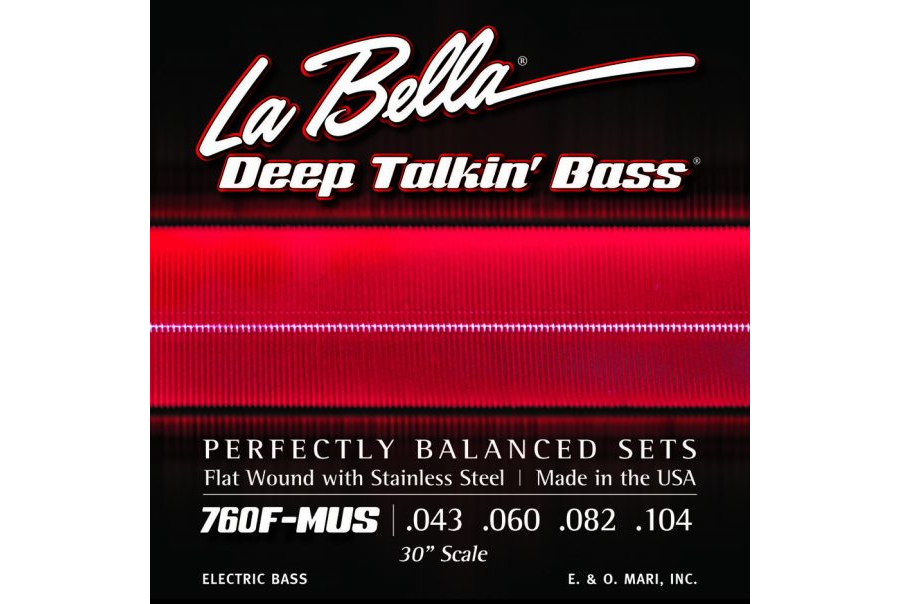 Since the 50s and 60s, La Bella's DEEP TALKIN' BASS Stainless Steel Flat Wounds have been the choice of professional bass players and continue to be the standard for the best sounding Flat Wounds on the market. The 760F-MUS set is made specifically for basses with 30" scale where strings are strung through the body. The winding length from ball-end to silk is 34" (this distance includes a 1.75" flexible tail by the ball-end).

Features
• Stainless Steel Flat Wound; hand-polished for incredibly smooth finish
• Specifically designed for 30" scale basses with "thru-body" design.
• Winding Length / length from ball-end to silk: 34"
• Light Tension
• String Gauges: .043, .060, .082, .104
• Made in the USA with American Wire
• Packaged using MAP Technology (Modified Atmosphere Packaging) to prevent tarnishing and ensure freshness

This set does not work with new models that have top load bridges. Top loading models take any La Bella short scale set.
There are currently no questions for this product.
There are currently no reviews for this product. Be the first to write one!