Cre8audio
West Pest Desktop/Eurorack Synthesizer
SKU: #

772084
|
Model: #

WEST PEST
|





Product Reviews

0 Reviews
Write a Review
---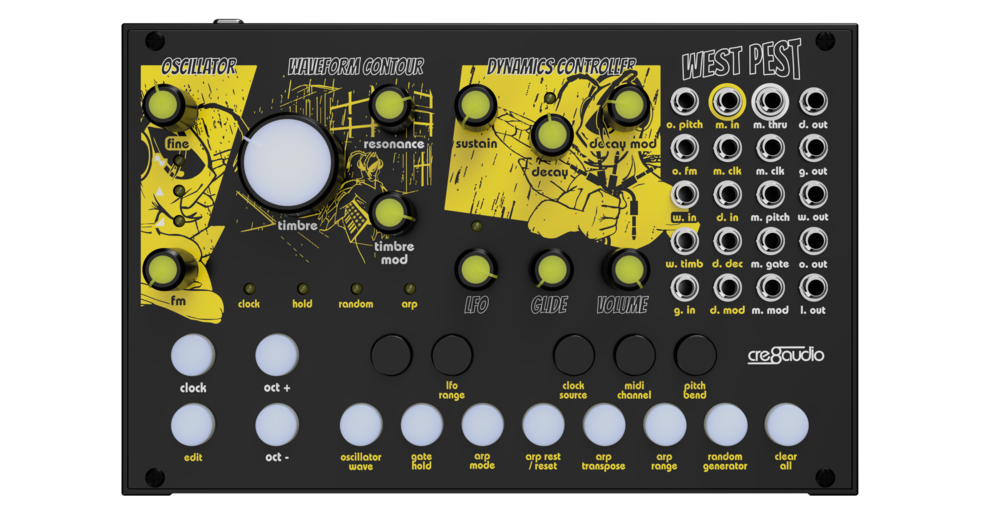 Additional Photos: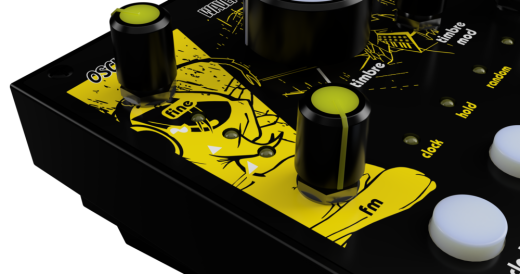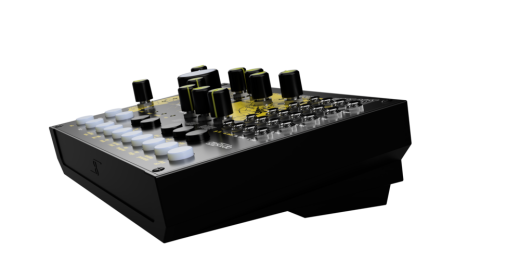 Product Videos:
YouTube Video

or from
$34
CDN/mo
Fully analog West Coast style semi-modular synthesizer

West Coast style is typically characterized by additive derived, rich and complex sounds. Often more traditional user interface elements are replaced by the abstract and experimental. Perfect for you sophisticated folks. West Pest provides a wide array of sonic capabilities while maintaining a quick and easy workflow. You'll make fresh & inspiring sounds in a flash. Its huge sonic capabilities emanate from its modest bento box-sized exterior. If eurorack is your thing, feel free to pop West Pest out of its enclosure and transform it right into a 40HP eurorack module, or keep it in its case and use it anywhere for your West Coast style pleasure.

West Pest's oscillator, designed in partnership with Pittsburgh Modular Synthesizers, is an original design made with 100% modern components. This keeps it very stable, giving it a super rich and unique sound.

Wave Folding
West Pest utilizes a custom wave folder to shape the sound. It adds additional dimensions to West Pest's already unique sounding oscillator core.

A wave folder shapes sounds differently than a filter. Instead of removing harmonics, the wave folder increases the harmonic content of the oscillator by folding the wave in on itself to create sonically rich waveforms. West Pest's wave folder ups the ante, allowing the user to fold previously unfoldable waveforms. In addition to being able to send all of West Pest's waveforms through its wave folder/shaper, you can also input external sound sources. So go ahead, get weird with it.

Sculpt west-coast style
In continuity with the whole West Coast synth vibe, West Pest has a dynamics controller as well as an LFO to further sculpt its sound. The dynamics controller combines the functionality of a VCA with a low pass filter to imitate the behavior of soundwaves in the real world by dynamically modifying the harmonic content with the volume of the sound. What that means is that this analog synthesizer produces sounds that sound really real. Really.

Go patch yourself
Semi-modular means that the West Pest will work without any patch cables. But who doesn't want to build a magnificent web of patch cables flowing in and out of their synthesizer? Brewing up sounds the old fashion way like unwavering generations before you, one patch cable at a time is where the real magic happens.

West Pest provides access to basically 8 different modules (Oscillator, wave contour, dynamics controller, LFO, multi-mod tool, MIDI to CV converter, sequencer, and button keyboard) worth of functionality with a whopping 18 Eurorack compatible patch points to plug into itself and your other gear. Rewire West Pest's signal flow, or share your favourite elements from West Pest with any other compatible synthesizers and vice versa.

MIDI Too
West Pest has got MIDI in and MIDI through. Connect to a DAW, controller, daisy chain, or not. West Pest has you covered, at least, MIDI-wise.

Additional Performance Features
West Pest includes quite a few additional performance features. Dive in with its built-in tap tempo clock, arpeggiator, and sequencer. There's a lot of opportunities to inject in some randomness too.

Features
• West coast-style monophonic synthesizer with additive elements
• Controllable via MIDI, CV, and integrated button keyboard
• Fully patchable - use West Pest's components as separate modules with external devices or reroute its internal patching. (It's like having 8 individual modules.)
• 32 step sequencer with up to 13 storable presets
• Generative sequencing mode
• Clock-synced arpeggiator
• Step sequencer can be manipulated & transposed via MIDI and the integrated button keyboard
• Pittsburgh Modular Synthesizer developed 100% analog oscillator
• Oscillator waveforms - sine, triangle, and saw - Waveforms can be combined
• Oscillator includes frequency modulation (FM)
• Pittsburgh Modular Synthesizer famous wave folder/shaper circuit - folds inputted waves back onto themselves to increase harmonic content
• PGH dynamics section - an alternative to an envelope generator and a VCA, the dynamics controller is a Pittsburgh Modular invention that adds a dimension of control over a vactrol-less lowpass gate circuit, adding release time. (read more on this in the user guide)
• Dual range analog LFO with square and triangle wave outputs.
• LFO Range High: 2 Hz to 500 Hz Low: 41 seconds to 5 Hz
• Digital multi-mod tool - modulation control via CV, random generator, and extra LFO and envelope generator
• Internal clock with tap tempo and can be clocked via an external source.
• Built-in clock divider
• Can be used standalone in its included case or removed and used as a eurorack format module

Specifications for when used as a eurorack module
• Width when used as a module = 40hp
• Depth = 25mm
• 250mA power draw when running +12V rail
• 190mA power draw when running -12V
• Input voltage range of oscillator = 0-10V

In the Box:
- West Pest Synthesizer
- (1) West Pest wall-wart power supply
- (5) Amazing Nazca Noodles patch cables
- (1) 3.5mm to 5 pin MIDI Din pigtails

Youtube video product demo

There are currently no reviews for this product. Be the first to write one!