Oxford University Press
Pianoworks Duets 1 - Bullard - Piano Duet (1 Piano, 4 Hands) - Book/CD
---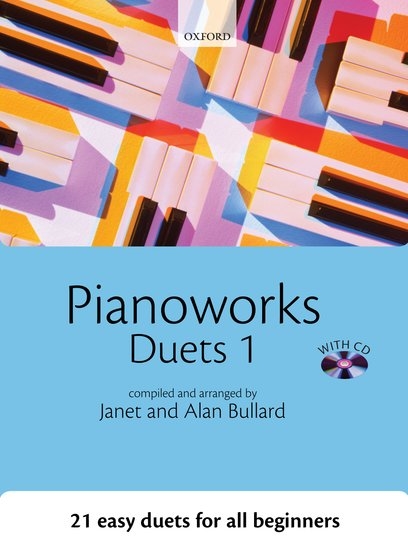 Additional Photos: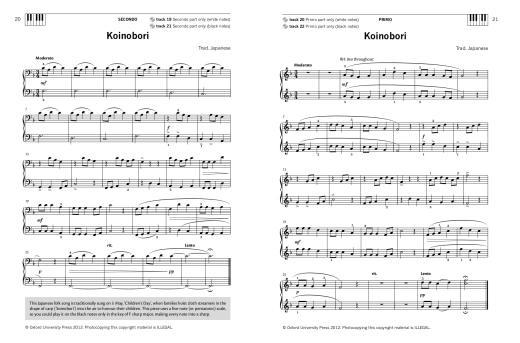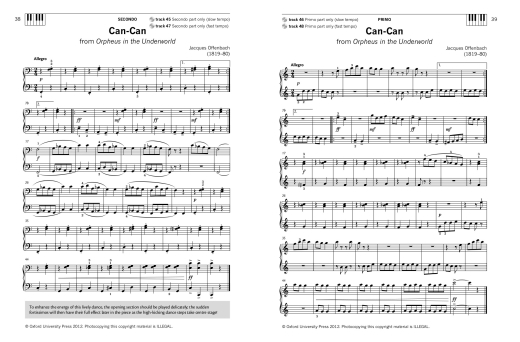 Arrangers: Janet Bullard, Alan Bullard
Format: Book with CD
Instrumentation: Piano Duet (1 Piano, 4 Hands)
21 duets, with parts of equal standard, compiled and arranged for beginner pianists (approx. Grades 1-2)
Wide range of styles, including Classical, Romantic, jazz, folk, and contemporary
CD with backing tracks for each part to allow solo practice
Useful tips on style and technique, and background information on every piece
Perfect companion to Pianoworks Book 1 and Pianoworks Collection 1
Pianoworks Duets 1 is the perfect resource for beginner pianists to explore duet-playing. They'll develop balance, playing in time, and sight-reading while learning attractive and accessible arrangements in a huge variety of styles and genres, from Offenbach's lively 'Can-Can' and Joplin's 'The Entertainer' to traditional folk tunes from Japan and the West Indies. In addition, the collection contains several new and original gems by Alan Bullard, the co-author of this celebrated series.
Contents:
15th-cent. English: Agincourt Song
Trad. Scottish: Morning has broken
Trad. Norwegian: Norwegian Song
Joplin: The Entertainer
Trad. American: Amazing Grace
Susato: La Moresca
Diabelli: Rondo (Sonatina Op. 163 No. 1)
Trad. Japanese: Koinobori
A. Bullard: Floating, drifting
Beethoven: Symphony No. 7, second movement
Strauss: The Blue Danube
Gervaise: Pavane d'Angleterre
Haydn: Symphony No. 104 ('London'), fourth movement
A. Bullard: Hello Jamaica!
Delibes: Valse lente (Coppelia)
A. Bullard: Go with the flow
Offenbach: Can-Can (Orpheus in the Underworld)
Trad. West Indian: The John B. Sails (Sloop John B.)
Mendelssohn: On Wings of Song
Barnby: Sweet and Low
A. Bullard: Five Finger Fever
Press play to listen:
Press play to listen:
Press play to listen:
There are currently no reviews for this product. Be the first to write one!