Oxford University Press
Pianoworks Duets 2 - Bullard - Piano Duet (1 Piano, 4 Hands) - Book/CD
---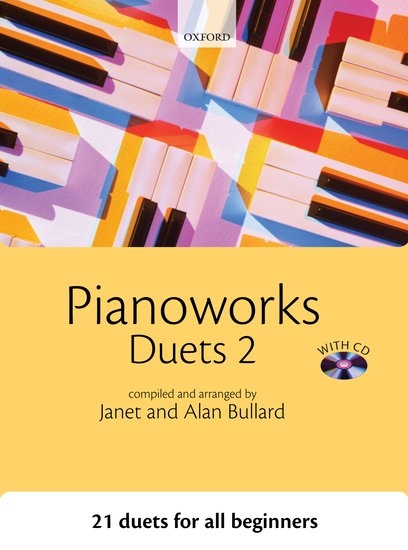 Additional Photos: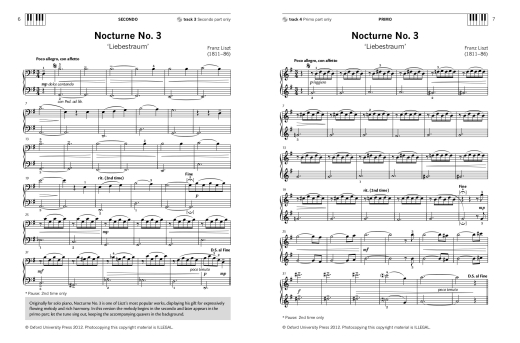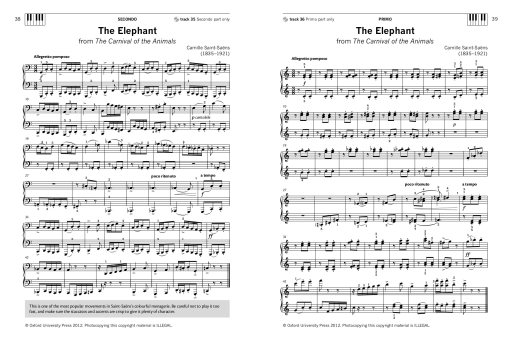 Arrangers: Janet Bullard, Alan Bullard
Format: Book with CD
Instrumentation: Piano Duet (1 Piano, 4 Hands)
21 duets, with parts of equal standard, compiled and arranged for beginner to intermediate pianists (approx. Grades 3-5)
Wide range of styles, including Classical, Romantic, jazz, folk, and contemporary
CD contains backing tracks of each part to allow solo practice
Useful tips on style and technique, and background information on every piece
Perfect companion to Pianoworks Book 2 and Pianoworks Collection 2
Pianoworks Duets 2 is the perfect resource for developing pianists to explore duet-playing. They'll develop balance, playing in time, and sight-reading while learning attractive and accessible arrangements in a huge variety of styles and genres, including 'Spring' from Vivaldi's The Four Seasons, Joplin's exuberant rag 'The Easy Winners', and the traditional Scottish song 'Afton Water'. In addition, the collection contains several new and original gems by Alan Bullard, the co-author of this celebrated series.
Contents:
Charpentier: Prelude (Te Deum)
Liszt: Nocturne No. 3 ('Liebestraum')
Vivaldi: Spring (The Four Seasons)
Mendelssohn: Violin Concerto, second movement
Satie: Gymnopedie No. 1
Handel: Hallelujah Chorus (Messiah)
A. Bullard: House in the clouds
Mozart: March (Cos fan tutte)
Trad. Scottish: Afton Water
Boccherini: Minuet (Quintet in E major, Op. 13 No. 5)
Trad. English: All things are quite silent
Franck: Panis angelicus
Walton: Crown Imperial
Brahms: Symphony No. 3, third movement
Joplin: The Easy Winners
Elgar: Chanson de matin
Tchaikovsky: Piano Concerto No. 1, first movement
Saint-Saens: The Elephant (The Carnival of the Animals)
Bizet: Habanera (Carmen)
Berlioz: The Shepherds' Farewell (L'enfance du Christ)
A. Bullard: Wild Swan Tango
Press play to listen:
Press play to listen:
Press play to listen:
There are currently no reviews for this product. Be the first to write one!